404 Pages – how to turn an error into an opportunity for your ecommerce solution
The dark arts of SEO are something that every business has to get to grips with, either by engaging with and trusting a third party, or by having the knowledge, capabilities and time in-house. One of the many things that Google (and Bing et al) weigh up when deciding how to rank your eCommerce site are the number of 404 errors and how your users react when they are experienced.
What are 404 errors and why should I care?
404 errors are caused by broken links on your website. Either content has been removed, a redirect has stopped working, or a customer has mis-typed a URL. Your website will then display a 404 error to the user (and to Google). Whilst you should, ideally, never have 404 errors, they are an opportunity to engage with your customer. They are also, by their very nature, a time when you can take a sideways looks at your brand and / or company in order to stop your customer getting upset and leaving. There are two important reasons for this:
Bounce Rate – this is a key element of how Google assesses your site. If people visit a page and then leave it immediately, this gives it a very high bounce rate and suggests to Google that the page is not of a high quality. That impacts the overall impression Google has of your eCommerce site. A bald 404 error page is a recipe for someone to leave. Immediately.
Trust – errors on eCommerce sites chip away at your customers' trust in your and your brand. Personalising any 404 errors that are displayed gives you an opportunity to limit the damage and, potentially, to improve your relationship with them.
That's lovely, but how can I turn this into an opportunity?
First of all, design and deploy a custom 404 error page. Even if it's just a simple message in your standard font and branding apologising for the error, it will be better than what the customer currently gets.
Once you've done that, you can have a bit of fun. This is an opportunity, if appropriate, to get the quirkier, edgier side of your brand across, which will help to stop the erosion of trust that a 404 error can cause. Businesses often miss out on the opportunity 404 errors provide to get their brand and identity across to customers at a point when they've got the real estate of the entire page (in theory) to play with.
In addition to engaging your customers with something a little different, 404 error pages also present you with an opportunity to put content in front of your customers that you think they'll find engaging. You could include a link to your latest blog post, your current promotion or your best-selling product. 404 errors provide you with an opportunity to place content in front of your customers that they can then engage with. Again, this provides you with the opportunity to improve your relationship with that customer and also helps from an SEO perspective as you're increasing the amount of time the customer is spending on your website.
What do other people do?
Each company needs to implement a solution for 404 errors that works for them. Some will be bound by the way in which their ecommerce solution has been implemented, others by the way in which they wish to communicate with their customers. We've picked out four examples that range from 404 error pages that we love, to ones that we really don't.
Pretty much, in my opinion, how not to do this:


This is a good example of where process and corporate standards have defined the 404 page's content. Amazon have gone out of their way to brand the page and make it easy to get back to the main site, but they have not taken advantage of any of the opportunities that are on offer with regards to the available space:


A nice traditional effort which, bearing in mind Cotton Traders' target market, may be appropriate. As well as including a nice large, friendly, apology, Cotton Traders have also included lots of options with regards to the customer staying on the site, as well as suggesting some products we might be interested in: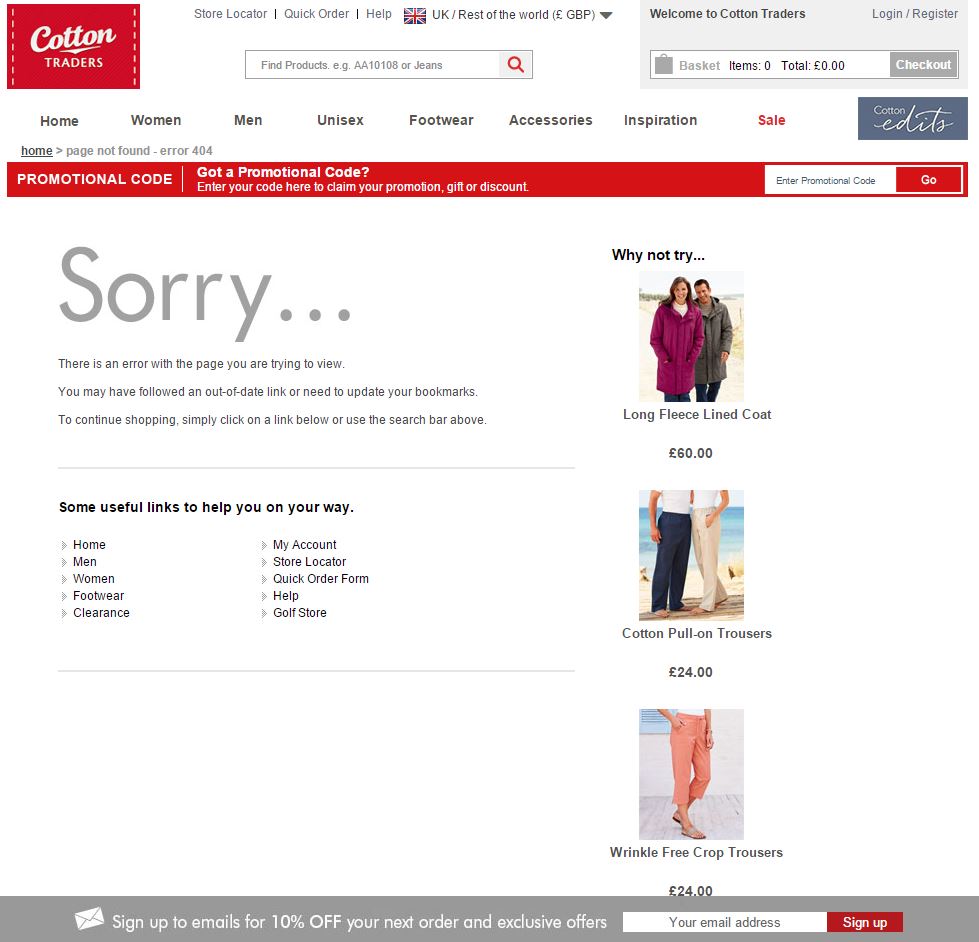 This just ticks all of the boxes from our perspective. We have:
A link to lights4fun's current sale
A quirky and humorous image and message referring to the error
A link back to the homepage
Links to products we've recently viewed
The opportunity to subscribe to their email list
404 error pages aren't just for Christmas and they're not just for eCommerce websites. Any business that has a website should consider how they handle this and – bearing in mind the above – we try to follow at least some of our own rules: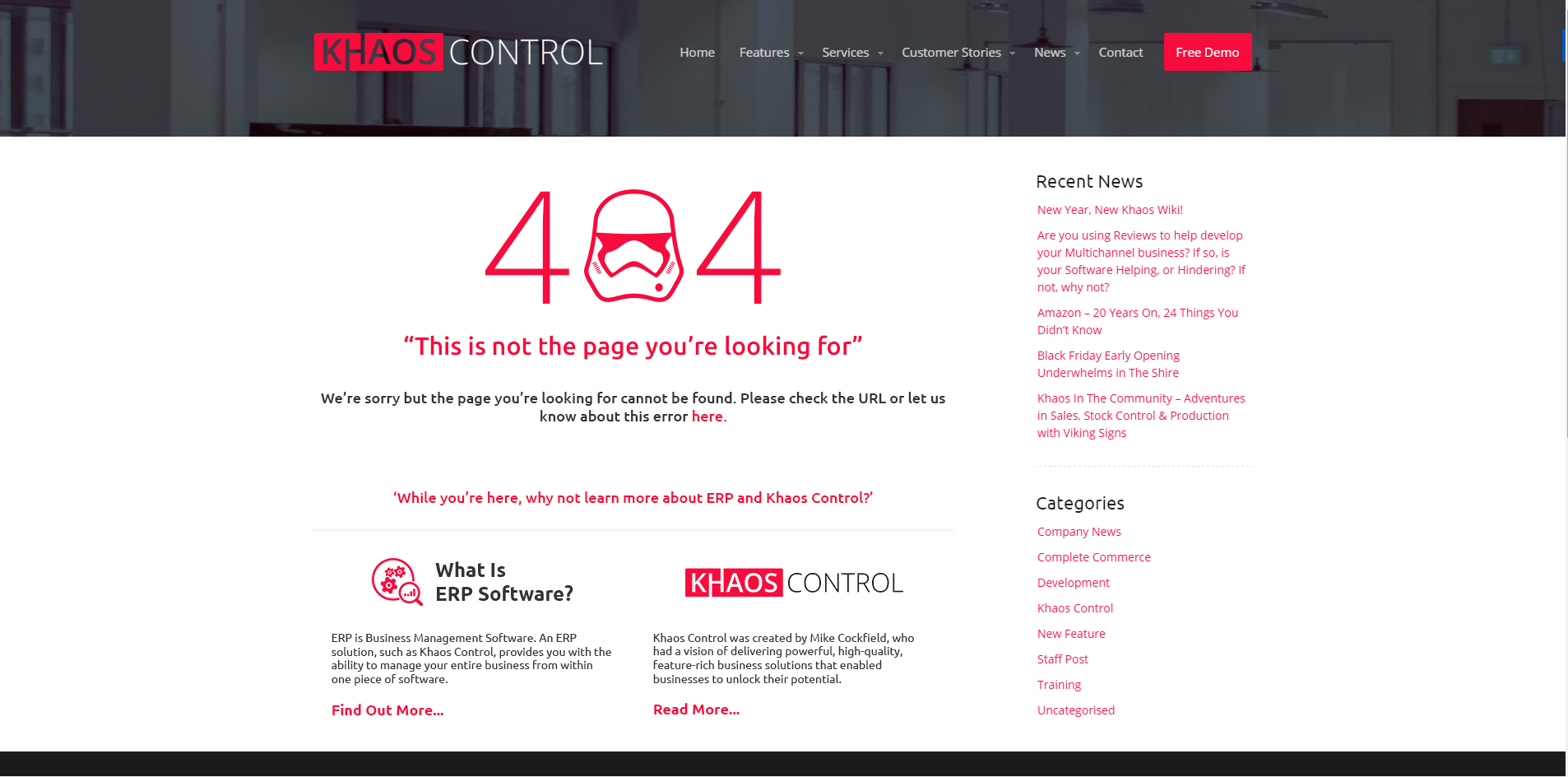 Ok. So what do I do with my ecommerce solution?
You may not need to! If you've read this far, secure in the knowledge that you've already nailed this, then as you were! If your eCommerce website isn't already handling 404 errors well, then talk to your web developer and your design team and get it sorted. If you get some blank looks, then talk to us. Our eCommerce Team provide powerful, well-designed websites to a range of retailers and would love to help. Contact us for more information.