Are you using Reviews to help develop your Multichannel business? If so, is your Software Helping, or Hindering? If not, why not?
We are names not numbers. No man is an island. You can see where I'm going here.
People are influenced by the thoughts, opinions and decisions of other people. In a world where your eCommerce website, Amazon marketplace outlet and / or Ebay store is competing against tens, or even hundreds, of other competitors from across the globe you need to stand out. Reviews are one way in which you can separate yourself from the herd.
Layers Onion Boy, Layers
Reviews work on a number of different levels, they:
Allow your customer to see that they're not alone. Other people have bought products from you in the past and have felt strongly about it, one way or another, to leave a review.
Build confidence in you as a company and in what you're selling.
Highlight how great you and / or your products are.
Provide an opportunity to interact with and learn from your customers.
Give you the chance to show your company's values and ethos in how you respond to feedback.
They Work For Charles Tyrwhitt!
Reviews aren't necessarily the killer application for every type of retailer. If you're selling direct to other businesses, then price, speed of delivery and other elements may be more important.
Perhaps you have a unique product offering and / or service and – therefore – reviews aren't necessary in order to make yourself stand out.
Alternatively, you may be focusing on products that do not involve customers going through a considered purchasing process. Either due to the excitement and / or need you've created for your products or due to the mundanity of them. Marmite is Marmite, wherever you purchase it.
Although in that situation, seeking and publishing reviews of how you perform as a company in terms of customer service, delivery etc. could still be worth considering.
Whereas being able to reassure a prospective customer that their peers have already shopped with you and enjoyed the experience can be a massive boost. You can deliver that via accreditation with a specific scheme and marketing it through your channels. Alternatively, you can gather and build your own banks of reviews, allowing potential customers to review feedback about specific products and services whilst they browse your website.
How Reviews can impact your Business
There are a number of ways in which reviews can be used in your business and they're not necessarily exclusive. How you proceed will depend on your company's specific situation. Here are some options:
Product Reviews
Amazon and Wiggle are both excellent examples of how individual product reviews from previous customers can help to convert people that are browsing a product into purchasers. These reviews give the customer an opportunity to rate the product and your company. They also provide the customer with a chance to give their thoughts on the product, how it lived up to their expectations, how your company performed in terms of delivery and customer service, even going so far as to say whether they'd recommend your company or the product to other people.
Customers expect to be able to source this kind of information, especially when they're making a 'considered' purchase. If you don't provide it, Google / The Internet will. And if the customer finds a compelling review that convinces them to invest in the item they were looking at, they're more likely to purchase it (if they can) from the place they saw the review.
Badge of Honour
There are a number of review programmes available, with Reevoo, Trustpilot and Feefo having the most traction currently. These products allow your business to gather reviews on the back of customer orders.
The data that's returned by your customers is then collated by the partner you're working with and built into an overall score / scores that allow your customers to assess your business against the competition.
They also allow you to gather, and publish, detailed feedback about your company and the product(s) that the customer has purchased.
Being able to display a 99% Feefo Customer Service Rating, or a 9.9 Trustpilot rating on your website, or in your catalogue and other marketing material will reap obvious rewards. Simply being part of these schemes can bear fruit though, even if your ratings are not stratospheric.
Taking part in a formal review scheme and advertising it to your customers provides a level of reassurance and can also be used as a call to action.
Customer Engagement
However you go about it, the process of gathering customer reviews will involve you (or the third party you've retained on your behalf) reaching out to your customer and engaging with them. This is a brilliant opportunity to turn your customers into advocates, both for your products and for your brand.
Engaging your customer directly after they've purchased something from you also gives you an opportunity to find out if something didn't live up to their expectations. That in turn gives you an opportunity to work with the customer and, hopefully, turn a negative situation into a positive one. As a worst case, you'll know what not to do next time!
Don't Just View Your Business Through The Eyes Of Your Managers
Charles Tyrwhitt have used Feefo for many years, with Nick Wheeler quoted as saying:
"Feefo has become integral to the Charles Tyrwhitt journey and enables us to see what our customer sees and not just what our managers see!"
It can be easy to focus on process, KPIs and other measures of success. It is also tempting for a business to think that they know their customers. Without running a review, or other customer outreach programme, you will never know what your customers actually think of you.
Khaos Control Customers Who Are Nailing The Review Process
We work with retailers throughout the UK, but we'd like to highlight four of our customers who are leading the pack when it comes to customer reviews.

As of 02/12/2015, Cult Pens had 24,136 reviews and an overall rating from Trust Pilot of 9.9 out of 10. Early adopters of reviews, Cult Pens continue to focus resources on gathering reviews and making sure that their customers are turned into true brand advocates.
Not content with grabbing their customers on the front page, Cult Pens also display their rating and the latest customer reviews on individual product pages, in order to reinforce their performance and reassure customers.
Simon Walker, who founded Cult Pens along with his wife Amanda, outlined why Trust Pilot, and reviews in general, work for them:
For us Trust Pilot has reinforced what we expected in that our customers like our service.
But it's a really good tool in order to reassure customers that don't know us and for giving great feedback to everyone in the company – as the service piece relies on every member of the company, and not just the customer service team.
When we reach 25,000 reviews we'll have an occasion to mark that.
It's a daily reminder of what we do and why.
---


With an average rating from Trust Pilot of 9.6 on the back of nearly 10,000 customer reviews,
Vet Medic
are another Khaos Control customer that have really focused on reviews as a means to growing their eCommerce business. Interestingly, Vet Medic include the most recent reviews on their front page, alongside their overall rating, personalising something that could seem a little faceless.
Vet Medic also combine Trust Pilot's offering with a product review function on their website, combining the overall service feedback with community-generated content and feedback on their specific products.

---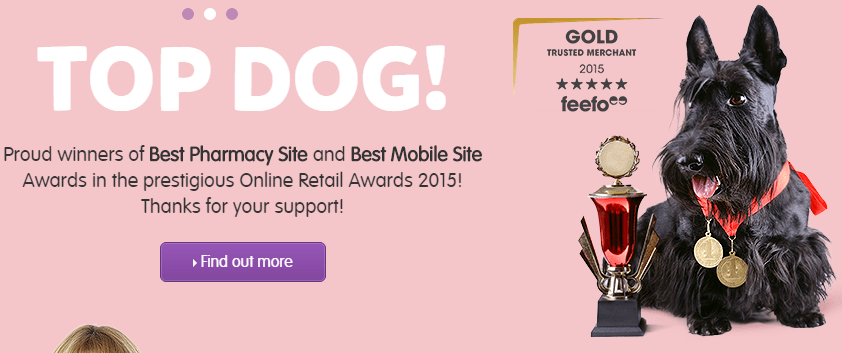 Feefo's review offering splits up service and product into separate scores which are then combined for an overall figure.
Pet Drugs Online
, with an overall rating of 99% from nearly 14,000 reviews, combined with exponential growth over the last four years are an excellent example of how Reviews can be a core part of a successful eCommerce strategy.
In addition to highlighting their Trusted Merchant status on their homepage, Pet Drugs Online also build Feefo's reviews into their individual products, with a Feefo rating per product:






and the ability to drill into the customer feedback that the product review is based on: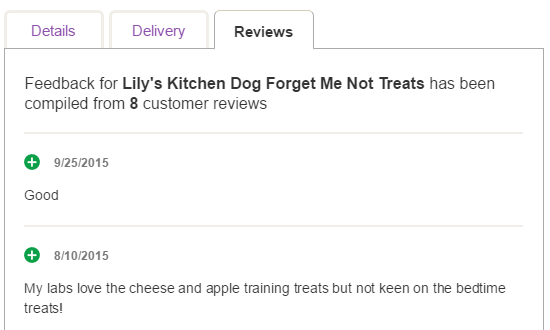 ---

As an established multi-channel retailer,
Philip Morris & Son
have built up more than 11,000 reviews using Feefo's solution and boast an overall product rating of 98% and a service rating of 96%, both of which are excellent scores.
For Philip Morris, their Gold Feefo rating is used throughout their home page as a differentiator and call to action, with a link direct to Feefo themselves so that the customer can get the unvarnished feedback from the horse's mouth: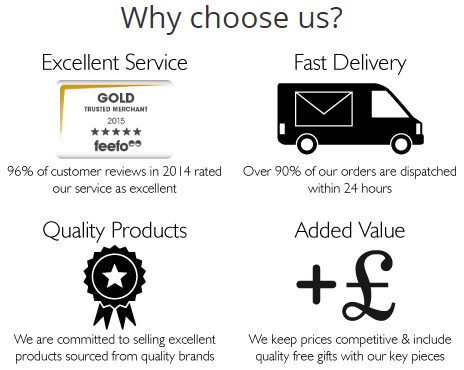 Philip Morris have also implemented Feefo's product reviews against their own individual products, for example: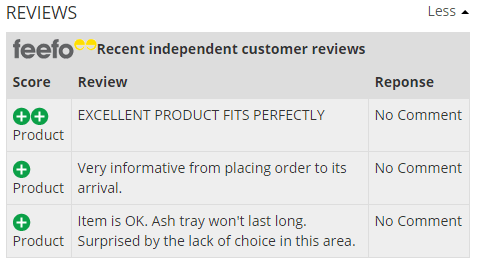 How Can Khaos Control Help?
Generating the data that solutions such as Feefo and Trust Pilot need to work for you automatically is straight-forward, thanks to Khaos Control's accessible and powerful Data Query tool. When this is combined with our automated Work Flow functionality, you can be uploading sales order data to your review partner's FTP location (or inbox) as regularly as you need to in order to get (or keep) your reviews flowing.
Existing Khaos Control customers should email development@khaoscontrol.com if they'd like any help with implementing and configuring their automated review data upload.
If your company is not already benefiting from this and the wide range of multichannel solutions that our Khaos Control software provides, please contact us to arrange a free demonstration at your offices.