Black Friday 2016 – Desktopmageddon
Ah 2010.
Wikileaks were rocking the establishment.
Vuvuzelas were deafening everyone that hadn't been rocked.
Ash from an Icelandic volcano (Eyjafjallajokull as you ask) grounded the UK for more than a week.
And the Millibands were finding out that brotherly love only goes so far.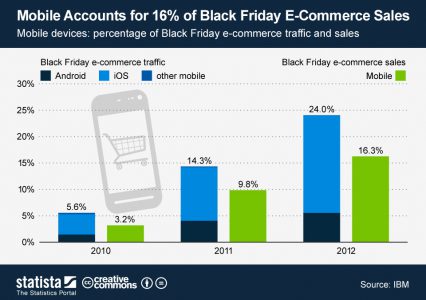 Black Friday was an American thing that was yet to land on this side of the Pond.
And 3.2% of eCommerce transactions were carried out on a mobile device.
Three point two percent.
The Rise of the Mobile Device on Black Friday 2016
We've been told that mobile will revolutionise eCommerce for years. First through WAP, then via Mobile Websites / Apps and now through responsive design.
Black Friday 2016 saw mobile eCommerce sales reach near parity with the traditional desktop, with 48 percent of orders placed during the day being from a mobile device. This chart from Statista highlights the rapid growth of mobile since 2013: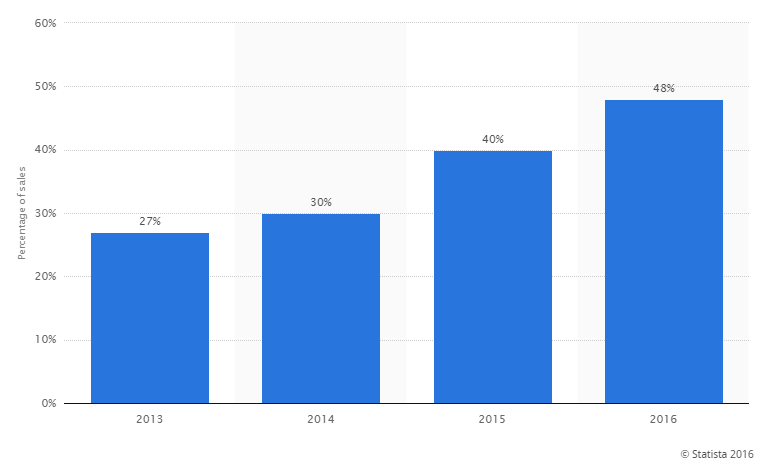 And in looking back at Black Friday and Cyber Monday in 2016 for eCommerce its mobile that stands out as the headline.
Whilst eCommerce retailers struggled to build on the success of previous years – particularly on Cyber Monday – mobile use overtook Desktop at three key points during Black Friday:
As the clock struck for midnight
During the early commute (5am through to 8am)
During the evening (6pm through to close of play)
This compares with Black Friday 2015, when the only point at which mobile outstripped desktop performance for eCommerce was on the early morning commute. As you would expect 2014 and 2013 weren't even a contest in this regard (credit to eCommerce Trends at PCA Predict).
This graph from the good folks at PCA Predict highlights the device trend for Black Friday 2016:

Continuing the checkout data theme, PayPal reported that one third of ALL payments worldwide on Black Friday were made on mobile devices, which equated to $15,507 of transactions every second.
But, whilst Mobile has grown across the world, it's the British consumer that leads the way in adapting to shopping on their phone. Data from ChannelAdvisor highlights that whilst 75% of shopping searches in the US during the 5 day Black Friday Window took place on a mobile device, fewer than 1 in 2 purchases were completed on mobile. Whereas ChannelAdvisor saw three in five sales convert from a mobile device in the UK, in spite of the percentage of UK shopping searches from a mobile being lower than in the US.
Deal Driven Outlier
Black Friday is always a statistical outlier compared to the rest of the eCommerce Year. One anomaly which stands out is that mobile device usage on Black Friday is actually down when compared with 2016 as a whole:

There are only three percentage points in it, but PCA Predict's figures highlight that eCommerce transactions are happening on mobile devices more than 50% of the time for 2016 as a whole, compared to only 48% of transactions being from mobile devices on Black Friday.
Talking of deals, Affiliate Window, who enable companies to drive sales through targeted offers and content, are a great example of the deal-driven nature of Black Friday. Whilst all of their stats come from promotions that they have run for their clients, the top 3 types of content are telling:
Discounts – 56%
Cashback – 31%
Content – 13%
Content may be King, but it turns out that customers are still more likely to have their heads turned by the delicate ankles and rugged jawlines of Discounts and Cashbacks. Especially when they have been conditioned to expect them – as on Black Friday.
Search driven in a Mobile World
With mobile devices opening up new avenues in search, with voice search, assistants, YouTube and many other elements being thrown into the mix, winning the search game is now even more complex. And with the major retailers pushing hard to stay alive, breaking into the public's consciousness through search during an event like Black Friday would appear to be an opportunity for smaller retailers to simply squander money.
According to Google's Search Trends Tool, the same 10 retailers were searched for in November 2016 as in November 2015, with only minor shifts in order. Currys were one winner, with more searches for their brand than any other retailer during November and Google identified them as a related topic to Black Friday thanks to a 750% increase in searches for Currys, when compared to October 2016.
However, for the rest of us, the interesting search takeaway is that Google Shopping interest on Black Friday grew 19% year on year, whereas traditional searches actually reduced on the day. This indicates that consumers are adapting to using Google Shopping directly, especially when looking for deals and discounts on a day such as Black Friday, rather than using Google's traditional search tool.
Making sure that your key inventory is listed on Google Shopping is relatively simple to achieve. If this is something that your business is not yet taking advantage of, then get in touch with the team today and we'll do our best to help.
There's Lovely, but…
How does any of this relate to you and your business? Good question. Making sure that you don't understate the importance of mobile to your future eCommerce strategy is important. But then you already knew that.
Only you know how Black Friday panned out in terms of volumes, customer experience, profitability and, most importantly, whether any of those new customers you attracted stuck around for Christmas.
That's why we're running a Khaos Family eCommerce Peak Trading Survey. We'd like you to take part in this short survey so that you and the rest of the Khaos Family can plan even more effectively for Black Friday 2017 and beyond. Click here to take part. All entrants will go into a draw to win a state of the art mobile device on which to test your latest campaigns and offers.
References:
https://www.statista.com/statistics/247195/percentage-of-mobile-black-friday-sales/
https://www.statista.com/statistics/247187/mobile-device-traffic-on-black-friday/
http://www.pcapredict.com/ecommerce-trends/black-friday-by-device-hourly/
http://www.pcapredict.com/ecommerce-trends/transactions-by-device/
http://www.findyouraudience.co.uk/single-post/2016/11/29/Which-retailers-were-winning-online-during-Black-Friday-in-2016
http://www.awinblackfriday.com/
https://econsultancy.com/blog/68587-black-friday-cyber-monday-2016-ecommerce-stats-bonanza/