More Sale with your Sale? Black Friday's last hurrah?
It started as a single day of special offers from retailers looking to kick-start their Peak sales period ahead of Christmas. A decade on, Black Friday has turned into an orgy of offers.
No longer content with having Cyber Monday as well, multichannel retailers are now having to contend with Amazon going all 'Dr Seuss' on its competitors and turning themselves into the Retailer that Stole Christmas (sic).
Many other retailers have reacted by launching sales during the month and this morning (Monday) has seen email inboxes across the globe swamped with Black Friday Week promotional emails.
With Black Friday and Cyber Monday only days away, the time for planning, in terms of offers, purchasing and provisioning (both personnel and hardware in the case of multichannel businesses), is past. However, the whirlwind that successful retailers will reap is still on its way, in terms of extra orders, calls, returns, website errors and much much more.
That is why, following on from the great feedback we had from the Khaos Family in 2015, our Support Team are again extending their opening hours over the Black Friday Weekend.
Dean and the team will be on hand between 07:30 and 18:00 on Friday, 25th November and Monday, 28th November and our phone lines will have their opening hours extended accordingly, from 08:00 to 18:00 on both days.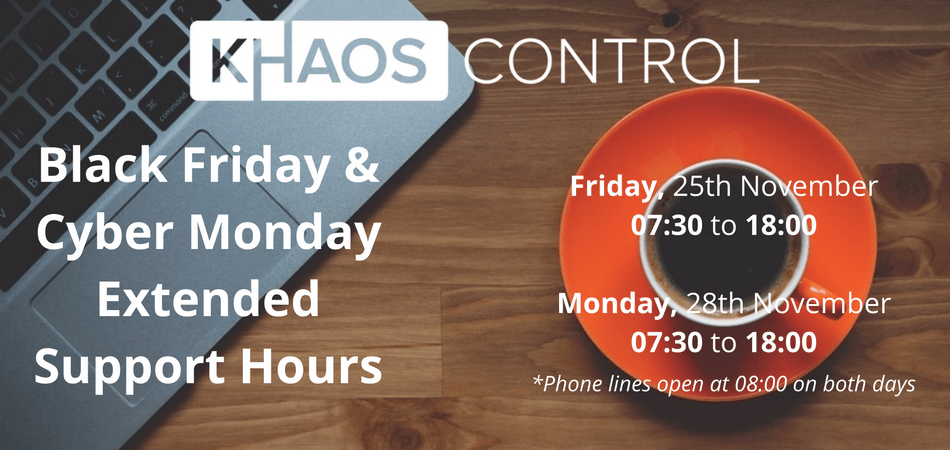 In preparation for what could be the last Black Friday weekend – in its present form – I sat down with our Customer Support Manager, Dean Baker, and asked him about his operational tips for members of the Khaos Family looking to navigate the waters of Black Friday and Cyber Monday as smoothly as possible. Dean had the following to share:
eCommerce order imports – thanks to our API these should be coming into your Khaos Control instance seamlessly and pretty much instantly. However, it's worth making sure that you are on top of any import errors that are being flagged up – either in Khaos Control or in your eCommerce website's CMS. 2015 saw eCommerce order volumes spike on Black Friday, as well as Cyber Monday, and a significant increase in order volumes will accentuate any issues and will impact operational performance across the board.
Marketplace Integrations – are your credentials up to date? Are you on top of any import errors? Our integration with Ebay, Amazon and other marketplaces via their APIs means that handling an uptick in orders over the holiday weekend won't be an issue, as long as your housekeeping is up to date. Keep on top of any Listing Errors, and regularly review your Channel Orders tab and you'll be fine.
Invoice Rules / Invoice Manager – If you're running any special promotions, delivery offers, or similar then you may want to revisit your Invoice Rules and ensure that the fallout of these is as automated as possible. The way in which the Invoice Manager can automate your fulfilment team's workflow really comes into its own during peak trading periods and revisiting the Invoice Rules ahead of time can reap dividends.
Updates applied? – are you on latest? If not, why not? More to the point, if you've held off applying an update for any reason, this week may not be the best time to apply it. If you are thinking of applying an update this week, make sure that you're doing this for the right reasons. It's much easier for the team here in Grantham to support you when you're on the latest version, but we would also rather that you did what works for you and your business. Applying updates during a peak trading period – unless it's a critical fix / change – doesn't tend to end well.
Reporting:

KPIs – have you put this latest feature to good use to ensure that you're on top of order counts etc.? If not, it may be worth investing a few minutes this week to make this most of this feature.
Dashboards – I will be monitoring our team's performance throughout the week via a custom Khaos Control dashboard that reports back to me on ticket numbers, age, severity and a number of other stats across the Khaos Family. Are you taking as much advantage of your data ahead of Black Friday? Khaos Control-driven dashboards aren't just good for measuring performance, they can be a brilliant motivational tool for your teams.
Workflow reports – Our flexibility in being able to email / upload key stats / figures etc. based on specific scenarios and / or situations is something that many of our customers already take advantage of. If you have a specific process that you want to ensure that you – or your team – are on top of, having a workflow report configured in Khaos Control that can highlight any issues throughout the day is invaluable.
Have a chat with our Development Team if you are yet to implement Dashboards and / or Workflow reports and they will be able to get these deployed for you.

Extending your opening hours – If you're running extended opening hours for your operations and / or customer services teams have you got people with the requisite KC skills on hand in order to deal with customer enquiries and / or get the goods out of the door? Putting more people onto your phones or Live Chat can be really effective, but having them in a position to pull an answer out of Khaos Control immediately can make a real difference.
Contact details – Have you shared our contact details with the right people? Myself and the team can be reached by email and phone.  If we're supporting your eCommerce website as well, it's worth making sure that you've publicised our eCommerce Out of Hours Support number internally.
On behalf of myself, Dean and all of the team here in Grantham, I hope that you have a great Black Friday period and that it delivers everything that you're expecting. If this is to be Black Friday's last hurrah, then let's make it a good one!
If you are not already a Khaos Control customer and would like to learn more about how Dean and all of the team here in Grantham can help you to make the most of Black Friday, and peak sales periods like it, get in touch today. We would love to take you through how we can help and learn more about you and your business.