Glass half full or half empty? Will this be a Black Friday for the ages?
I'm sure that your inbox and social media timelines have been deluged with Black Friday offers, promotions, abstentions and much more besides. But what kind of impact is this having? Are sales up again on last year? Or, as we suggested earlier in the week, has Amazon's month-long attempt to torpedo Black Friday suppressed sales?
To cut to the chase, Amazon's month of offers haven't broken Black Friday yet. If anything their attempt to corner the market has pushed other retailers to up their game as well, with Black Friday sales outperforming 2015 by as much as 21% at various points this morning.
We've been following PCA Predict's Ecommerce Trends, as anyone who follows me on Twitter will know, to keep track of eCommerce transactions this Black Friday and all of the indicators for multichannel retailers are positive.
Black Friday eCommerce trend so far
Looking at the following graphs highlights how the day has built up to this point. When we checked in at 5am, transactions were already up:
There's already been a 19% increase year on year this #BlackFriday via @PCAPredict's #EcomTrends https://t.co/Io0cCEeo8j

— Khaos Control ERP (@KhaosERP) November 25, 2016
That trend has continued throughout the morning as the following charts from PCA Predict demonstrate:

07:19 GMT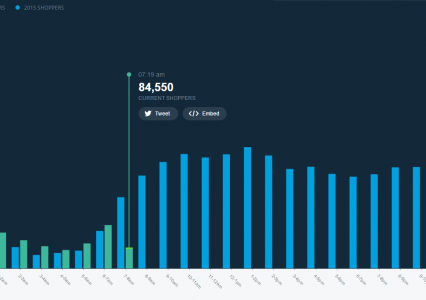 10:02 GMT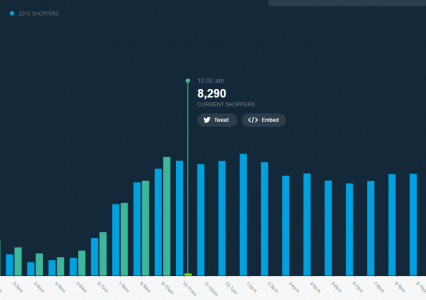 12:34 GMT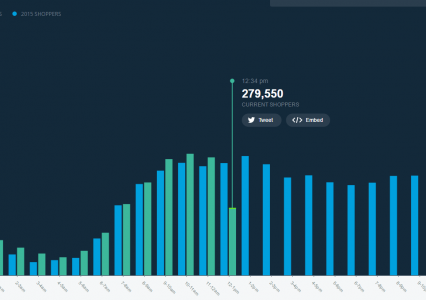 As we go to press (12:40 GMT), transactions are up a healthy 11% YOY, which, based on last year's Black Friday total sales figure of £1bn, suggests that consumers will sail past that barrier before the end of the day.
The tablet is dead?
One of the most interesting trends from eCommerce data we've examined so far today is with device usage – sorry for going all geeky on you, but this important, honest.
In an age of responsive websites, mobile commerce, shopping apps and the ever-present smart phone, we've seen some surprising results to this point on Black Friday. Phone and Desktop eCommerce sales are outperforming 2015, as they have done year on year consistently since Black Friday first hit these shores in 2013. However, tablet transactions are almost exactly the same, if not slightly down, on 2015. We may still be using it as a device for research and browsing, but when it comes to pulling the trigger, we still prefer the desktop and our phones are now a clear second choice:

So, that plan to kill off Black Friday?
As we covered at the start of this post, Amazon's attempt to break its competitors with a month of offers during November clearly hasn't worked. Both when looking at sales figures for Black Friday to this point, but also when looking at the figures for the run up to Black Friday when compared year on year. The following PCA Predict chart demonstrates that 2016 has outperformed 2015 consistently, at some points significantly:

If anything, Amazon's attitude has encouraged retailers to double-down and raise their games. How that will pan out in terms of retailers making a profit, rather than simply shifting units, will take some time to pan out, but Black Friday certainly doesn't appear to be going anywhere at the moment.
Check out our Twitter feed for more content throughout the day and we'll be back on Monday for an update on how Black Five-day (you see what I did there…) is progressing.