Castle to Coast to Castle (C2C2C) is a Lincolnshire cycle event that sees local businesses enter teams for a 100 mile charity bike ride, from Lincoln to the North Sea and back again. In a day.
This being the 'shire, there are not a ludicrous number of hills to worry about, but the route still includes more than 3,000ft of climbing, so it isn't something you can attempt without any training, or so we thought (more on that later on).
The entire event is run for charity, with all proceeds after running costs going to the ride's nominated organisations. In addition, teams are encouraged to fundraise as well.
Cycling is something a lot of the team here at Khaos Control Solutions enjoy (as you may have noticed), so this seemed like a no-brainer for us.
Fail to Prepare…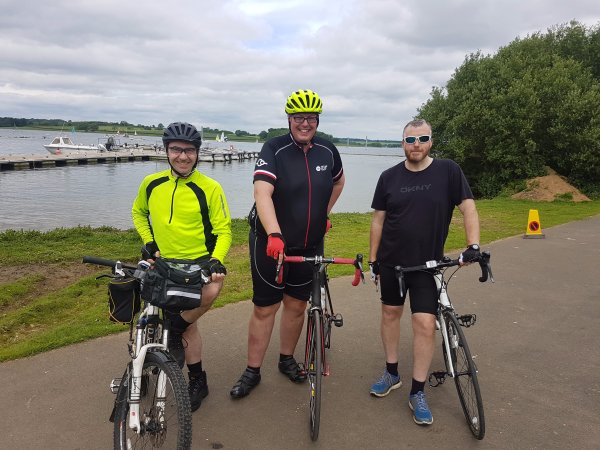 Having signed up a much bigger team than expected (Team Khaos were eight strong on the day), including our MD, Mike, we realised that we were going to need to get some training in if we were to enjoy the day and get the 100 miles done. Four 'big' training rides were organised, the highlight being a 64-mile trip around the bottom of Rutland Water, that saw us take in Stamford and Oakham.
In addition to those outings, we also rolled out every Wednesday evening during the couple of months leading up to the ride.
In addition to the training, we had to organise logistics for the event. Getting everyone and their bikes from Grantham to Lincoln for a 7am start was entertaining. We also had to plan ahead for mechanical emergencies and stock up our Support Motorcyle (and rider – thanks Dave Capps!) with energy drinks, bars, gels, sweets, water and – thankfully – Nurofen!
The Big Day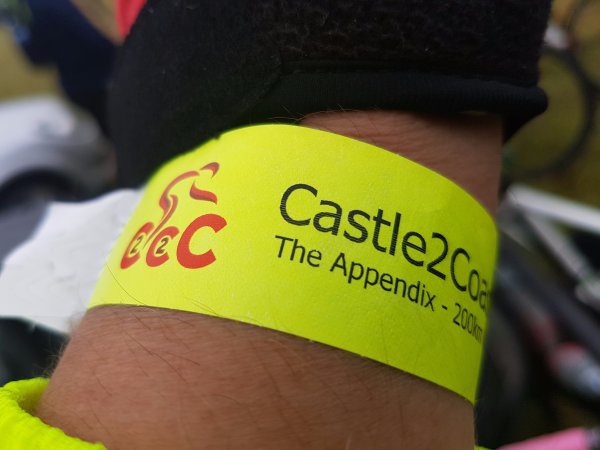 You may remember that the middle of June was delightfully hot and there was some trepidation in the team that we would be having to deal with sunstroke and dehydration.
Well. We needn't have worried.
Whilst the forecast for the day was good on paper – light rain first thing, clearing to an overcast but warm day with little wind – the reality was misery.
The rain arrived as promised first thing but it didn't clear up as promised.
We set off from the start in Lincoln at 7.30 in high spirits and whilst the rain wasn't ideal, we were all fresh and keen and the initial 23 miles to the first stop in Hemingby rolled by without incident.
The second section saw the first of the day's two proper hills, outside Donnington on Bain, but everyone got up it and no-one incurred hypothermia waiting for me to slog up to the finish, so on we cracked for Alford and The Coast!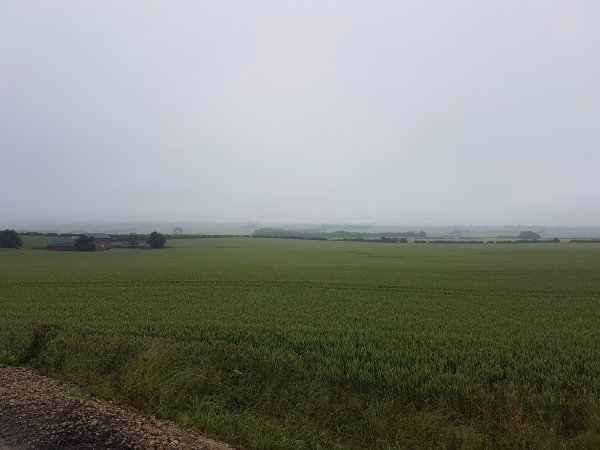 By this point we'd all realised that we were going to be in for a tough day. Up in the Wolds, the weather had well and truly set in and the size of the challenge was hitting home. It was with some relief that we got down to Alford and the flatlands and could start to think about lunch at Chapel Point.
Well, I say we. I actually mean the rest of the team because this was the point at which the sidewall of my tyre blew out.
There was a bike shop in Alford.
Unfortunately, there was a massive queue.
So, Team Khaos cracked on without me. Which was a good job, as I was ages!
The rest of the day became a test of mind over matter. The highlight being the 5.1 mile climb from Calceby to the top of the Bluestone Heath Road at Belchford.
Team Khaos cracked on and made the second Hemingby Stop in good time.
Your correspondent was faring less well and managed to make it to Hemingby for a second time at around the point the first Team Khaos rider was finishing.
With the weather having well and truly set in, the last 20 miles stretch to Lincoln was a test for everyone, but the entire team can be proud to have overcome the elements and to have finished the event.
All in a good cause
Sponsorship was one of the key drivers to ensuring that everyone got to the end – including Chris Whitington from our Projects Team, who managed to complete the day having not done any training! – and we've managed to raise an awesome £611.66 for the Lincolnshire and Nottinghamshire Air Ambulance.
Whilst we would have been happy to have rested on our laurels, we came back to the office on Friday to more kudos than we knew what to do with from our colleagues and an awesome cake!
Thanks and Recognition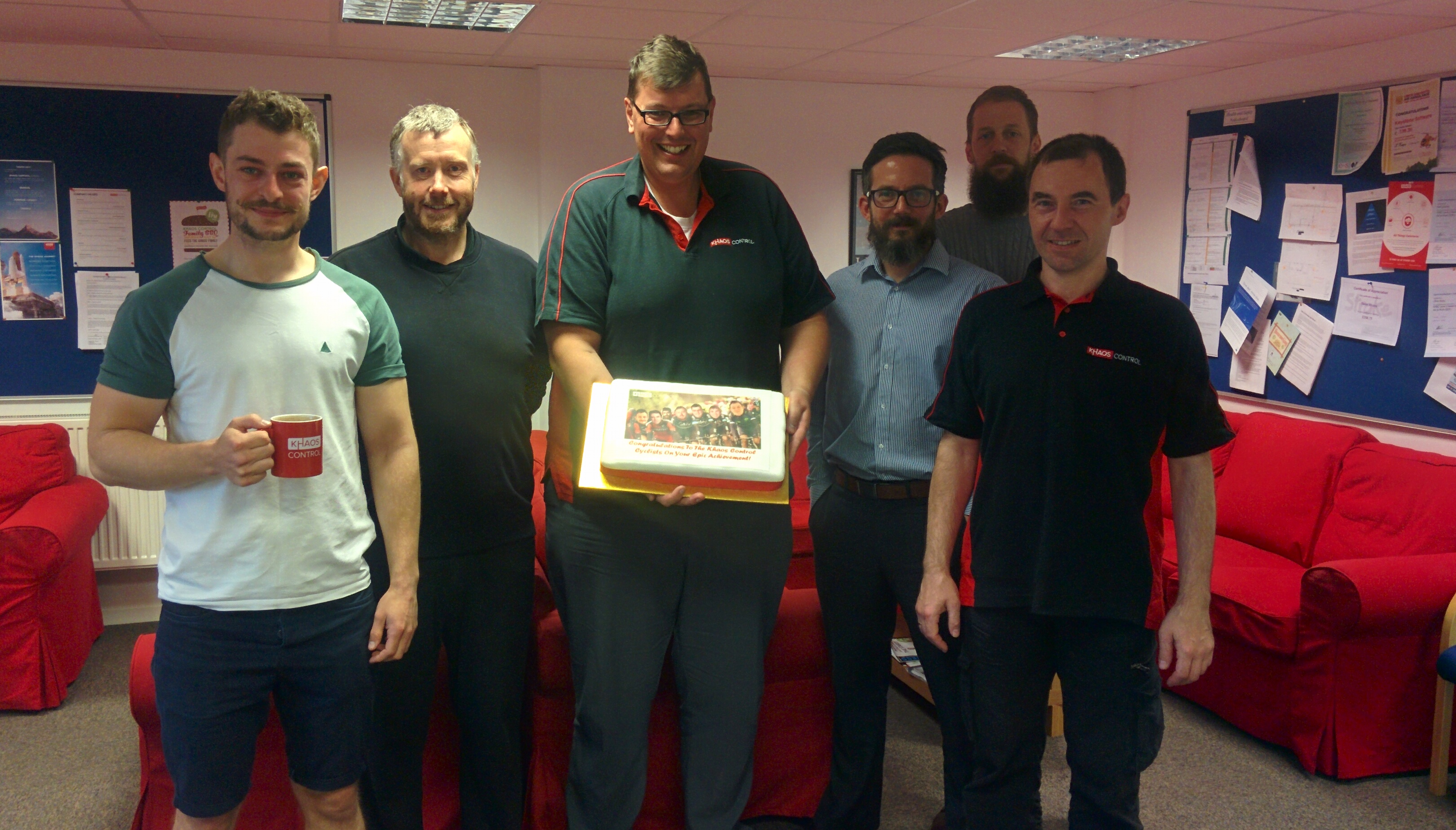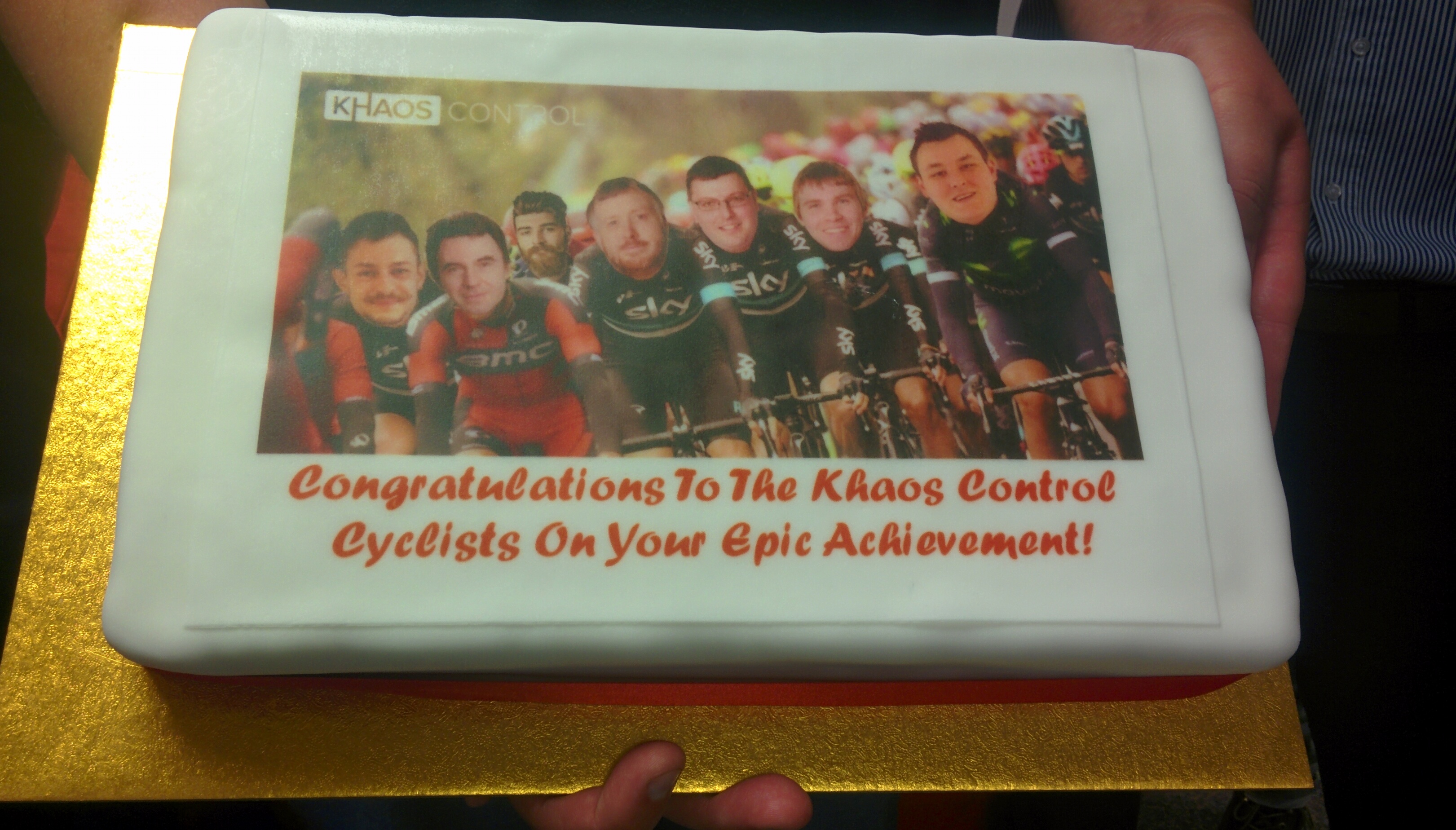 Firstly, thank you to everyone that sponsored the team. Your generosity is really appreciated.
Secondly, thank you to Dave Capps for being our motorcycle support on the day. I know that there's no way I would have finished if you hadn't been waiting for me with supplies at the final stop!
Thirdly, kudos to all of the Khaos Family that took part. Team Khaos on the day comprised; Karl Gladwin, Chris Whitington, Michal Hoffmann, Max Read, Andy Richley, Richard Clark, Oliver Burns and Mike Cockfield. Supermen all.
And finally, thank you to David Burgess and all of the C2C2C team for putting on an awesome event. We can't wait for next year!