Consignments on Hand Held Terminals
Our Hand Held Terminal functionality allows companies to streamline their business processes, as well as delivering a great customer experience through increasing pick accuracy and reducing the time from an order being placed to it being delivered.
Our Consignments functionality, which allows companies to manage the importing of containers and / or multiple purchase orders, is the latest feature to be built into our HHTs.
Processing Consignments on Hand Held Terminals allows your Goods In Team to benefit from the power and control of Consignments, without the hassle of learning new functionality in Khaos Control.
Importing goods that have been manufactured overseas is something that more and more eCommerce and Multichannel companies are looking to. Having goods manufactured to your own design and / or specification can allow you to stand out from the competition on price and on quality. However, understanding the true cost of what you're purchasing and, therefore, whether or not you are making a profit, becomes far more challenging. By allowing you to group purchase orders that are being fulfilled together into a consignment and then amortise the wide range of costs that can be involved in importing goods against the products you're shipping you can arrive at an accurate cost.
Processing Consignments on Hand Held Terminals allows your Goods In Team(s) to handle containers as if they were any other delivery. No more clambering over pallets to find out where the rest of the first PO you're booking in has gone. Just call up the Consignment on the HHT and crack on!
How Consignments on Hand Held Terminals Works
Goods In
We've added a new funciton to 'Goods In' on the HHTs, which allows you to dive straight in to booking in a Consignment. Opening the Goods In function on the HHTs now takes you to a brand new screen which allows you to choose between booking in a new Consignment or a Purchase order: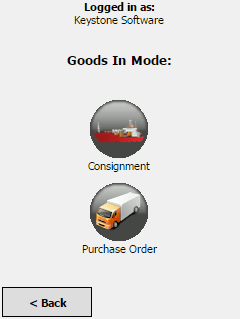 Booking in a Consignment on an HHT
To start, select the Goods In button from the Stage Select screen. Then hit the Consignment button: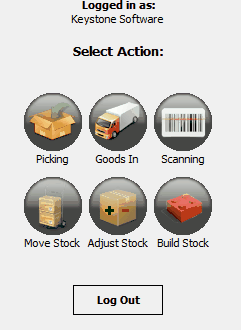 Entering/Scanning a Consignment
Consignments can be selected in two ways, as the 'GIF' above demonstrates.
Click a consignment from the "Manual Consignment Select" list, then the "Next >" button. Or,
Scan a consignment's barcode straight into the "Enter Consignment No" box.
Booking In / Scanning Stock
Booking in stock is simple – scan the product barcode and confirm the quantity. As with the existing Purchase Order Goods In process, you can also key product codes into the application.
Scanning a Location
Put away locations and stamp dates for stock can be scanned into the application at putaway, as normal. Meaning that Khaos Control knows exactly where every item is at all times. This also means that as soon as you complete your put away process, the goods you've booked in are immediately available for replenishment and / or picking.
That's Lovely, but how about Real Life™?
Consignments can be interrupted and resumed at any point on the Hand Held Terminals, up until they are finally completed and closed. Very few containers are emptied, QC'd and put away in one go, so our HHTs allow you to bite off your Consignment Putaway in as many chunks are your Goods In Team require.
What do these changes mean to our business?
For a start, gone are the days of trailing through bits of paper trying to keep track of everything, this provides a much more modern and streamlined way of working. Running Goods In for your Consignments from a handheld device means that the whole process is a lot more efficient and controlled.
Secondly, you will save time and money when compared to using Khaos Control's Consignment functionality. Rather than having to go to the expense and trouble of training key warehouse staff on Consignments and how they impact the Goods In process, you can leave that functionality with your Purchasing Team and have your Goods In Team just use the device and process that they're already familiar with.
Finally, the HHTs allow you to scale your operation as demand requires a lot more efficiently. Again, because of the intuitive interface and design, you can assign new members of staff to tasks much more quickly and easily than you could if you were asking them to use a sophisticated back office system, like Khaos Control.
Would you like to know more about Consignments on Hand Held Terminals?
Consignments and HHTs are options that can be enabled quickly and easily in your instance of Khaos Control. If you're already a Khaos Control customer, contact us today for information on how to switch this elements on in your instance. If you're not yet using Khaos Control, then request a free demonstration of our ERP solution that enables multi channel retailers across the UK to grow rapidly and sustainably.