From the 8th February 2021 onwards, Amazon will be introducing new mandatory shipping requirements for all sellers. This will mean including the carrier name and delivery service an item was shipped by, for example, "Royal Mail 24". If the correct information isn't provided, you will not be able to ship your orders, and the items will be automatically cancelled after seven days of the expected shipping available date. Delaying your orders can also lead to an increase in Late Shipment Rate (LSR), which can ultimately lead to account suspension.
Why are Amazon doing this?
Having additional information on carrier name, delivery service and tracking ID means Amazon can pass scan events, made available by the carrier, back to the customer, making it easier to track shipments.

What does that mean for Khaos Control Cloud?
We are currently finalising the testing of the changes required to Khaos Control Cloud to allow for this new feature. As soon as it's ready, we'll roll these changes out in our next update.
As demonstrated in the image below, the update will include the introduction of a new "Amazon Service Desc" column in the [System Data | Couriers] area of Khaos Control Cloud. Initially this information will be copied from the existing "Courier Desc" or "Courier Code" column of all your courier services so that it has a sensible starting value.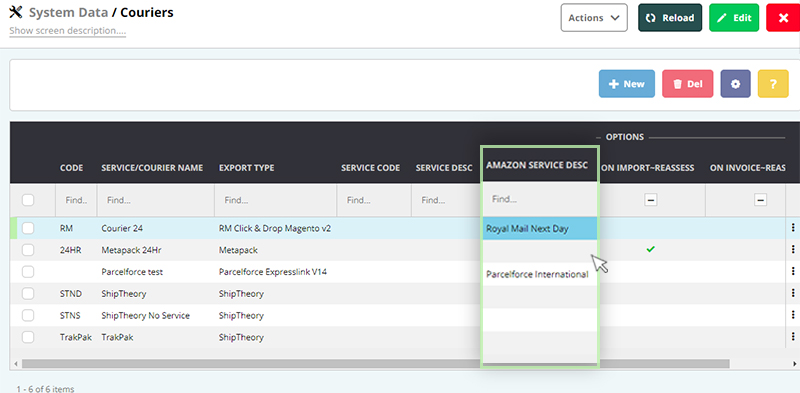 So, when it comes to transferring the right shipping information over to Amazon, it's all there ready to go.
We strongly encourage all customers to review their couriers after applying the latest update to make sure you're 100% happy with the description specified. If not, this will negatively affect your ability to ship goods for Amazon and may require manual intervention on any affected orders.
Where courier integrations make use of an aggregator e.g. ShipTheory, Khaos Control Cloud will receive the service information from the aggregator directly when making the label request. This will then be passed onto Amazon by storing the received information against each order. This order level information will be sent instead of the default 'Amazon Service Desc' you have configured.
To find out more information on these changes within Amazon, please visit Amazon Seller Central.