Quickbooks Commerce (formally TradeGecko) Vs
Khaos Control
Looking to switch from QuickBooks Commerce (formally TradeGecko) to another provider? We're here to help highlight some of the biggest differences between the two systems. With in-depth courier management, CRM functionality, and built-in ICAEW accounting, find out why companies are making the switch to Khaos Control today.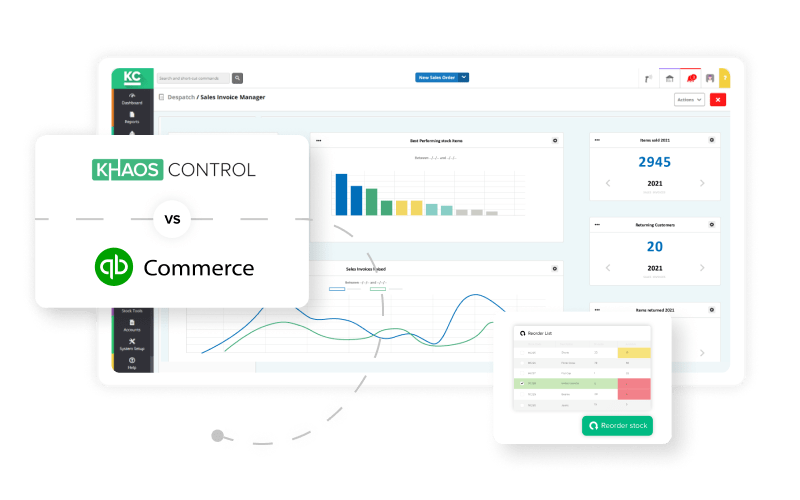 QuickBooks Commerce
Khaos Control
Multichannel inventory management
QuickBooks Commerce
Khaos Control
Order management
QuickBooks Commerce
Khaos Control
Guided onboarding
QuickBooks Commerce
Khaos Control
POS functionality
QuickBooks Commerce
Khaos Control
Extensive reporting
QuickBooks Commerce
Khaos Control
Manage stock across multiple sites
QuickBooks Commerce
Khaos Control
Free 14-day trial
QuickBooks Commerce
Khaos Control
Switch & save up to 80%
When you switch to Khaos Control Cloud, your business can access the system for the first 2 months for just £12 per month, per user.
Notable features
UK-based support team
Advanced warehouse management
One system for all business processes
Multiple accounting integrations
Competitive features
Flexible pricing & scalability
Khaos Control Cloud is suitable for businesses of all sizes. No matter how many users you need, we will not restrict you from any features. You can also increase or decrease the amount of user licenses you have month on month; we will only charge you for what you use. Starting from as low as £12pm per user, find out why businesses are making the switch today.
You suggest, we implement
Khaos Control Cloud gives the customer and prospects the chance to have a say in what features are added to the system. This is a level of interaction and support that is unmatched compared to competitors. Khaos Control Cloud's product roadmap is a tool that allows us to have an open communication with our customers, accepting votes on what should be a priority for our development team, as well as taking on new suggestions entirely.
1-to-1 onboarding and support
Khaos Control Cloud offers tailored onboarding and multi-level support to ensure customers are well supported when it comes to using the system upon implementation. A dedicated UK-based support and training team will be assigned to your company to ensure, you're supported, feeling confidence, and any issues you might come across are resolved immediately.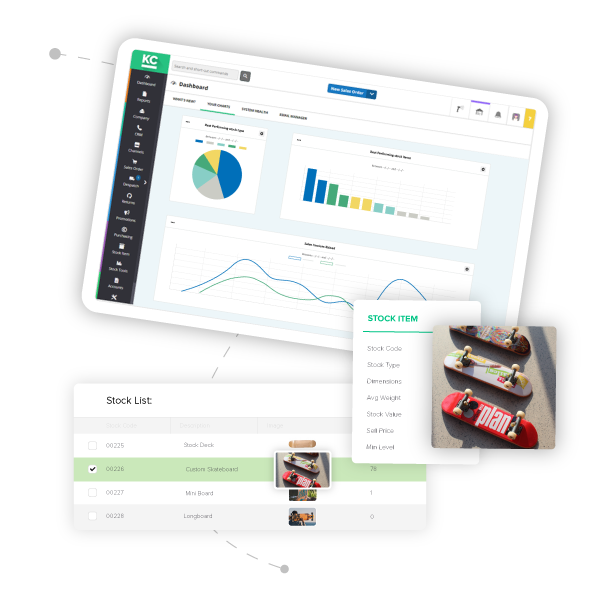 Why Khaos Control?
Jump between multiple screens from Khaos Control Cloud's navigation panel as you carry out different tasks at once. Watch how the system works in different scenarios below.
Fully integrated to the UK's top marketplaces