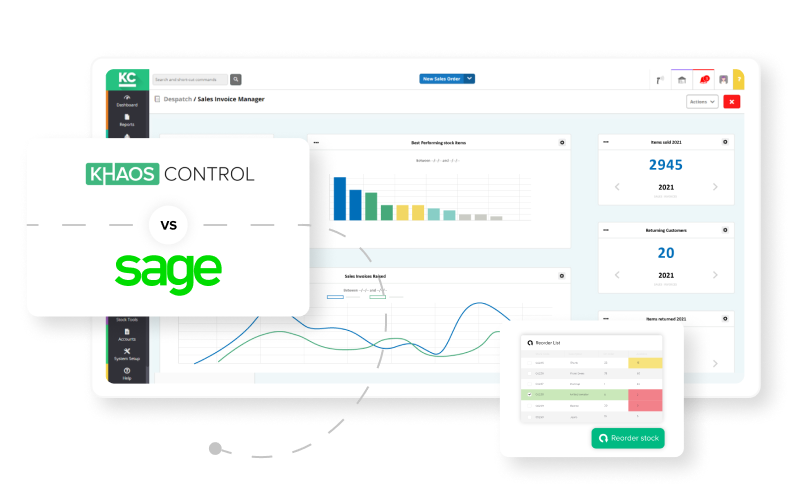 Sage Vs
Khaos Control
Looking to switch from Sage Business Cloud X3 to another provider? We're here to help you with the comparison. As well as built-in ICAEW accredited accounting functionality, Khaos Control provides advanced control of your sales, inventory, supply chain and more. Find out why hundreds of businesses are switching to Khaos Control.
Accounting software
Sage
Khaos Control
Inventory management
Sage
Khaos Control
CRM tools
Sage
Khaos Control
Suitable for manufacturers
Sage
Khaos Control
Barcode scanning
Sage
Khaos Control
Data import / export
Sage
Khaos Control
Bank reconciliation
Sage
Khaos Control
Customisable reports
Sage
Khaos Control
Third party integrations
Sage
Khaos Control
Pay per number of users
Sage
Khaos Control
Switch & save up to 80%
When you switch to Khaos Control Cloud, your business can access the
system for the first 2 months for just £12 per month, per user.
Notable features
ICAEW Accredited Software
Import One-Stop-Shop Functionality
Making Tax Digital Ready
Advanced Warehouse Management
UK-Based Support Team
Competitive features
Flexible pricing and scalability
Khaos Control Cloud is suitable for businesses of all sizes. Whether that's a 1 or 10 user system – we don't restrict your business from any features. Our flexible credit system also allows you to reduce your monthly cost to as low as £12 per user per month. You can also increase or decrease the amount of user licenses you have month on month; we will only charge you for what you use.
Advanced inventory and warehouse control
Whether you're selling from a single store, multiple warehouses, or you're making use of dropshipping, Khaos Control Cloud manages your orders, stock levels and returns in one central location. Control your pick, pack and despatch, warehouse operatives, as well as the processes behind booking goods in.
Look after your customers and prospects
Customer confidence is key to any successful ecommerce strategy, and Khaos Control is a system that provides the tools for retailers to inspire that confidence. Whether that's making use of automated emails, workflows, customer pricing lists or setting follow ups for prospects, our built-in CRM offers the tools you need to nurture your customers. Having accurate information available within a few clicks of the system also means reliable communication within customer service centres, out on the road, or directly from within stores.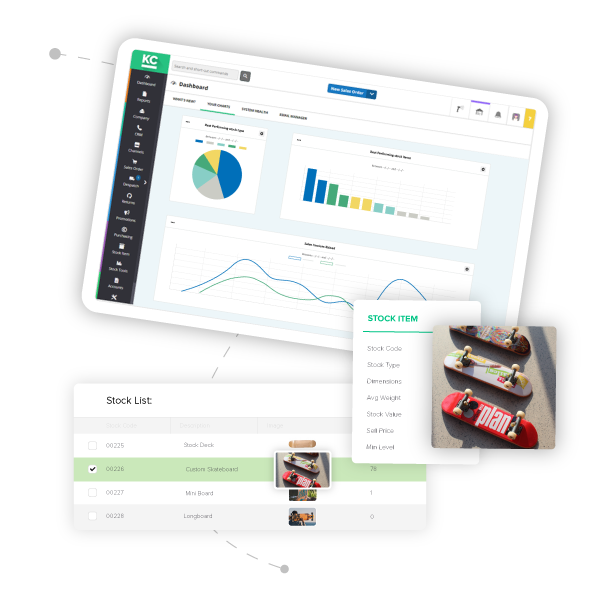 Why Khaos Control?
Jump between multiple screens from Khaos Control Cloud's navigation panel as you carry out different tasks at once. Watch how the system works in different scenarios below.
Fully integrated to the UK's top marketplaces