Lies, Damned Lies and Cyber Monday Statistics
We have spent the weekend tracking trends and graphs in order to bring you the data you need this Cyber Monday morning.
As the stats from the lovely people at PCA Predict highlighted, eCommerce transactions were up again on Black Friday in 2016, with an overall increase in sales of 6.74% here in the UK. Bricks and mortar didn't miss out either, with UK retailers overall expecting to surpass last year's £1.9 billions in total sales on the day.
Americans still can't get enough of Black Friday
The biggest surge in sales this 'Black Five Day' has come on the other side of the pond. A report from Adobe on Black Friday activity, that was referenced by Tech Crunch, estimated that the US had seen year on year growth of 21.6%, with estimated sales totals at $3.34 billions.
Meanwhile, back in Blighty
In addition, Barclaycard (transactions up 6% year on year) and Nationwide Building Society (purchases by its customers were up 13% year on year) have released figures that bear out the year on year increases we've seen reported to this point.
So that was Black Friday in the UK, how did the rest of the weekend perform?
Drilling into the stats on this, again thanks to PCA Predict and their eCommerce Trends, has highlighted some interesting changes. Whilst Black Friday did show growth in 2016, so far the day before has shown the highest up-turn, year on year: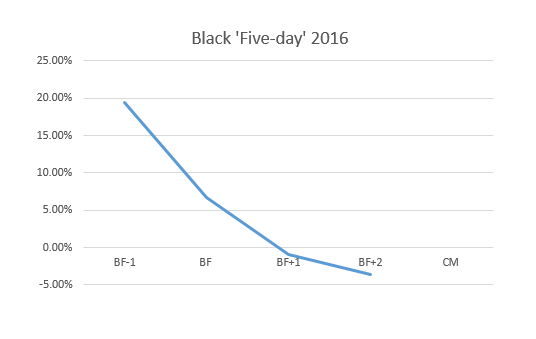 eCommerce transactions were up 19.43% on Thursday, 24th November. This supports analysts predictions earlier in the year that retailers would be turning Black Friday into a five-day extravaganza. However, Thursday and Friday's increased sales appear to have come at the expense of the weekend, with trends of -0.90% and -3.63% on Saturday and Sunday.
So, what does all this mean for Cyber Monday?
We drilled further into PCA Predicts eCommerce Trends in order to see if any pattern emerged. Here is their transactional data for 'Black Five Day' since 2013: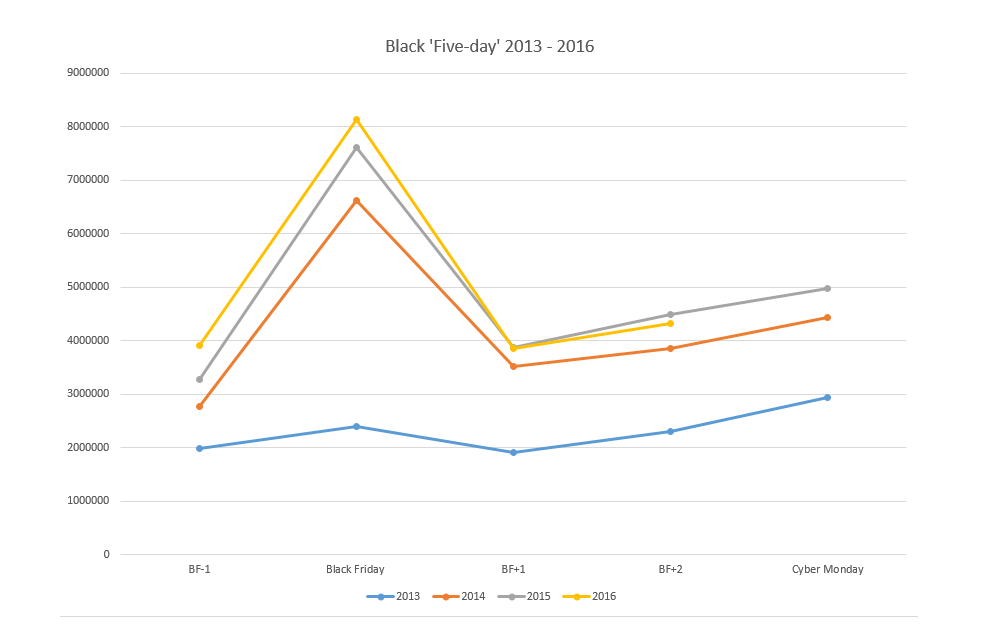 2016 is the first time that weekend sales have failed to grow, year on year. With Thursday outstripping the growth or previous years that may be why, but it will be interesting to see if this points to the focus on Black Friday itself leading to Cyber Monday's growth atrophying.
The signs for Cyber Monday so far appear to be good, with eCommerce transactions up 12% Year on Year as of 09:17 on 28/11/16. You can keep track of the day's transactions here:

Google Trends, useful, or just extra noise I don't need need?
We've seen Google Trends come up a few times over the course of the weekend, in terms of people tracking trends and what consumers are searching for. In terms of overall Black Friday and Cyber Monday trends, they haven't rocked our world. In the UK there were no surprises with regards to what people were searching for around 'Black Friday 2016':

Brand awareness is still obviously difficult to beat.
Related topics in Google Trends were a little more interesting, with Pandora and Thanksgiving itself both trending here in the UK:

As you can probably imagine, Cyber Monday here in the UK has, so far, been dominated by people like me, making sure that they are up to speed with how Black Friday is impacting the event:

Will retailers see growth this Cyber Monday?
The initial signs – as per the current stats graph from PCA Predict – are encouraging, but blindly expecting Cyber Monday sales in the UK to grow year on year seems a little naive, based on the drop off we've seen over the weekend. With the information I have to hand at this point – and based on the 20%+ increase we saw first thing on Black Friday which reduced to around 6%, I expect another successful Cyber Monday for retailers, but for the year on year growth to be less than 5%.
Check in later this week as we wash up the five-day weekend for retailers and see what we can learn from the stats. We'll be paying especial attention to the devices online shoppers are using and how retailers can work this into their plans for 2017 and beyond.
To learn more about how Khaos Control can help you maximise your sales, and most importantly your profit, during events like Black Friday and Cyber Monday, contact us today for a chat, we'd love to get to know you.