Khaos Control was created by Mike Cockfield, who had a vision of delivering powerful, high-quality, feature-rich business solutions that enabled businesses to unlock their potential.

Khaos Control Solutions, the company behind Khaos Control, was founded in 2000. Initially Mike forged ahead on his own, developing, selling and supporting the software himself. However, it was not long before Mike was recruiting and his first hire is still with the company today; Ben Nolan (2nd Line Support Manager).
The vision of delivering powerful, high-quality, feature-rich business solutions has remained at the core of the company's values and has been our guide in the development of Khaos Control as a Multi-Channel Retail, Order and Inventory Management solution, for both Business to Business (B2B) and Business to Consumer (B2C).
Growth has been rapid and consistent and we're now on our fourth set of offices here in Grantham, having moved into our newly refurbished premises in October 2011 in order to accommodate the 40+ full-time employees that are now part of the Khaos Family.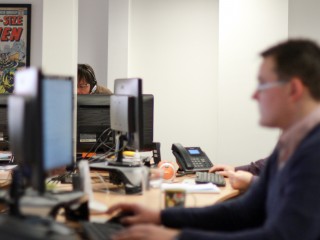 As we continue to grow we have worked hard to ensure that our core values have been retained and are ever present in all that we do. Whether you are dealing with the project delivery team, the development team, or our ever-popular support staff, you are assured of a consistent, professional and friendly service.
Monthly Achievement Breakfasts enable the whole company to catch up on what each team has achieved, socialise with their colleagues and celebrate those achievements, with an Employee of the Month award that is always presented by the Company's MD, Mike Cockfield.
Regular social gatherings help us to nurture and sustain our Khaos People, with events like our 15th Birthday Celebrations allowing us to thank employees and their families for their impact on Khaos Control and its thousands of users.
Our future is intrinsically entwined with that of our customers. We know that we will grow as they grow and this knowledge delivers better results for Khaos Control and all of its users as a result. It is also why Khaos Control's range and depth of functionality continues to grow, ensuring that our customers can rest secure in the knowledge that Khaos Control will continue to support them as they grow.
Helping businesses to unlock their potential via the power of Khaos Control is what we live for and we look forward to helping you grow your business.