Warehouse Management Software Improvements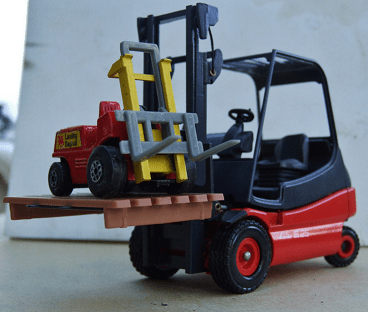 As your business' volumes and channels increase, you require requires rock solid, robust, yet adaptable warehouse management software.
Khaos Control comes with a fully comprehensive stock control system, which, if you require, can be extended to include our Warehouse Management system. Stock levels are automatically updated with each sale taken and delivery booked into your warehouse in real time, ensuring that your inventory is completely accurate, your customers' orders are fulfilled and your warehouse is controlled.
Khaos Control's Warehouse Management System (WMS) allows the progression to multi-location management per product. You will be able to segregate your warehouse into bulk and pick slots. Khaos Control will determine what you should replenish and which warehouse bay you should replenish from based on rules defined in the software, to ensure that stock is properly rotated and managed effectively, efficiently and with minimal manual intervention.
Our WMS can be integrated with our Hand Held Terminal (HHT) solution, which streamlines and further controls your Goods In, Picking and Inventory Management processes. Khaos Control's HHT solution can be deployed across a wide range of hardware, independent of Operating System, as its dependencies are solely a functioning browser and a compatible barcode scanning function.
Our WMS has been subject to some great improvements and additions in functionality over the last few months and this blog post will now explain some of the best bits.
Create New Locations and Movements via CSV Import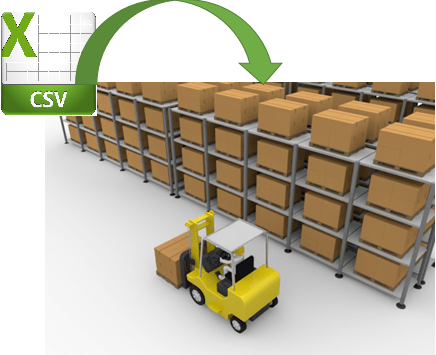 This improvement has been developed with the target of increasing efficiency for Warehouse Controller / Admin users at the top of the priority list. It is now possible to create new warehouse locations 'en-masse' via .csv import.
A new option within the Batch Movements screen allows you create new locations via an import routine. This offers a great increase in efficiency, especially for times of significant structure or operational changes. As part of the same function, it is also possible to create batch movements in the same manner.
Import Stock Adjustments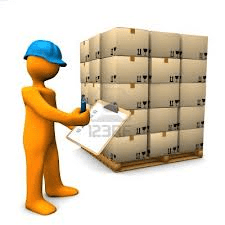 Keeping with increased efficiency via import routines theme, it is now possible to enable an import tool for stock adjustments, which allows bulk stock adjustments to be made 'en-masse' via .csv.
This is hugely useful in the same scenarios as mentioned above and also for when you perform your scheduled stock takes. You now have the choice of using the existing Warehouse Control Stock Adjustment functionality from within Khaos Control or if your processes are such that you wish to use external spreadsheets then this functionality improvement is for you.
Please Note – as with the existing Warehouse Location Stock Adjustment Tool, there must already be a pre-existing link between a Location and a Stock Code prior to the adjustment being processed.
New User Permission for Re-picking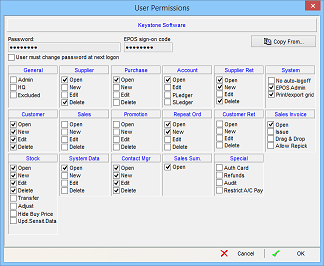 This relatively small but useful change to the user permissions area of Khaos Control allows you to provide your Warehouse and / or Admin staff with the ability to re-pick invoices. Previously this task was only permissible via the 'Admin' setting. A new user permission called 'Allow Repick' has been added to the user permission setup so it is now possible to offer individuals this ability without having to give the user(s) in question 'Admin' privileges.
Perform Warehouse Location Movements by Site, as well as Warehouse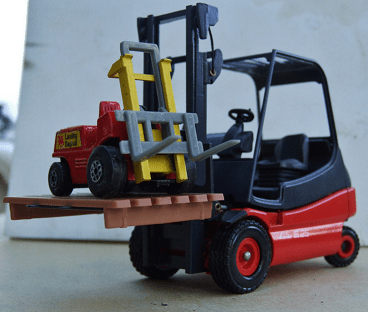 Another development that looks small on the surface but offers big functionality and gains in efficiency. We have added a new 'Site' dropdown to the Warehouse Location Movements dialog, which allows users to easily filter and / or perform location movements by site as well as Warehouse.
Back Order Figures included in Replenishment Report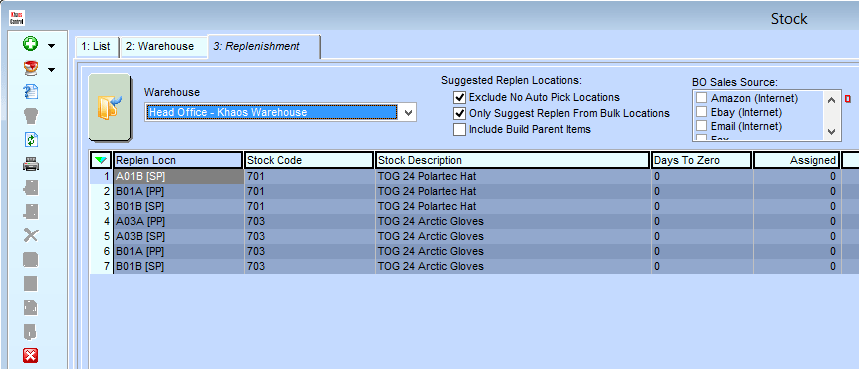 In this update the Replenishment Report has been enhanced to allow you further control over the information included in the report. This allows more accurate administration of your warehouse and its stock, ensuring that your warehouse is always operating at its maximum potential.
It is now possible to include Back Order figures from specific Sales Sources against specific Company Classes. This new data is controlled by the two newly added filters called Back Order and Sales Source. These new filters also combine with the existing Company Class filter offering maximum flexibility.
Reported Back Order quantities in the grid are calculated in the same way as in the Sales Invoice > Back Orders (Stock Assignment) screen.
Warehouse Management Software API Improvements
Move invoices to any sub-stage
A new method has been added to the Warehouse Web Service which allows your fulfilment (3PL) partner to move an invoice(s) to any sub-stage within the invoice's current stage. This provides greater visibility in Khaos Control of how your 3PL is handling your invoices and improves your customer service team's ability to respond to enquiries.
Limit Export Invoices by Site
Where a third party fulfilment (3PL) house is being used to process orders, returns and purchases in a specific site, it is now possible to configure the Warehouse Web Service so that they are only able to interact with Invoices and Purchase Orders that are related to their specific Site.
Configuring your Warehouse Web Service in this manner will reduce the amount of data that your 3PL partner has to parse via the web service and will, if your operation is running across multiple sites, ensure that you can clearly discriminate between sites.