Nominal accounting
As an integrated ERP solution, nominal accounting is the beating financial heart of Khaos Control. Every transaction that occurs in the system, from a purchase to a sale, will have an impact on your nominal ac
Chart of accounts
Whether you simply want an account for your sales, one for your purchases and a third for expenses, or you wish to build up a comprehensive and detailed trial balance, an accurate, easy to use accounts package is vital to providing you with control over your company's finances. Integrating your Trial Balance into your ERP software ensures your accounts are constantly updated as transactions are processed through the system. It also provides you with an instant and accurate overview of your company's finances at any point.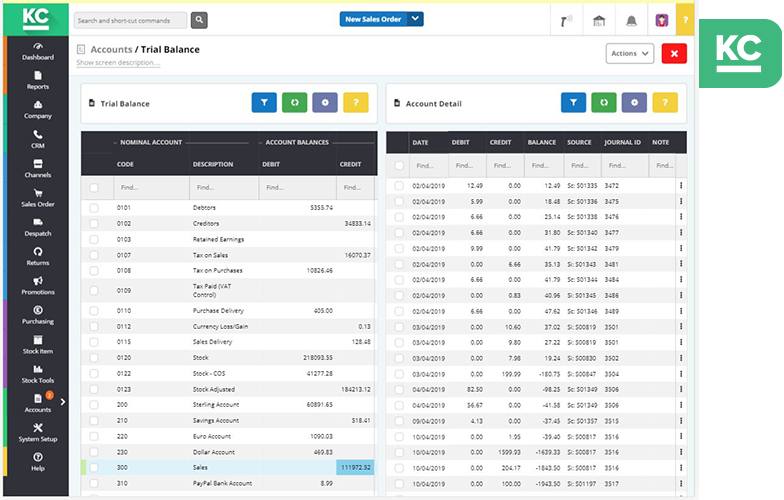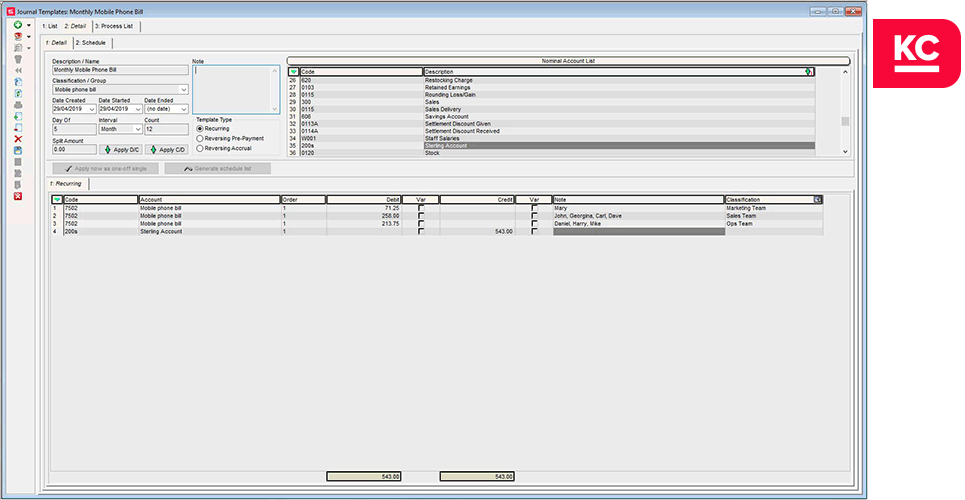 Journals made easy
Journaling between accounts can be done from within your trial balance screen and a full audit trail is kept for easy auditing. Using Journal Templates whether recurring, reversing pre-payment or reversing accrual, makes the posting of periodic journals such as for salaries or rent, quick and easy.
Sales and purchase ledger
A dedicated screen is provided to post non-stock invoices against suppliers or customers ensuring such transactions are posted to the correct nominals and VAT accounts, and the customer or supplier's statement is updated. The system has the ability to post multi-line entries enabling you to split down invoices across different expense nominals or tax rates.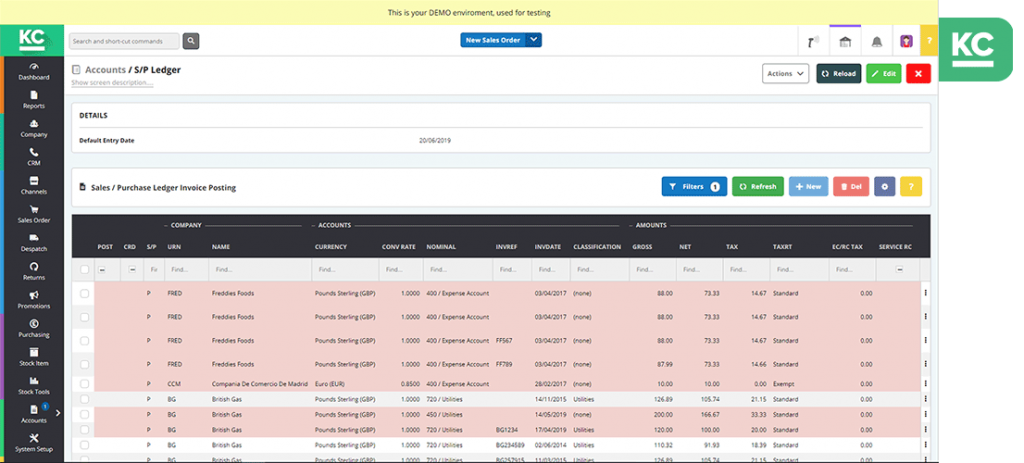 Take care of your accounts with bank reconciliation software
For a lot of businesses, reconciling transactions and business accounts is something to dread. The task is dull, and usually has to be done manually. Our bank reconciliation software, however, makes quick work of matching and categorising your transactions, and puts an end to the time consuming, manual aspects of the process.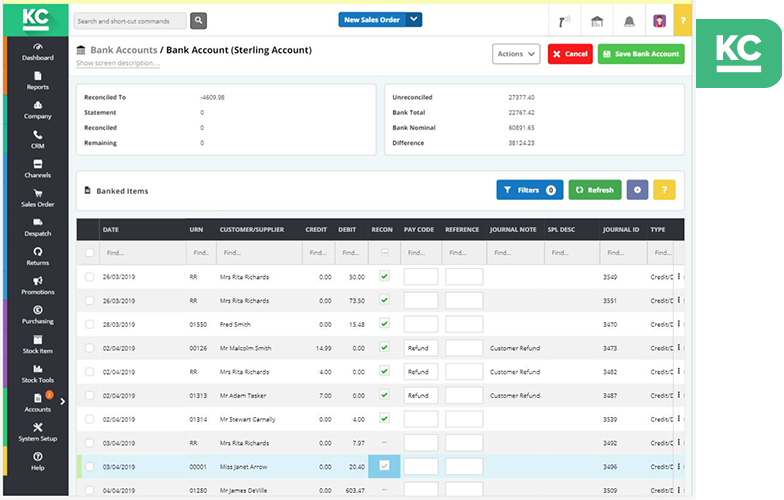 Reconciliation made simple
Flexible filters make checking previous bank reconciliation easy by allowing you to sort by different values, such as date of reconciliation or payment type. This makes comparing your reconciliation hassle-free, and enables you to spot errors you may have otherwise missed. With complete flexibility and control of your data, quick, error free reconciliation is at your fingertips.
Focus on the right customers
Use the comprehensive data our list segmentation software provides you with to revive dormant customers, test alternative marketing strategies or just keep your customers informed, via email manager, on products they may be interested in. Refocus on your customers with processes driven by them, and watch your business grow!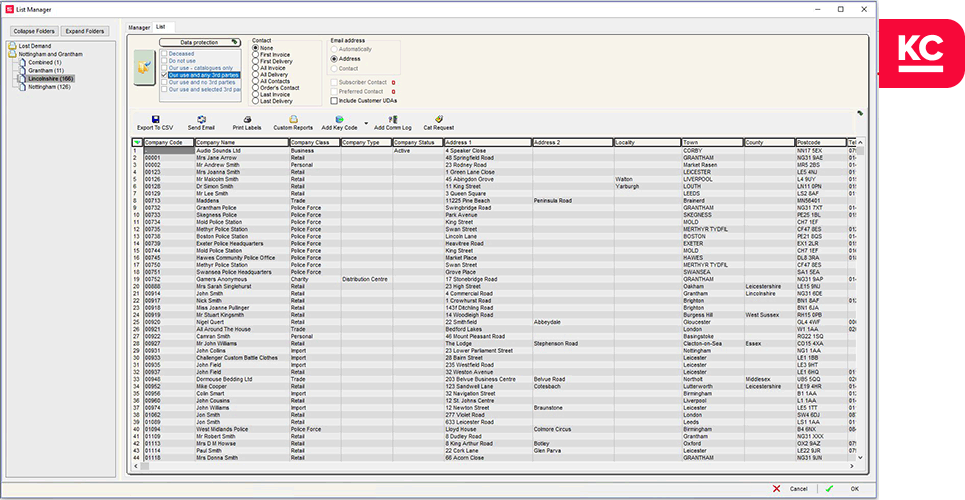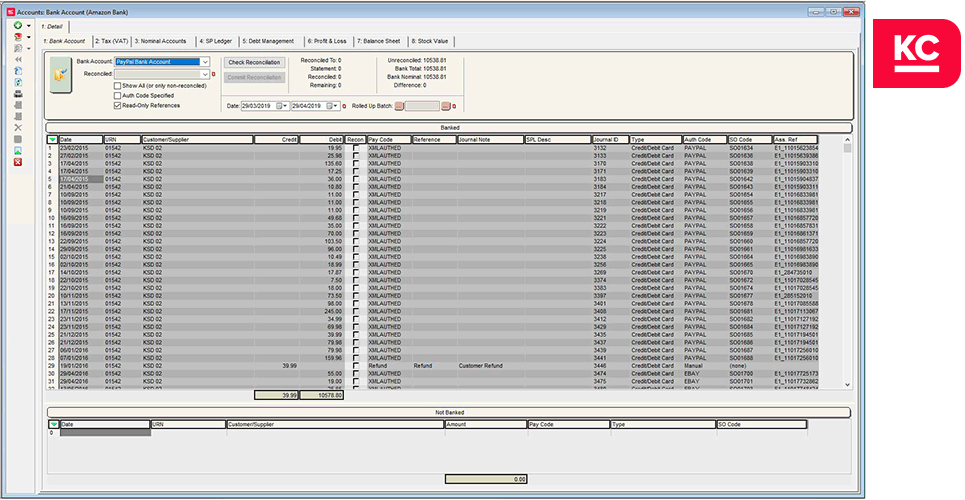 Import transactions instantly
Our importing facilities mean you can add your data and other files straight into the system and instantly reconcile them. Integrations with external providers like PayPal and Amazon are also available, so you can sync transactions straight from your external accounts and process them with ease.
Match transactions on the go
Match and categorise your transactions wherever you are. Whether that's on your morning commute or in bed first thing in the morning. Get complete flexibility over when you process your transactions, and don't be limited to managing your business only from the office.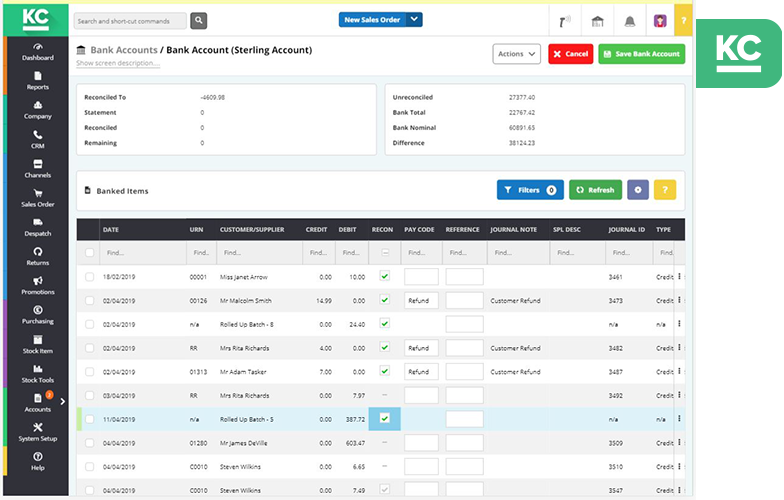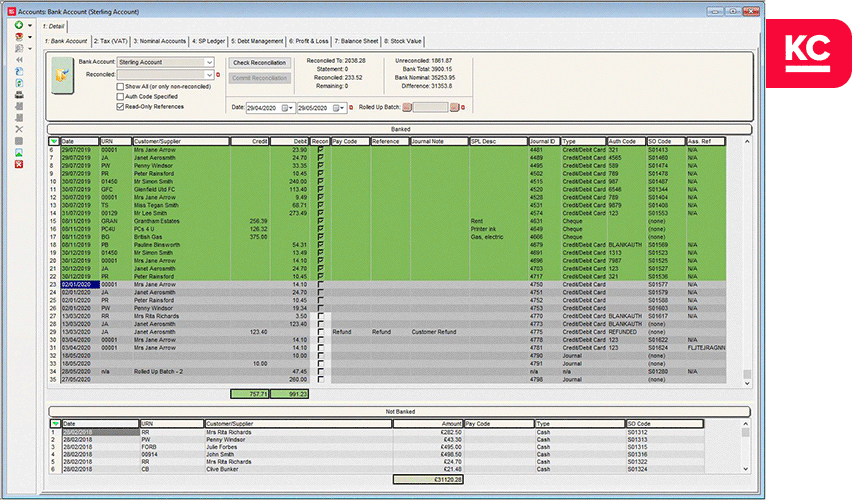 Speed up your reconciliation with batches
With the batches tool, you can consolidate multiple payments into one line within your bank screen. This removes the necessity to check off each individual payment line as you pass it, minimising the time spent on reconciliation.
Stay compliant with our tax and VAT returns software
Our accounting software solutions make it easy to submit VAT returns, keep your tax in order and stay compliant with the latest regulations. Submit your returns straight to HMRC easily and quickly, with our HMRC-recognised software.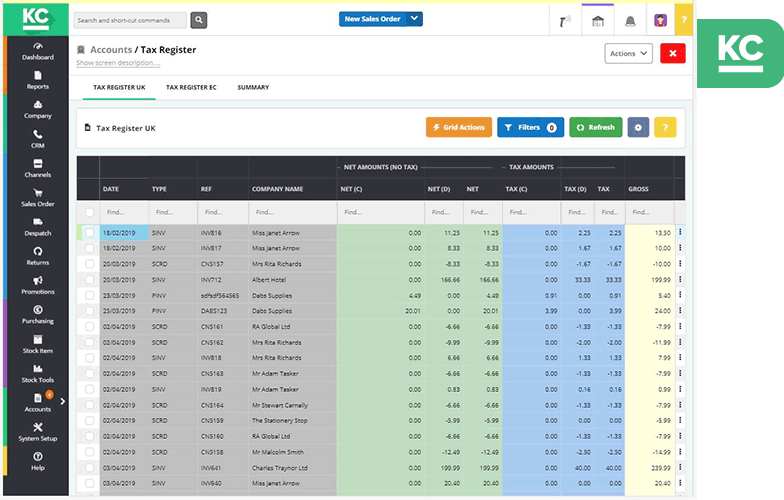 VAT returns sorted
Being able to confidently report on VAT, with minimum time and effort is vital for any rapidly growing business. You need a system that will automatically track all Sales and Purchase transactions, whether for UK or EC, calculate their appropriate Tax Amounts and whether you are due to pay or reclaim tax overall. Our ERP accounting software will allow you to do just that.
The VAT Tax Register built into our ERP solutions also makes completing your Intrastat and EC Sales List Reports effortless and stress-free.
Making tax digital
Our system is fully MTD compliant, making the submission of your VAT returns even easier. Khaos Control takes the VAT information from existing tax screens and makes them suitable for electronic submission. An easy to use interface will guide you through the process, confirm the data you are submitting and then export the information.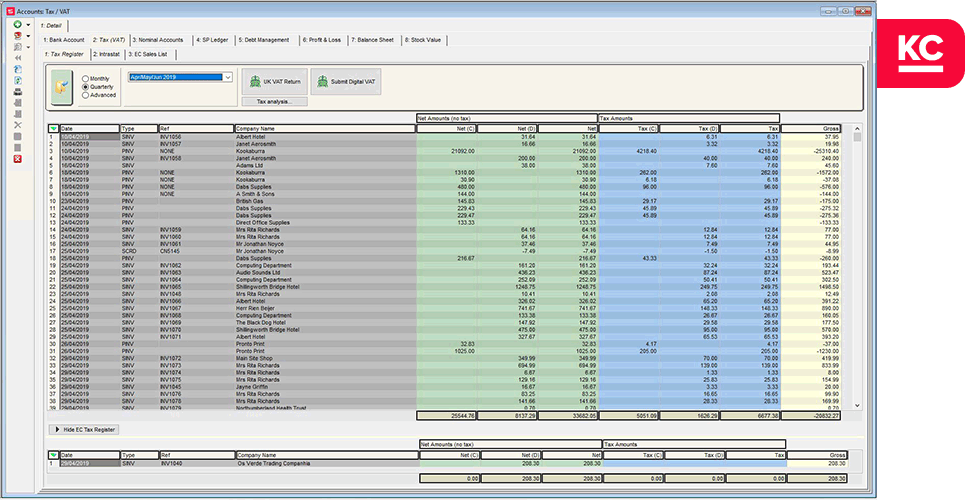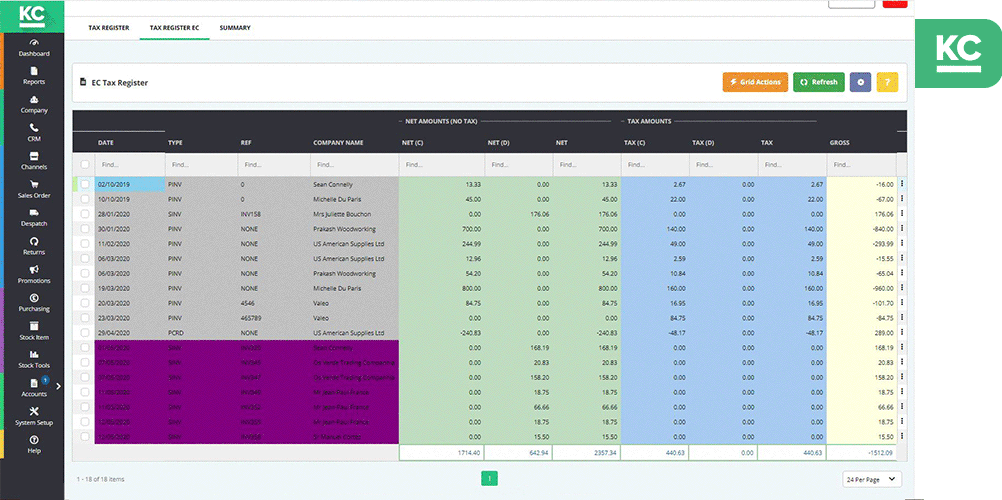 Breakdown of what makes up your VAT
Our solutions provide a complete report of all your transactions, allowing you to effectively keep track of all VAT entries, from both purchases and sales. The system works out the figures for you, so you know exactly what VAT you owe, and what you can reclaim.
Monitor and analyse your finances with instant reports
Reporting software enables you to extract key data from your business, and create comprehensive reports to help shape your future success. Using accurate and robust reporting functionality allows you to see the 'big picture' and identify trends over time. Our solutions deliver the information you need, when you need it.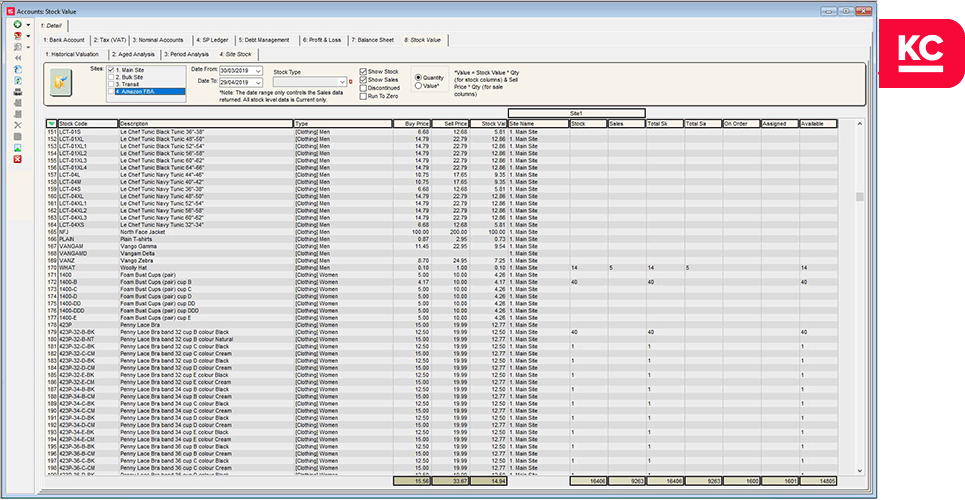 Know your business
Analyse sales orders, purchases and returns in order to deliver powerful KPIs and drive growth.
With detailed figures at your fingertips, you'll have the time and energy to focus on growing your business, rather than micro-managing your way through the day. See at a glance which orders your team have processed so far today, which stages in the pick, pack, despatch cycle they are in, their monetary values and how much stock you were able to allocate to each one.
Up to date figures at your fingertips
With automatically updated Balance Sheet, Profit, Loss and Stock Value reports, you'll always have the very latest information on the state of your business.
Your real-time financial data is driven by the sales and purchase transactions being processed through your ERP software. Know what you're selling, whether or not it's profitable and the bigger picture of how your business is performing.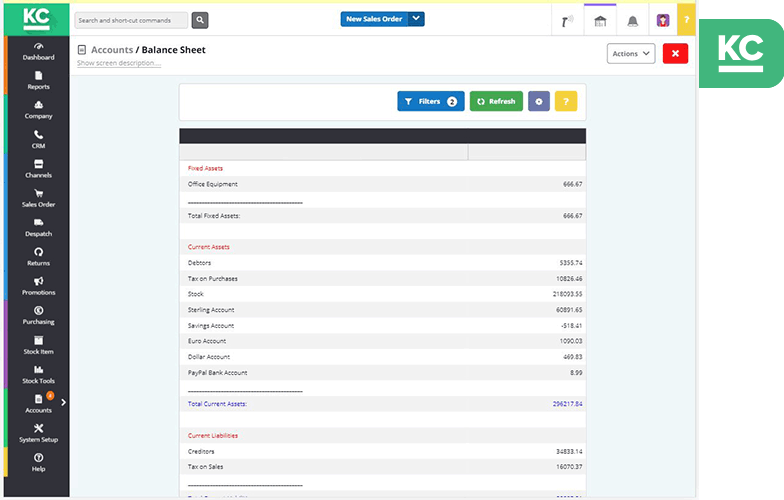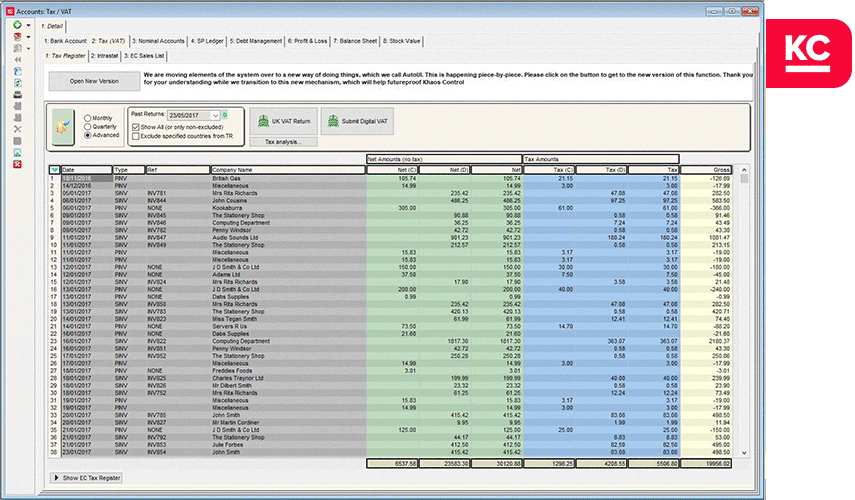 Powerful filters
Our reporting software provides powerful filters and selection tools, that allow you to refine reports to your exact specifications. Find the data you need more quickly.
With our powerful reporting software, you can constantly monitor your business' performance and use these figures to make important business decisions.
Keep track of your purchases
with the sales and purchase ledger
Our solutions have a built in sales and purchase ledger to give you the ability to record expenses and overheads. With easy-to-use functionality and a comprehensive interface, keeping track of your non-stock purchases has never been easier.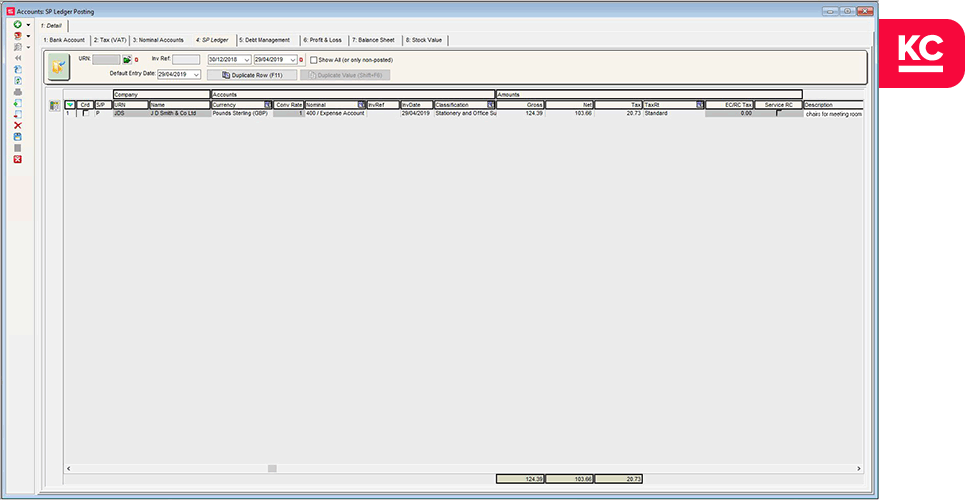 Manage payments to your suppliers
Entries made via our solutions' sales and purchase ledger will enable you to get an up-to-date overview of payments due to your suppliers. It's easy to keep a handle on your regular bills and overheads and provides unprecedented control over your accounts payable.
Entries on-the-go
Entries for non-stock items can be submitted from anywhere with our cloud-based solution. Log in via your browser and submit your items from home, work or even on your commute! Take advantage of our dedicated entry functionality; the comprehensive interface provides complete confidence in not only the accuracy in the handling of the data, but also the sorting and re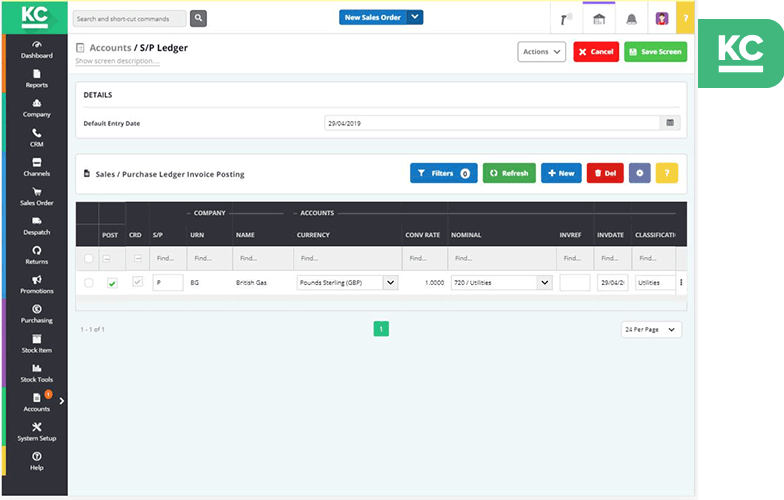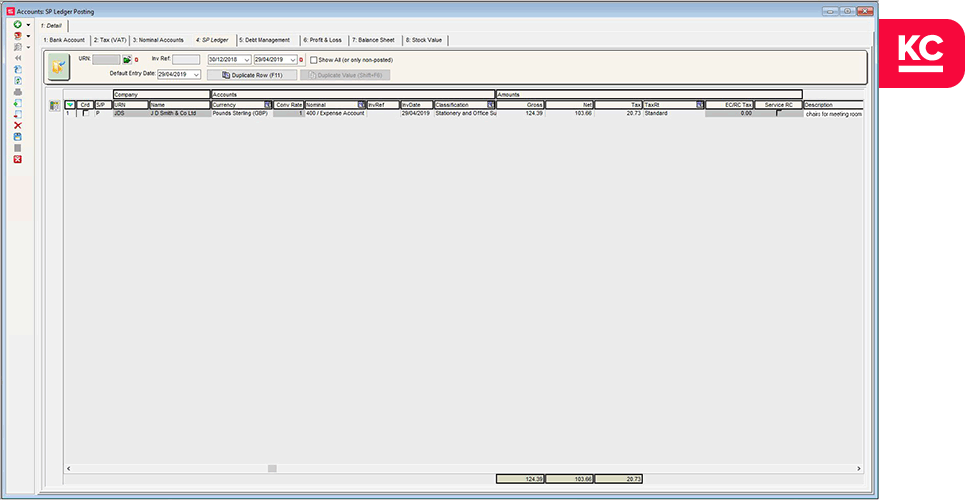 Tailored approach to your marketing
Our ledger adds a whole other dimension to your marketing. You can link your non-stock purchases and expenses to your promotional campaigns, which means that you get a true picture of the profitability of your marketing activity. The accounts area of the system links seamlessly with our powerful reports functionality, allowing you to accurately evaluate the results of your promotions.