Work anywhere in the world with Khaos Control Cloud
Our cloud ERP software manages each aspect of your business, so you can concentrate on growing it. Get complete flexibility and freedom with the ability to work on any device, anywhere in the world, and gain control with all-in-one functionality like you've never seen before.
No credit card required, cancel anytime.
Book a Free Demo


Watch Video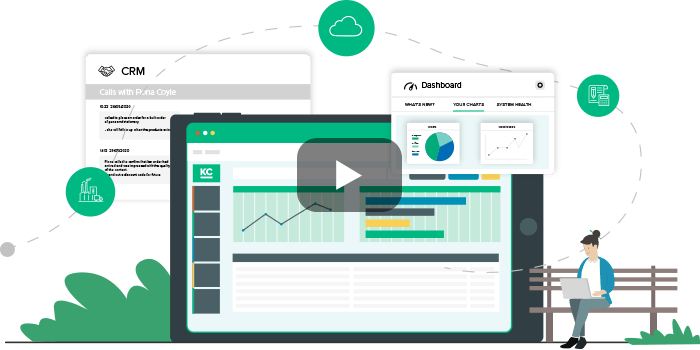 What cloud ERP software helps with
A system like Khaos Control Cloud helps with the entire order process, from when an order is placed, through to its delivery to the customer. By streamlining your orders, automatically allocating stock and providing direct integrations with a range of couriers, you'll save time on the manual processes that hold you back, and reduce the chance of human error.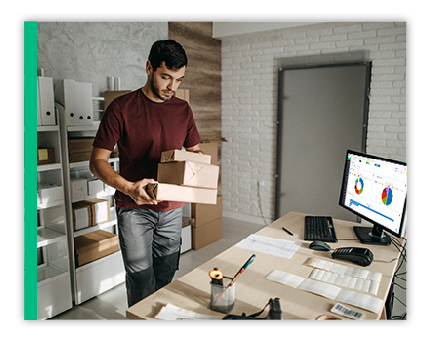 Complete control over your stock replenishment
At the core of the system is an incredible capacity to manage and streamline all your stock control demands. Instantly see how much stock you have in, how much more your business needs based on pre-set levels, and when it's time to get in touch with suppliers. Our supplier price lists also mean no longer frantically searching for old purchase orders or confirming price breaks – the data is all there for you. Utilising dropshipping services? No problem. Our purchase order system fully supports dropshipping.
Finally, with the help of our reorder reports, your purchasing decisions are automatically calculated by the system. That means less overselling and under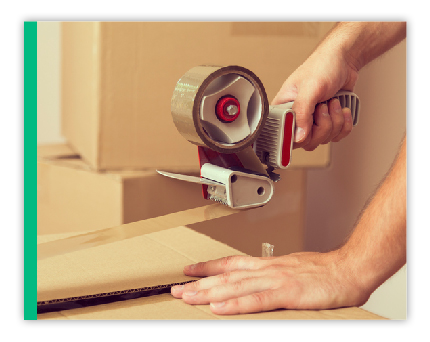 Pick, pack and despatch lines made simple
What sets our system apart from most is the ability to manage complex scenarios such as barcode automation, batch rules, courier bandings and more. These features allow for an entirely integrated and automated way of handling your pick, pack, and despatch lines – ultimately making the work of your warehouse operatives that much easier.
Our back-order management software allows your business to stay on top of orders, even when stock is flying off the shelves. Quickly book stock in, prioritise backorders, and let the system assign stock as soon as goods have come in from your suppliers.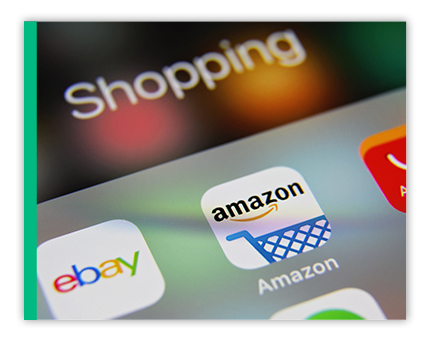 A more integrated way of working
From accounting software like Xero, to channels such as Amazon and Shopify, we're proud to offer such a mix of different integrations for Khaos Control Cloud.
For nearly all our multichannel selling customers, the ability to easily sync stock levels between different selling platforms is a crucial part of their business strategy. Within the system it's as easy as toggling our 'Stock Level Synchronization' feature and watching the stock levels update almost instantly on your selling channel, from the real-time data being updated within the system.
Companies that have benefited from Khaos Control Cloud
Explore the system on our Interactive Overview
Hover over the features!
Khaos Control Cloud is your hub
Our solution provides oversight and control over each part of your business. With a cloud erp system becoming your main hub, you can access your sales, purchases, promotions, marketplaces and much more with ease.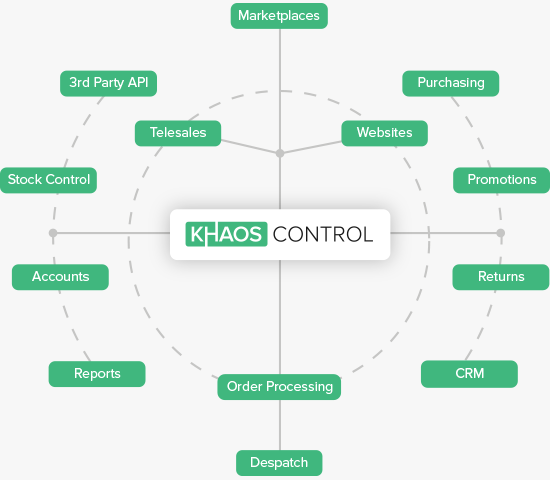 Khaos Control Cloud seamlessly integrates with:












Get started with Khaos Control Cloud
Book a demo with one of our team today.
Free Demo