Integrated inventory & order management made simple.
Save time & money by managing your multichannel orders, inventory and customers with Khaos Control Cloud.
Streamline your business within minutes
Unlimited order & inventory management
Integrate with multiple marketplaces
All-in-one solution from £50/mo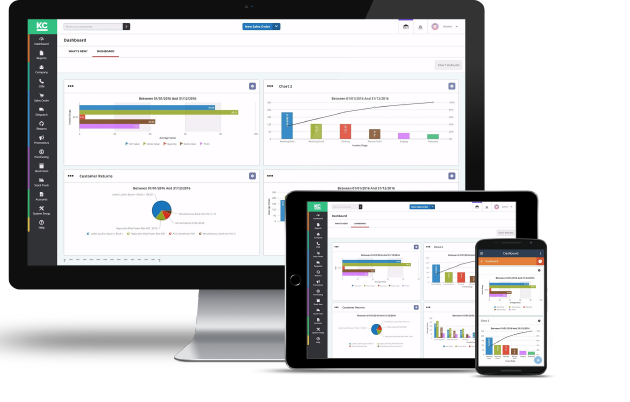 Free Trial
30+ Marketplace & Courier Integrations, designed to help expand your business
Reach more customers, provided personalised services and allow efficient workflows by using Khaos Control Cloud with our powerful integrations & partnerships.
All-in-one solution, packed with powerful features
Running a business shouldn't be complicated, use Khaos Control Cloud and simplify your processes.
All of our features have been designed to help you sell more, with the highest confidence.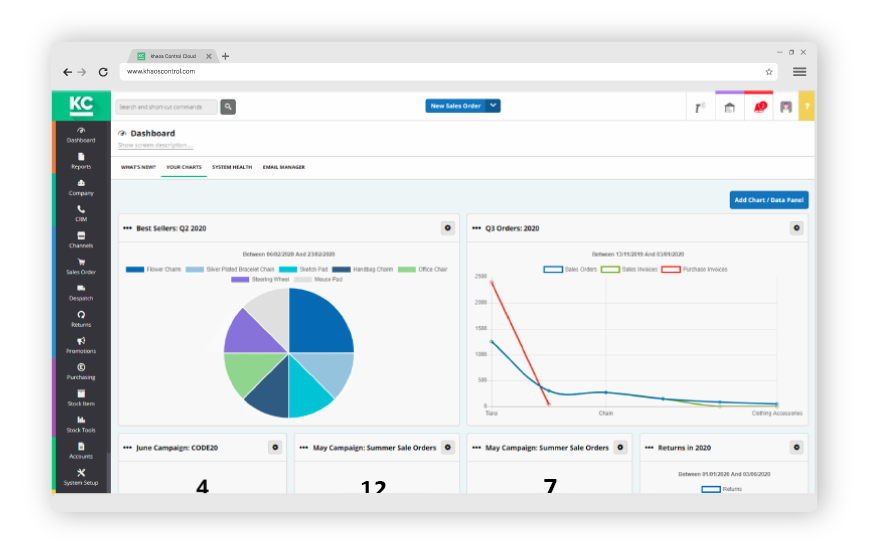 Why Khaos Control Cloud?
We have been using Khaos Control Cloud for the past 18 months, and have been really impressed with the system, they organise training and the support is excellent, they listen to what we have to say and always try to adapt their system to give us what we need to improve our business and hopefully others, it has made ordering and keeping track on what we have in stock and syncing with our website and Ebay particularly helpful, i would recommend KCC to anybody thinking of changing their system regardless of the size.
Dave Fynn @ Vauxcentre LTD
Intuitive and easy to use. All users have taken to the platform well and are confident on it. KCC has automated – and brought accuracy to – large areas of our stock management and customer order processing. We operate across 2 warehouses as well as drop-shipping and with some customisation the platform has it all covered. The implementation required an investment in time at a point where our order numbers were rising steeply. But with KCC we are able to deal with these increased order quantities more efficiently and we feel prepared to handle further growth.
Chris Barlow @ Modish Living
Easy to use, fully functional on PC, Tablet & Phone! Full stock control: Bill of Materials (BOMs), kits, back ordering, suggested stock levels. Promotions: multiple customer price lists, special offers, Key Codes for tracking offers. Order Input: quick manual, import orders, returns, quotes. Full Schematic Overview of all orders/invoices in the system – means you are never running blind and provides a birds-eye view of the business. Accounts – fully functional, VAT, Banking, P&L, Nominals etc even has Zero integration if your accountant insists! Professional Documentation: Delivery Notes, Invoices etc all emailed. Essentially a web based ERP system without massive capital outlay but with reasonable monthly user fees.
Phil @ Philip Harris Biological Limited
A business management hub like no other
Khaos Control Cloud is designed to be the beating-heart of your business, managing all your operations in one, easy to use, place. All you need is a web browser and access to the internet!
Our solution streamlines everything you need to run a successful business, such as: order processing, inventory management, eCommerce store synchronisation, courier assignment, financial reporting, customer accounts, promotions and so much more.
Take advantage of automating manual processes that hold you back; save time, reduce your business running costs and prevent the chance of human error.
Best of all, we don't charge you extra for the number of orders you process or the number products you manage!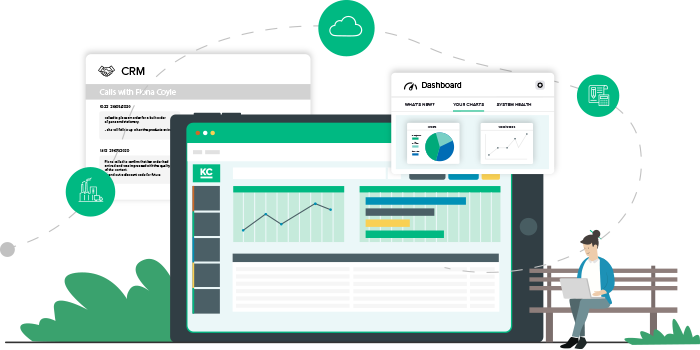 Grow your business today with Khaos Control Cloud
Join thousands of other users who use Khaos Control and book a completely free, no-obligation, personalised demonstration to see how our solutions can help your business!
Book a Free Demo