Supplier price lists
Maximise your buying power by using supplier price lists. These enable price breaks, discounts and offers from your suppliers to be applied directly to your Purchase Orders. This means you're never out of the loop and gives you the confidence and control to manage your supplier relationships.
Prevent errors and save time
Our supplier price lists mean no more hunting around for previous purchase orders for the supplier discount amount, or ringing up your supplier every few months to confirm what price breaks and discounts are applicable. Record this information on our system and ensure your Purchase Orders always use the correct prices.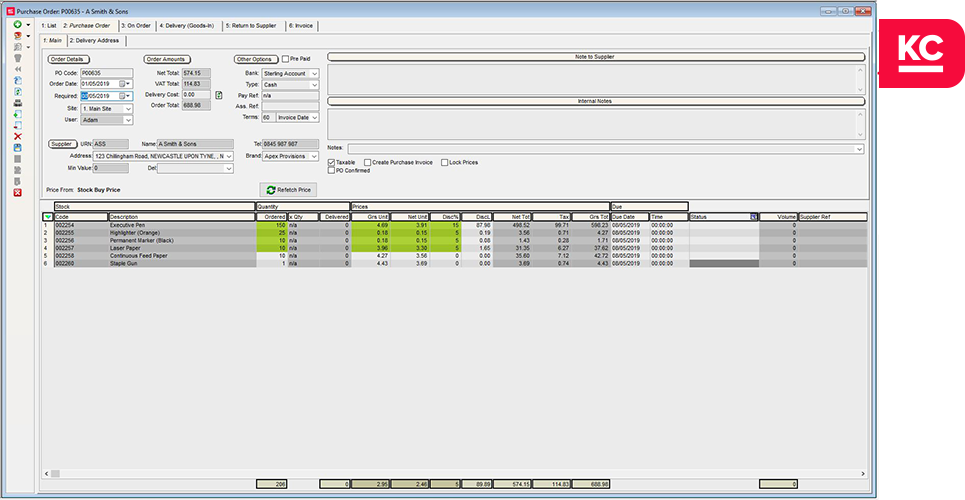 Get the best deals when buying in bulk
If you've negotiated special prices or quantity breaks with your regular suppliers, then using price lists makes sure that the system applies the correct prices to Purchase Orders based on the quantity ordered, making buying in bulk so much easier..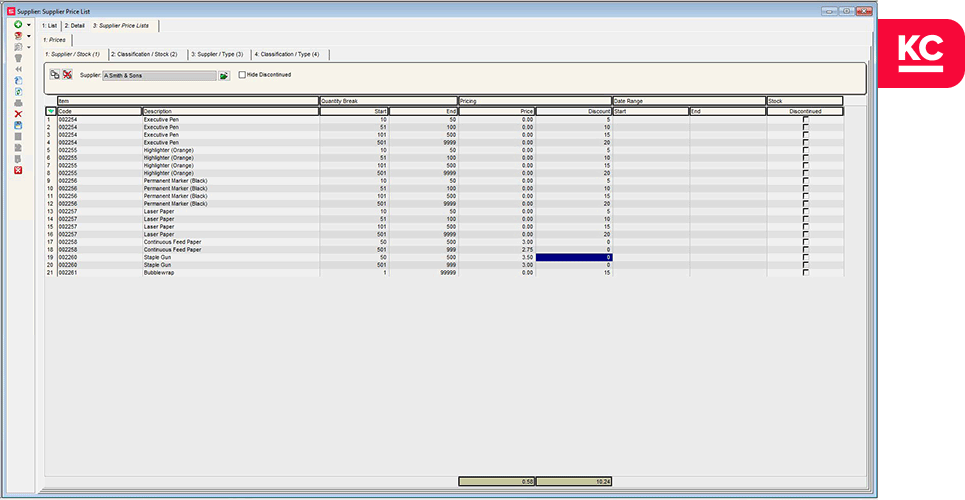 Advanced reorder tools
Are you turning customers away because you keep selling out of your best sellers? Are you overstocked on slow-selling items? Our reordering software makes sure that you are buying the right stock at the right time, and not wasting money on stock that won't make your business profit.
Getting your procurement under control
By setting the stock levels you want to maintain for your core products, our reordering software applications will let you know when and how many you need to reorder – it will even take into account your back order requirements. Let the system update your ordering levels based on your sales history. Although the system will advise you of the quantities to reorder – you're in control and can still make the final decision about what to order and when. Keep your cash flow healthy by not needlessly ordering stock you don't need!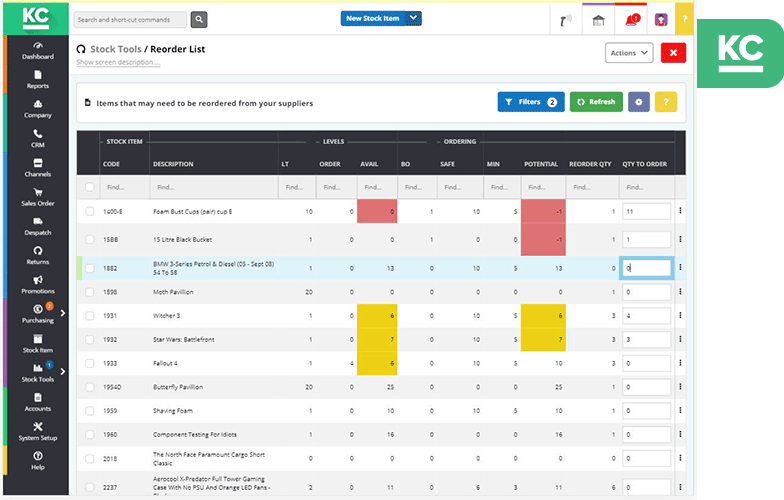 Adapt with the seasons
f your business is seasonal, our advanced reordering module will ensure that you always have the right stock in place, in the right quantities, to cope with any rise and fall in demand. The system will take into account lead times from your suppliers, back orders, and any buffer levels to forecast exactly when to place your order and how many items you need to purchase. Let our system take care of the complicated calculations, whilst leaving you with the ultimate buying decisions.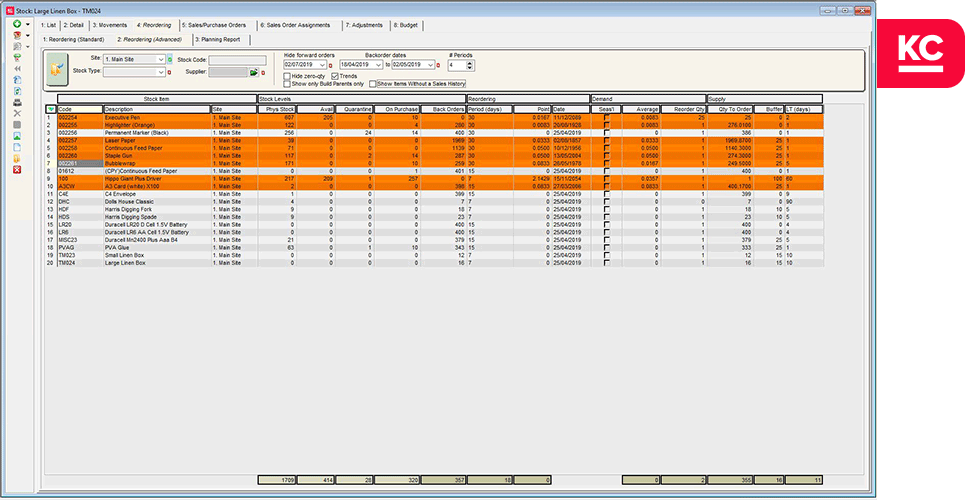 Gain full control of your deliveries
with delivery notes
When you send goods to customers, including a delivery note allows you to keep your stock records correct. Our delivery note software ensures your customers get the goods they ordered, and your stock levels stay up to date.
Flexible yet easy to use
Our delivery notes allow you to book in full deliveries, part deliveries and under or over deliveries quickly and easily. The process can be sped up even more because our system is fully compatible with barcode reader technology. This allows you to quickly book goods in with their barcodes, greatly reducing errors from manual booking.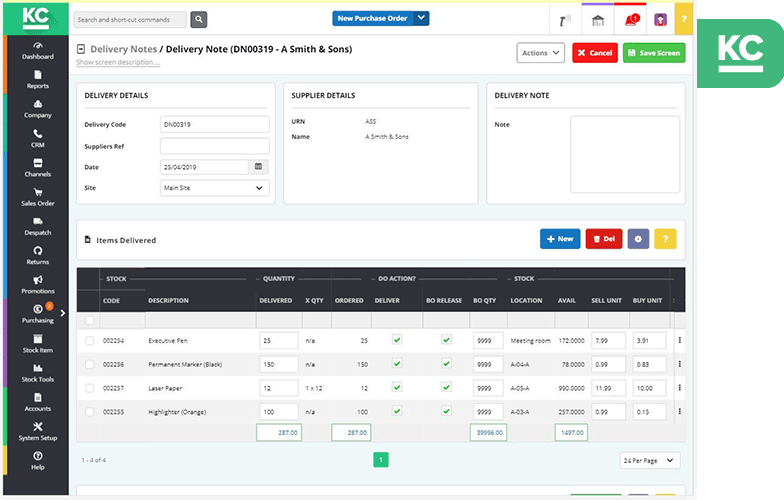 Backorders? No problem
When booking in stock using our delivery notes, you can even control how much of that stock (if any) is released to fulfil backorders. The booking in process integrates with your back-order management, automatically releasing orders for picking as soon as the goods arrive, improving customer satisfaction and allowing you to manage backorders with confidence.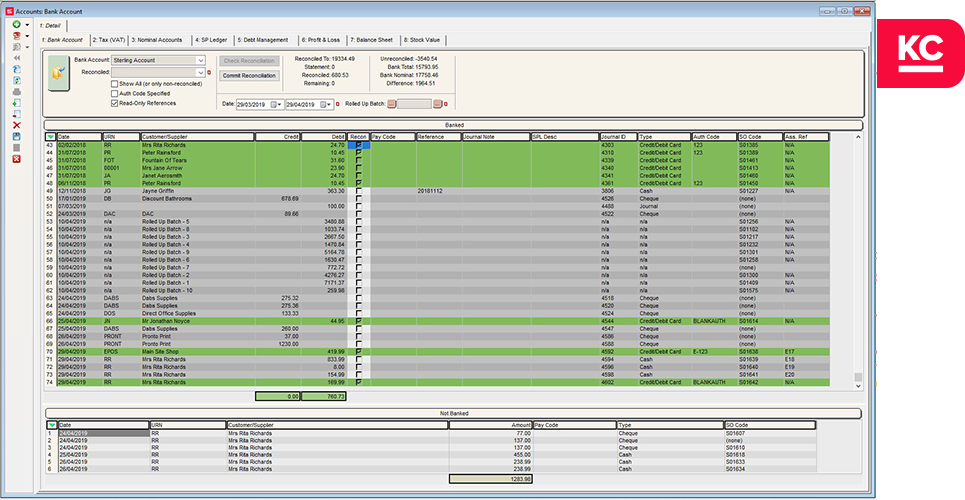 Booking goods in and maintaining quality
The system provides you with the ability to control the quality of the products you're purchasing, either as a sample or 100% check. Anything that you decide to quality control will not be released to fulfil sales orders until the goods have been checked and signed off as being of the expected quality. The system can automatically raise a supplier return for items that fail the quality checks.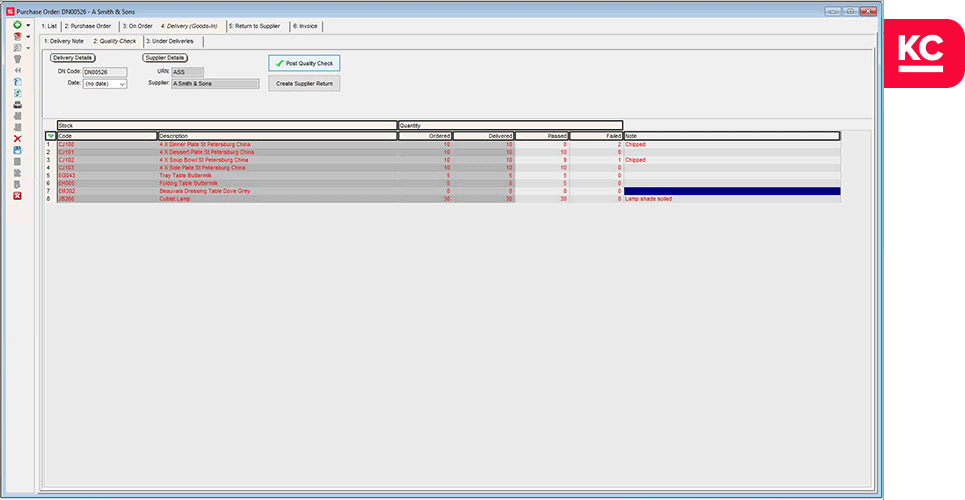 Returns made easy with supplier returns software
As with customer returns and refunds, sometimes you have to return goods to your suppliers. This needs to be as efficient and painless as possible and that's where managing your supply chain using our supplier returns functionality pays off.
Returns created for you when you need them
ntegrated into the returns and purchasing processes, supplier returns can be generated automatically on the back of a customer return, if the goods are identified as needing to be returned to the supplier. Plus, it's also possible to raise supplier returns manually. Supplier returns can also be created automatically as part of your internal quality control processes.
Virtual returns bay
Our supplier returns software will ensure that goods awaiting return to suppliers are ringfenced so they are not available for sale. Once they are despatched or collected your stock records are updated and the supplier credit generated, so your accounts are up to date.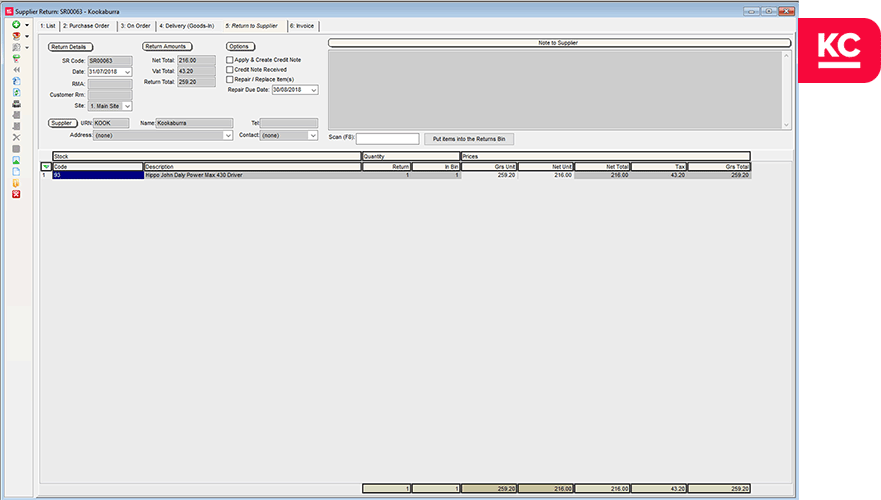 Replacements and repairs taken care of
If the supplier is repairing or replacing stock, supplier returns software will generate the necessary documentation to book the replacement or repaired item back into stock thus keeping your inventory records and accounts accurate.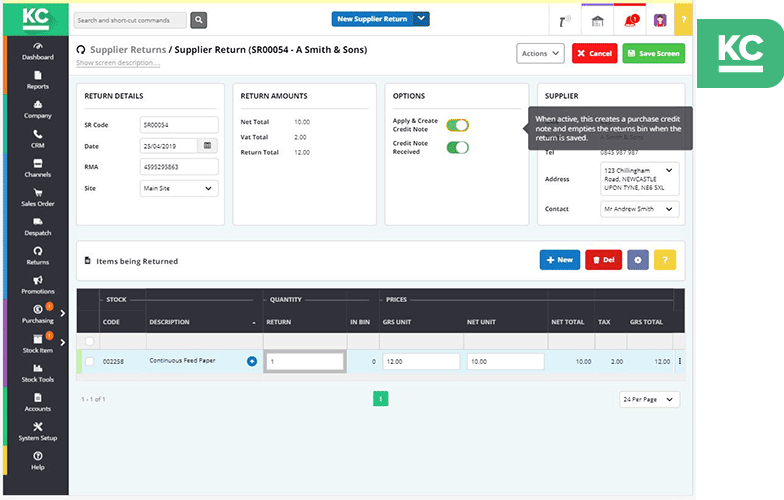 Track the journey of your stock with consignment software
Our consignment software allows you to track your stock journey from factory to warehouse. Apportion the associated costs when calculating your margins, and gain a better understanding of the profitability of your different product lines.
Keep track of your procurement
Our consignment module calculates the 'landed cost' of your purchased stock items, which provides the ability to have more accurate margins, cost of sale, and profit figures. All associated costs such as duty, haulage and shipping can be included and the figures are viewable within the reporting section of the system.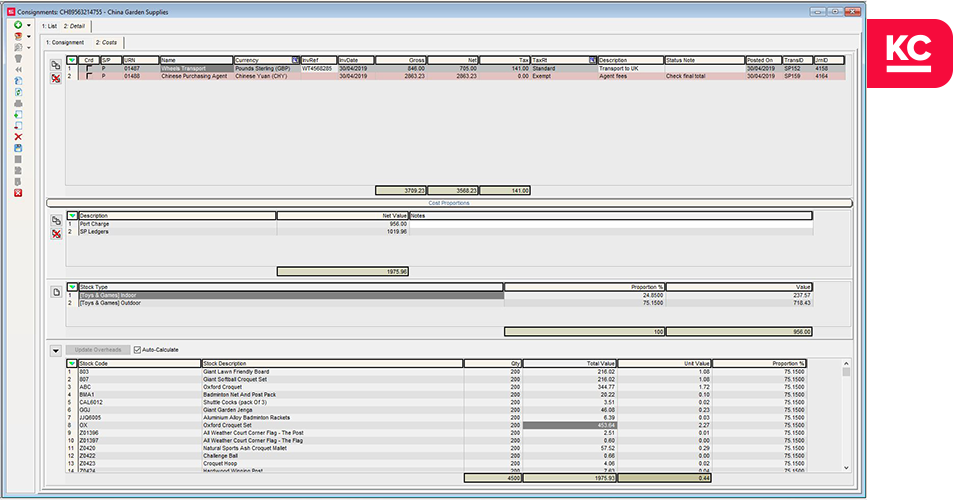 Keep track of your shipments
Our consignment software provides a complete overview of the delivery of goods from your manufacturer or supplier to your warehouse. The status of each consignment can be viewed and updated using internationally recognised Incoterms. Keep your customers informed about the status of goods due in and plan for your incoming deliveries.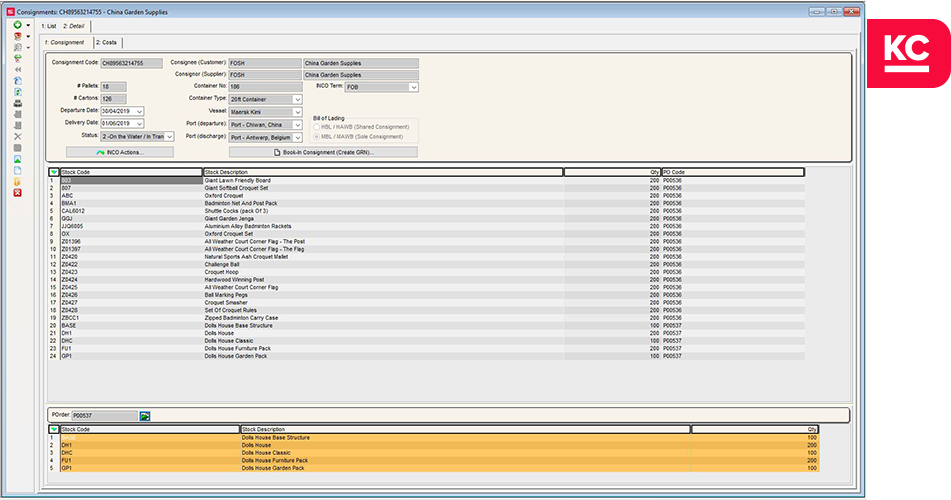 Complete control of your sites
with multiple site software
Whether you've got a standalone store, a whole chain of retail outlets, or multiple distribution centres across different regions, you can manage your inventory at site level, keeping stock levels for each site separate and distinct, all within a single system. Our multiple-site software allows you to control each of your sites virtually, fulfilling orders and moving stock back and forth, straight from Khaos Control.
Flexibility with your multiple sites
Out of stock of a product at one of your sites? With immediate visibility of stock levels, and multiple site control, you can quickly and easily fulfil that all-important order from stock held at any of your other sites. This offers a new level of flexibility when it comes to sales order fulfilment, and ensures your customer satisfaction levels remain sky high, even in a stock emergency. Use virtual sites to ringfence stock for specific marketplaces, customer groups or trade shows.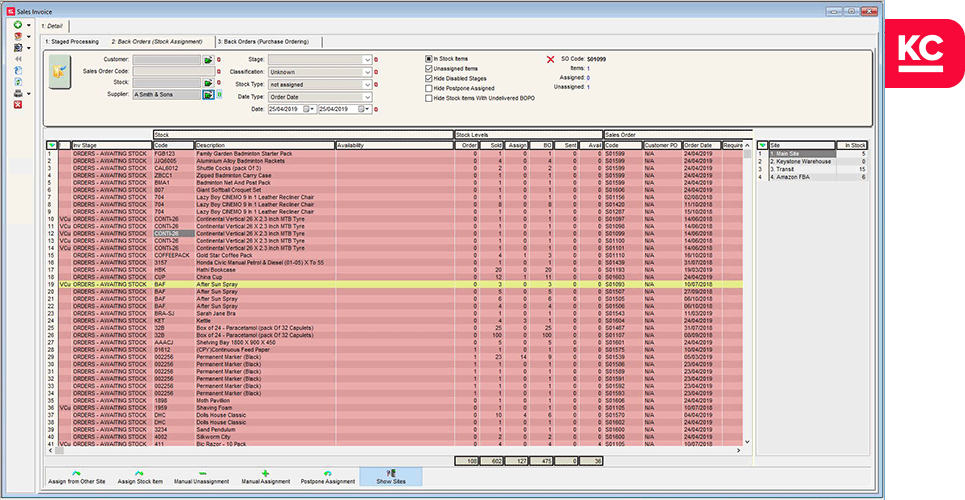 Remote control of your separate sites
By virtually controlling your sites, you can transfer stock between them. You can easily see inventory levels on a site-by-site basis and manage the movement of stock accordingly. This flexibility allows you to fulfil orders, even if the goods are out of stock at your main site.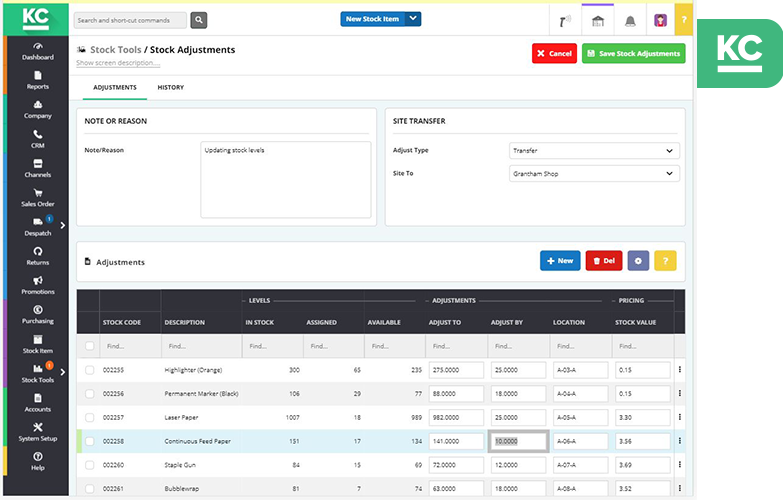 Provide memorable customer service
Sales orders can be fulfilled from any one of your sites, maximising the use of your available stock regardless of where it is located. This enables you to maximise the service you deliver to customers because if you have stock available at another site, you can fulfil their order, and don't need to resort to delaying or cancelling it.