It's not uncommon for 'Business Management Software' and 'Enterprise Resource Planning (ERP)' to be mistaken for the same service. Understanding the core differences between the two are crucial when it comes to finding the best solution for your business needs, and deciding where you put your money. So, lets take a look at Business Management Software vs ERP.
At a glance, what's the difference?
By definition, Business Management Software is a set of programs that help businesses streamline their core processes. That can mean reducing errors, automation that completes otherwise manual tasks, or using reporting tools to track performance. When it comes to ERP, you're dealing with real-time technology that tracks your cash, production, raw materials and what's running through your payroll.
For a quick glance, check out our Business Management Software vs ERP infographic below. For more detail, continue reading.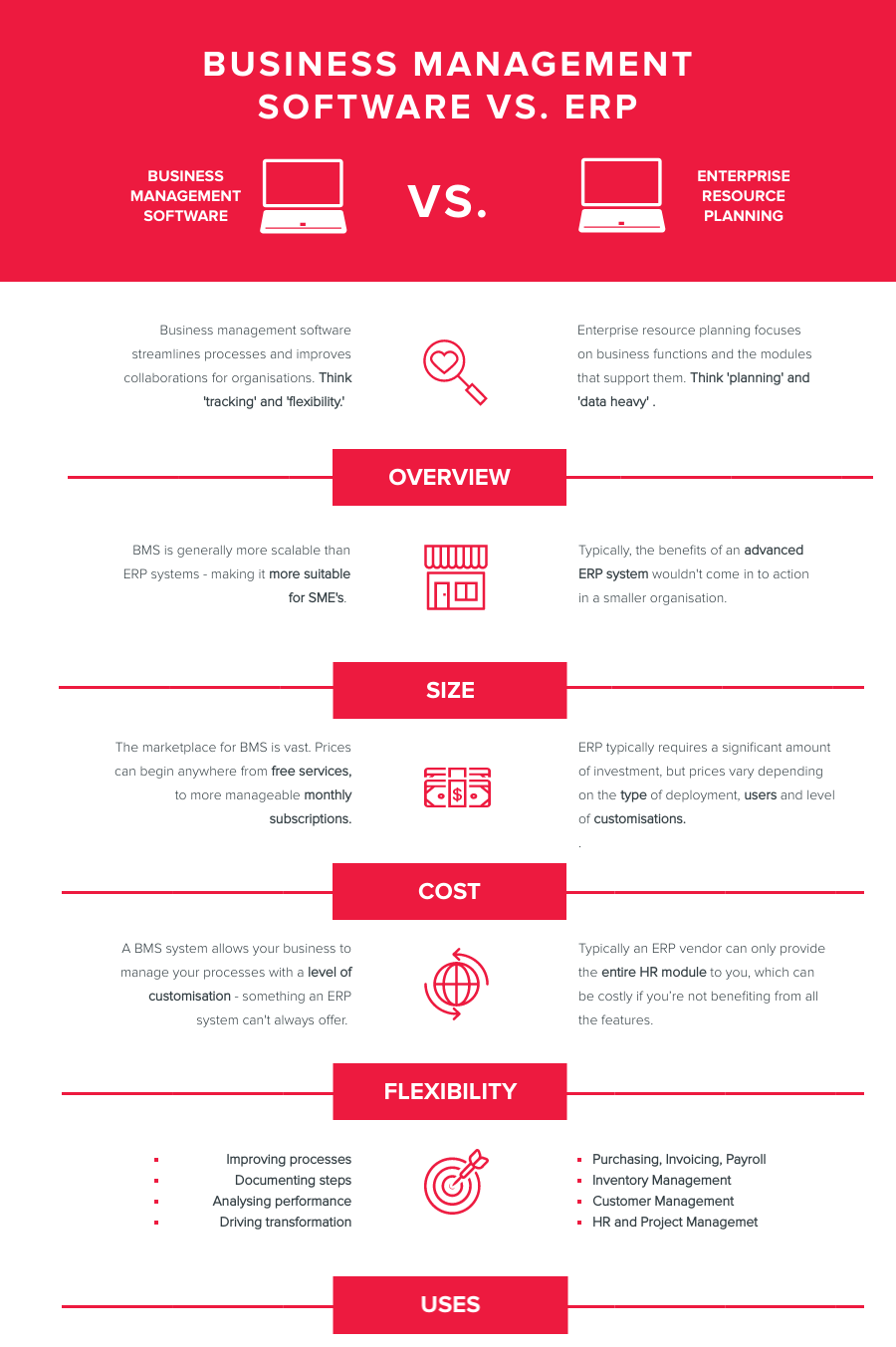 The key differences between Business Management Software and ERP
Both systems will help you increase your efficiency, your profit, and as a result, reduce costs. However, it all ultimately boils down to what your specific business goals are.
Size: Typically, enterprise grade solutions are aimed predominantly at large companies and organisations. These solutions cover the key functionalities that run through a business like finance, customer relationships, sales, supply chain and human resources. Of course, that's not to say that ERP solutions for SME's don't exist – we know all about that.
Bespoke development: For some, it's important that their system is able to adapt for the needs of their business. Usually, this is something bespoke development through your ERP can facilitate. For BMS, you're normally looking at an out-of-the-box-solution with less room for movement.
Implementation time: In most cases, implementing ERP into your business can take up a fair amount of time – mainly because of the sheer amount of data that has to be gathered and analysed. With BMS, you're integrating into other existing pieces of software.
Purpose and usage: Business management systems are more concerned with management and analysis. So, if you want to analyse and improve on certain areas of your business, BMS might be more suitable. However, if you need after a system to automate your processes, as well as store a large amount of data, you're best opting for an ERP system.
What solution is suitable for your business?
When it comes to finding the right solution for your own business needs, it's worth doing your research on review sites dedicated to these types of software. Review sites like Capterra and Webretailer offer direct comparisons among different providers, as well as filtering the services by features, users an pricing.
Still not sure on what's right for your needs? Get in touch with one of our consultants who can identity the next steps to take. Better yet, it might be that our own system is just what you're looking. To find out more about our solutions, check out our product page or try out our interactive overview.