We didn't want to be talking about Christmas in October either, but for a lot of businesses up and down the UK, the planning has already begun.
The first step? Know what dates lie ahead.
Make a note of all the key days and dates you want to hit. Then make a list of what approach you'll take to these days, be that special promotions, tailored campaigns, or just more staff in for busy spells.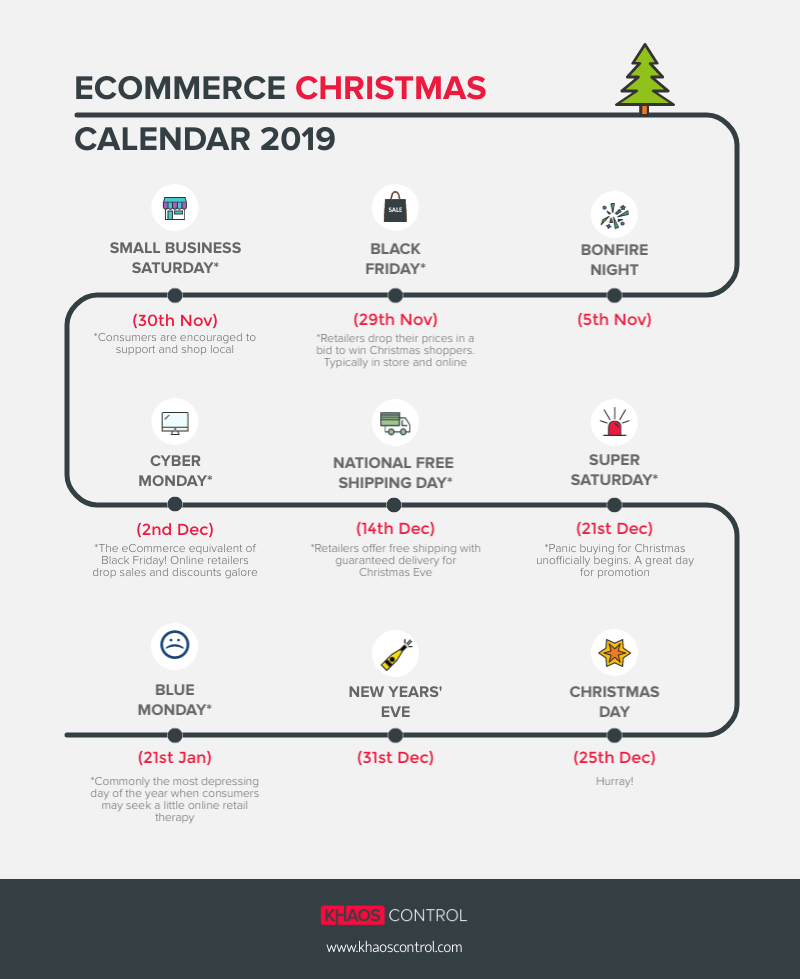 To get you started, we've created an ecommerce calendar (see above) with some of the most notable dates for the festive season. If this is something your business might find beneficial having to hand, consider making one of your own for the rest of 2020.
Anticipate behaviours
The mood and environment of your consumers can largely dictate the way they do their shopping from year to year. If you can anticipate this behaviour, you'll be able to not only plan better, but set realistic goals and KPI's for the festive season.
Consumers are expected to top and tail with their buying behaviour this Christmas. That means you can expect a flurry of customers in October, and another flurry a week or so before Christmas.
Sales from mobiles will account for more than half of all sales made this Christmas, so make sure your website has been tested from checkout to purchase, on multiple devices.
Customers will spend over 3.5 times more with a brand they're engaged with on multiple channels. So, consider how your business can maintain a realistic omnichannel presence through Christmas.
Anticipate trends
Do your own trend research into your industry of work and make sure your business doesn't fall behind in what's current. It may not always be relevant to you business, but it's always worth taking a look at what approach your competitors are taking to the marketplace. In just a few minutes and a google search, we found out that:
Dulux's colour for 2020 will be 'Tranquil Dawn'
Amazon's predicted bestselling toy for Christmas will be an owl called Owleez
Forgot almond and coconut milk, make way for oat milk in 2020
Environmental impact is (rightly) hot on consumers agenda
Assess your internal processes
If you're operating a large team, it may be worth sitting down and evaluating all your internal processes. Be that your marketing strategy, your customer service, or your pick pack and despatch process.