Online sales are increasing year over year, and returns are an integral part of that process with the cost of return deliveries worldwide expected to reach $642 billion in 2020. As customers' expectations evolve, an effortless and transparent returns experience has become as important as every other step in the customer journey; especially in ecommerce where 15% to 40% of purchases are returned. The online buyer has to make a purchase without being able to interact with and experience the product in person, so it comes with no surprise that the majority of online shoppers review an ecommerce merchant's return policy before deciding to buy anything.
Return of online purchases are common regardless of age
(% of people in the U.S. and the UK who have returned a product in the past year)

Source: GlobalWebIndex 2018
Therefore, a comprehensive, transparent, and customer-centric return policy is not merely a must-have for every retailer nowadays. It also provides an excellent opportunity for every brand that wants to build loyalty by exceeding customers' expectations to turn itself into a strong-repeat-purchase-rate company than a one-time-purchase one. Make returns a straightforward, effortless process and expect repeat business as the vast majority of consumers admit that a fast and hassle-free return experience will make them shop with you again and again.
The current state of returns
Early at the beginning of the pandemic, the vast increase of online sales and the non-essential retail shops' temporary closures, led many retailers to review and adjust their return policies. Many brands and marketplaces announced extended return windows at that point. Due to the upcoming recession, a spike in returns was originally expected as consumers were believed to stick to essentials and demand refunds for discretionary purchases.
Have US retailers adjusted their return policies during the Coronavirus Pandemic?
(% of respondents, March 2020)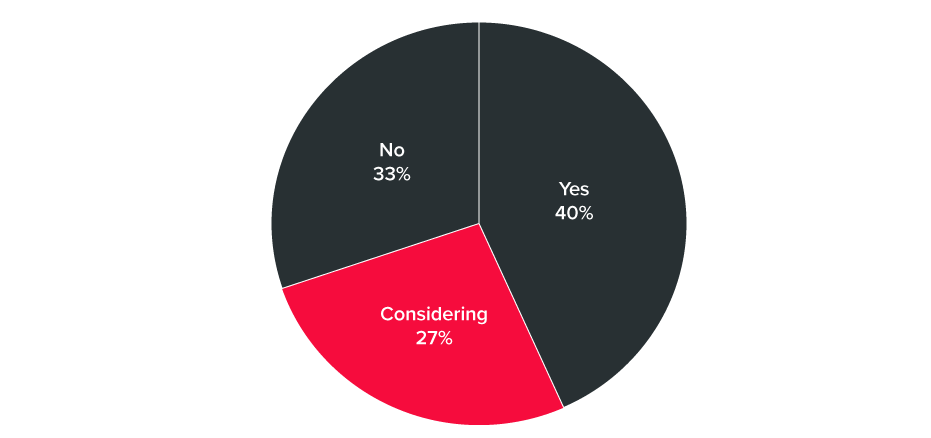 Source: Narvar and Forrester, 2020
Although now the restrictions have been relaxed and return options like return-in-store are again available, the Covid-19 crisis may permanently have changed the way return policies are written, and returns are handled. What's for sure is that there has been a shift for merchants to seeing returns as a valuable customer service and marketing tool. Retailers understood that returns are not a one-size-fits-all process but, like every other step in the customer journey, should be tailored to each customer individual circumstances. The return process should take a strategic and personalised approach and execution informed by the correct data.
How to proactively reduce returns
Before we proceed into how to draft an effective returns policy that will help with customer retention and increase your brand's loyalty, it might worth mentioning a handful of tips that could potentially help with reducing the overall return volume. The first step would be to provide as detailed descriptions as possible for your products accompanied by plenty of detailed, high-quality pictures as well as customers' reviews if possible. Video tutorials that showcase and demonstrate how to use the product might also be a useful addition to that.
You might also consider implementing augmented reality (AR) solutions into your ecommerce shop to showcase realistic versions of your products to scale and in high-definition. Companies like Emersya offer accessible augmented reality solutions to businesses of all sizes that can be integrated into any website, without the need for a specialised app, and it can run on any device. These AR solutions offer an interactive, personalised experience that blurs the boundaries between online and in-store shopping. Returns decrease in volume when what your customers receive matches their expectations.
Have US retailers adjusted their return policies during the Coronavirus Pandemic?
(% of respondents, March 2020)

Source: SaleCycle, 2020
Besides including a detailed description of your products, increasing your return time window could potentially decrease returns; offering peace of mind can reduce the urgency for the customer. If after all that you are still getting a high number of returned products, it might be worth including a short one-question survey in your return process form that will give you an insight into the reasons a customer wishes to return an item. That information will help you identify potential production or quality issues with your products and make the necessary improvements.
How to shape your return policy
From the consumer's point of view, free returns are now synonymous with online shopping, and some of them may not purchase from your brand if there are return shipping fees charges. Nevertheless, although Amazon has almost turned free returns into a norm, that doesn't mean that it is feasible for every brand. Businesses should make sure that they create a return policy and process that works for their business model, size, customer expectations, and margins. It is advisable though, to always provide your customers with a return label and tracking number for every time they wish to return an item.
On top of that, even if your return process is free and fast, taking too long to credit a refund could also hurt your brand loyalty as delayed refunds are the top reason for dissatisfaction for returners. If you cannot offer same-day refunds (have refunds triggered when a carrier scans the returned package, for example), try at least to implement an up-to-five-business-days refund policy after the returned item has reached your shop or warehouse.
Several online apparel and accessories brands (the most returned items for online shoppers) have a "try before you buy" policy which allows customers to try a product before they make a purchase, emulating the changing rooms you can find in brick-and-mortar shops. Indeed, that kind of policy can save you the trouble of refunding customers, but you should make sure you have a robust logistic infrastructure in place that will be able to handle a higher volume of returns.
Most returned products for online shoppers


Source: GlobalWebIndex
It would be best if you always aimed for providing a full refund to customers that wish to return an item they purchased from you. If that is not viable because you are offering a quite extended return time window, for example, consider offering full refund only for the first few days of your return window. Returns shipped after that and until the end of the return window could be eligible for (non-expiring) store credit. Also, many customers are willing to exchange a returned item with another product instead of asking for a refund. Having a simple, fast, and ideally, cost-free exchange process in place will keep customers from switching to your competitors.
Have digital buyers worldwide purchased something to replaced items they returned from a digital purchase?
(% of respondents 2019)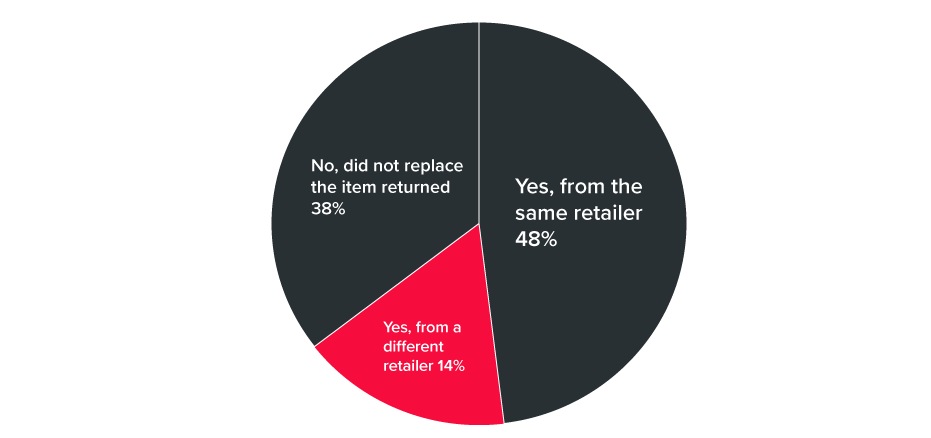 Source: eMarketer 2019
Try to be very clear and specific when it comes to what kind of products and under which conditions are eligible for a return. Usually, companies expect items to be unused, in the same condition that the customer has received them, and most of the times they should be returned inside the original packaging, accompanied by the packing slip to be accepted.
Also, make sure that your return policy is easily accessible to shoppers by including it right into the customer purchase path. Besides the usual support and FAQ pages or the footer of your ecommerce website, consider having it on your product pages, cart, checkout page, receipts, and email confirmations as well. If you also sell your products on online marketplaces like Amazon, eBay, Etsy, etc., bear in mind that your return policy may not apply in that case since every one of them has their own return policy.
Consequently, it is crucial to have a comprehensive and detailed returns policy in place that will be able to address all the above issues and customers' requests and concerns when they wish to return a product. And do not forget to make sure that all your employees, from your marketing team to the customer service people, are familiar with your return policy and procedures so they can deliver a flawless customer experience from the beginning to the end of the customer journey.
After creating your return policy, you will have to integrate the right services for processing returns. If you are not able to handle it yourself, it might worth trying to outsource it by hiring a third-party logistics (3PL) company to take care of the reverse logistics process. Additionally, you can use a self-service returns provider like Returnly that provides ecommerce stores with their own customisable returns management portal. Customers can sign in using their order number or email address to access their past purchases and select the items they wish to return.
Conclusion
Returns are an integral part of online shopping, and your brand should treat them with the same care as every other step of the customer experience. When your customers wish to return a product, they expect an as effortless as possible process supported by a clear and transparent return policy. Moreover, they want flexible options, so focus first on the services that matter the most to them but also include alternative ones they can choose from instead.
Even if your ecommerce business has not a physical store to offer in-store returns, you should aim to replicate the benefits of in-store returns by offering fast refunds and simplifying exchanges during the online returns process that will allow you to convert returns into revenue.
Last but not least, although you should strive to make the returns process as fast and convenient as possible, remember that clear communication is of paramount importance. Communicate updates regarding every step of the returns and refund processes immediately and proactively to your customers.
All of the above might sound like much effort, but having a comprehensive and transparent return policy that translates into an effortless returns process for your customers which you review and optimise regularly can boost your brand loyalty and improve customer retention.
---
Author: Stathis Kampylis
Stathis is the marketing and communication coordinator at Shiptheory, a best-in-class shipping management platform that connects retailers with the world's best carriers to automate shipping labels, manifests, and tracking. He is the main contributor to Shiptheory's Ecommerce and Shipping Blog.