The continued growth of Amazon marketplace has made it a staple platform for ecommerce businesses to sell their products on. The overall percentage of Amazon third party sellers has soared over the last three years to 55%. While the competition increases, the rise of Amazon's revenue has followed suit. Many Amazon sellers do not utilise the platform to its full potential and miss out on web traffic and potential sales. Luckily, we have a list of suggestions in order to increase your Amazon sales, and improve your Amazon sales ranking.
1. Advertising on Amazon
A core aspect of increasing Amazon sales lies within having effective and efficient advertising streams. A strong PPC campaign through platforms such as Google Ads can help drive web traffic towards your products placed on Amazon marketplace. Sponsored product ads is also a great feature of Amazon marketplace that allows you to gain more exposure within Amazon's search results. To simplify it, you can bid on keywords that are related to your product and in turn push it further up the Amazon search result list. Amazon have their own suggestions on how to use sponsored ads to increase your Amazon sales and push customer traffic towards your products.
2. Improving your Amazon SEO
Price, product description, product title and product image are four key aspects of Amazon SEO that should be considered by all Amazon sellers.
A very simple aspect, but the price you charge will have a direct impact on your conversion rate. The more sales a product accumulates, the more likely it is to be placed higher on Amazon search results. It's therefore suggested that a competitive price is set based on other similar products being sold on Amazon.
The product description gives a chance to give details and information about your product. However, it is also an opportunity to showcase the benefits of your product and really persuade customers to choose your goods over other companies. Keywords also need to be scattered around the product description to improve the overall SEO of the product page.
Product title is arguably the most important part of Amazon SEO. Relevant keywords need to be placed in your product title to optimize your Amazon search ranking.

Here are a few tips for creating a solid product title:
Include your brand name
Highlight the colour and size of your product
Avoid abbreviations
Use numbers not words (e.g., 3 instead of three)
One thing that should be noted. While using keywords is important, don't overload them in your title, as the product title needs to sound natural.
When it comes to product images, research has shown that better quality images produce better conversion rates. Amazon has a set of requirements that must be followed when uploading a new product image. If these requirements are met, then the chances of your search ranking improving rises.
3. Improving your reviews to increase conversions
Having plenty of positive reviews can make a real impact when it comes increasing Amazon sales. It fills customers with confidence in not only the product, but your business as a whole. It can also be used as a unique selling point against other competitors selling similar products.
Here are a few tips you can use to generate more Amazon reviews:
Make use of the "Request a Review" button
Request reviews from current customer email listings
Use the Amazon Vine Program if applicable
Use product inserts to nudge current purchasers in the right direction
Another avenue to explore is Amazon's top reviewer list. This list is compiled of accounts that not only review a lot of products but are also renowned for giving helpful advice. When they leave a review, they have a special banner to indicate to others that they are one of Amazon's top reviewers. This makes their feedback extra valuable. It is worth checking their tags within the list to identify if any of them commonly purchase products similar to the ones your company is selling. It's then a case of reaching out to them and persuading them to try your product.
4. Using Amazon FBA to Increase Amazon Sales
When Amazon FBA (Fulfilled by Amazon) is mentioned, businesses usually think of the benefits in terms of not having to store or ship their products. While this is true, there is one factor that tends to be overlooked and is one that helps increase Amazon sales. Amazon FBA allows for your product to be connected to Amazon Prime. This gives the customer access to all their Prime benefits when making a purchase. Most importantly, customers will have access to the free Amazon Prime shipping costs.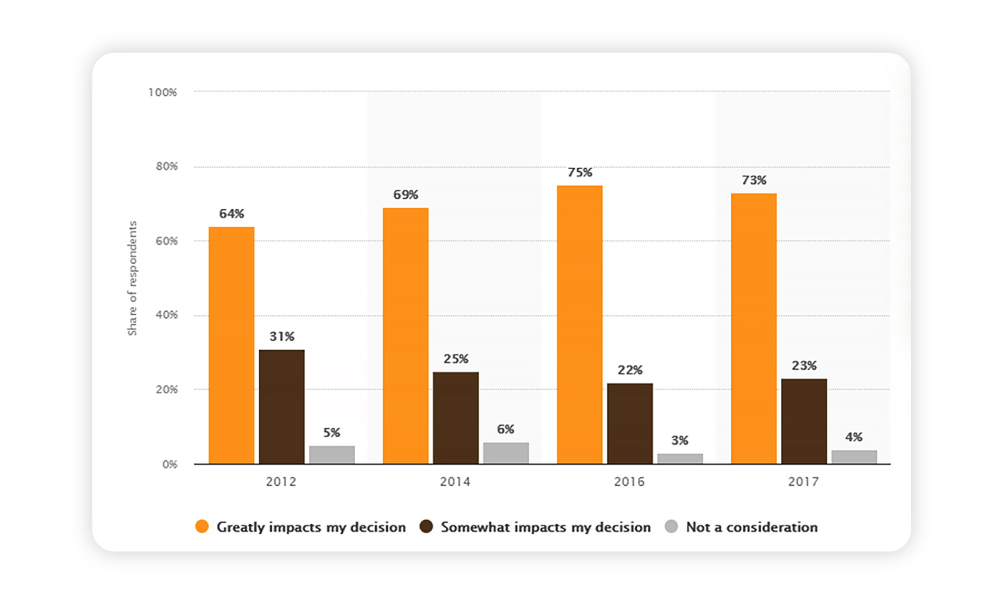 As seen with the graphic above, free shipping has a considerable effect on whether a customer will go through with a purchase.
5. Win the "Buy Box"
There are two types of sellers on Amazon: Amazon themselves, and third-party sellers. Amazon will always have access to the "buy box" (add to cart/buy now buttons) while third-party sellers may not. Put simply, this is because multiple companies may be selling the same product. This results in a battle for companies to win the "Buy Box".
There are a few requirements your business needs to be eligible for the Amazon Buy Box:
Selling from a professional seller account
You must have Buy Box eligibility (this can be checked in Amazon Seller Central)
Your item must be new (condition wise)
You must have available stock/inventory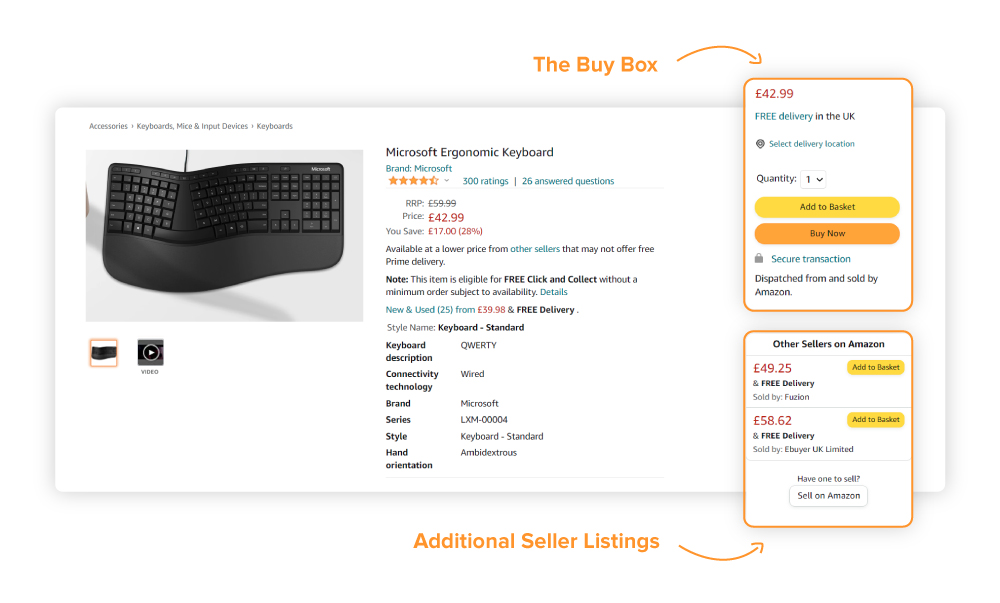 Here are a few tips to win the Amazon Buy Box:
Offer competitive pricing
Ensure a strong foundation of positive seller feedback
Make sure your inventory levels match demand
Side note: If the product you sell is also sold by Amazon, the likelihood is Amazon will win the buy box.
6. Utilise Promotional Timings
The rise of ecommerce has led to dedicated "sale days" for digital retailers. Like traditional retailers, these ecommerce businesses must stay ahead of the curve and plan their promotions and inventory levels around these sale days.
What promotional days do I need to focus on?
So, for starters this can depend on what type of product/s you sell. However, sellers on Amazon have three key events they should focus on in order to sell more products and increase their notoriety:
Black Friday
Cyber Monday
Prime Day
These three days are becoming synonymous with Amazon. If a business times its advertisement campaigns in line with these promotional events, they will most likely see a surge in new customers and an increase in sales. That leads us to the most important aspect of how to increase your Amazon sales. Happy customers, are customers more likely to repeat their purchase in the future. For your business, repeat customers will be the difference between making hundreds and thousands on your Amazon Seller Account. So, its key to make sure days like the ones we've mentioned run smoothly!
Here are some suggestions to ensure you're optimising all promotional days:
Prepare early with marketing and inventory management!
Offer free shipping where possible
Be alert to customer feedback
Potentially alter your keywords for the sales
If followed carefully, these pointers should help in exposing your products to a larger number of potential customers. The long-term goal from all this will be to turn those new customers into repeat customers, causing a sustainable increase in Amazon sales.