An Enterprise Resource Planning (ERP) system is a sophisticated software suite that enables businesses to manage their operations by integrating multiple systems into one central platform. This means that instead of having to interact with several different applications, all your business's data can be managed in one location. This can have a variety of benefits for your business, ranging from improved customer service to better management of inventory. Let's take a look at the key features of our business management system and how it can help you improve your business processes.
The technological progress shown in ERP solutions has begun to form the question as to why small businesses need ERP software. Integrating all core business processes and having access to real-time data has turned ERP applications into strategic tools for growing multi-channel businesses. Developments within cloud ERP software have formed a financially viable solution for smaller businesses. A cloud-based solution brings automation to tedious tasks, and the ability to better analyse the success of a business. This advantage is beginning to set SME's apart from one another. Alongside this, the inherent application of ERP software supports future growth within a business due to the scalability that ERP solutions offer.
The benefits for small businesses when it comes to ERP platforms are as follows:
Future-proofing for growth
Quicker & more informed decision-making
Improved efficiency and monitoring
Better interaction with customers
Offers automation and data analysis
Manage resources and inventory more efficiently
Offers better data and security
1. Future-proofing for growth
Once establishing themselves on various marketplaces, small businesses tend to have the ambition of becoming self-sustainable on their own platform/website. This provides benefits such as greater control, higher chance of referrals and no listing fees. However, making this switch can often cause issues such as loss of sales, order data and, customer information. Having an ERP platform implemented early on means information from all different areas are stored in one place. This means no matter the direction a business takes, data from prior platforms will never be lost.
Growth naturally brings an increase to the size of a business' workforce which will often be in the back of a small business owners mind. The onboarding process can be a strenuous and time-consuming task for new employees. A well-implemented ERP solution can help streamline this process as well as reduce the workload for new employees. Having information readily available in a centralised system makes the learning process considerably more convenient. In addition to this, the inherent intuitiveness of ERP software reduces the complexity of tasks that new employees face. This in turn not only speeds up the onboarding process but makes it a more manageable experience. Onboarding is one of the first opportunities a business has to form a positive employee experience. Making the onboarding process a seamless and pleasant experience can begin to instil loyalty and confidence in new employees which can become a long-lasting effect.
2. Quicker and more informed decision-making
ERP software brings access to live data across all major business processes such as marketing, accounting, and supply chain management. This information allows businesses to make decisions based off facts and figures. Small business owners are able to identify any current or potential issues across the business. This can range from potential cashflow issues, current production challenges or future delivery problems.
Readily available information in a convenient format can help small business owners understand which departments are performing better than others. This can help drive the decision-making process towards ensuring underperforming departments have the needed resources in order to further develop. The same can be said for sales channels. Small business owners will be able to strategically decide which sales channels are worth investing time and resources into. This is especially advantageous for smaller businesses with little resources. This therefore places an emphasis on them having to use what resources they have, in the most efficient manner possible.
It can be noted that ERP solutions not only bring more informed decision making, but also the ability to make decisions faster. In the case of a small business, this advantage can open the door to many opportunities that can inspire business growth. These opportunities are heavily focused around products currently being sold and, sales channels currently being utilised. Due to the in-depth and easily accessible data, trends can be easily identified and taken advantage of. For example, there may be a noticeable spike in sales from a specific channel. Small businesses can take advantage of this opportunity by focusing more of their resources on this particular channel until sales return to a more common trend.
3. ERP brings improved efficiency and monitoring
Increased competition and the ease of using online marketplaces such as Etsy and Amazon have meant selling across multiple channels is fairly common for smaller businesses. While selling through multiple channels is an ideal way for a smaller business to gain exposure, monitoring data from these avenues bring its challenges. As well as missing sales orders, or not picking up customer queries, trying to measure the success of each channel as an independent sales channel can be difficult. This is where cloud ERP software can step-in. Evaluating the success of your different channels as well as monitoring your order processing is simple with ERP software. All orders are able to be directed into one area in real-time. This removes the task and confusion of having to check and monitor multiple selling channels.
While smaller businesses tend to deal with less data, the benefit of process automation can still transform even the simplest operation. As well as ensuring complete accuracy with your data, the chances of mistakes made by human error are almost completely removed. This gives small business owners a chance to place more resources into growth and development rather than manual data entry. Book a free demo of our ERP system for small businesses.
4. Better interaction with customers (CRM)
It's common for ERP solutions to have a built-in customer relationship management (CRM) tool that works alongside your order processing. This allows for easy access to real-time data regarding customer information and order history, as well as other benefits such as:
Improved customer retention
Quicker communication
Improved segmentation
Increased knowledge of customers
From a small business's point of view, having a positive relationship with customers is of great importance, and using a CRM solution inherently aids this process. Positive reviews and word-of-mouth marketing are two key factors that give smaller businesses the platform to grow their customer base. Positive customer satisfaction will be the biggest driver of this. The use of an in-built CRM system can help ensure customer queries and orders are dealt with in a timely manner, therefore, increasing the likelihood of customer satisfaction.
A smaller business will be more focused on obtaining new customers. Having good CRM practices in place will make the process of customer retention smoother down the line. This is important as the likelihood of selling to current customers is much greater than new ones (as shown below).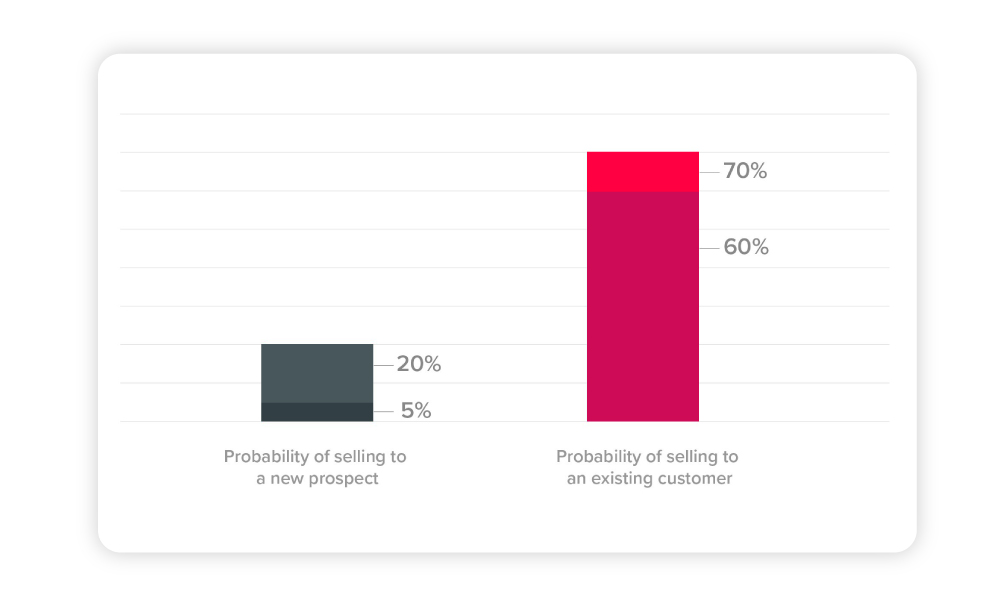 Offers automation and data analysis
One of the main benefits of using business management software is automation. By automating tasks such as order processing, invoicing, and inventory management, you can save time on mundane activities and free up resources for other projects. Additionally, the system provides real-time data analysis so you can gain insights into customer behaviour and make informed decisions about product development and marketing campaigns.  
Manage resources and inventory more efficiently
A good ERP solution, incorporated with our warehouse management system uk will make it easy for you to track inventory levels across multiple locations, whilst also providing insight into resource utilisation and availability. You can use this information to adjust staffing levels or purchase additional supplies when needed, helping ensure that demand is met without tying up too much capital in inventory. Additionally, the data provided by an ERP system will give you valuable insights into supplier performance so you can make educated decisions about future purchases and contracts.
Offers better data and security
Our business management solutions offer multiple ways to store your data; either on premise, dedicated hosting or using our cloud-based platform. This puts you in control to choose the solutions that best suit your security and data needs.
Our ERP solutions offer dedicated user permissions to ensure your data is kept private and maintained by those you trust. Data can also be anonymised automatically through our in-built GDPR tools, keeping your customer data safe. And finally, as your data is in one place, disaster recovery is made easier. By taking regular backups you can easily restore your entire business in a quick turnaround time.
Why small businesses need ERP software
Many of the fears small businesses face when considering an ERP system are ones that simply no longer exist. It is evident that ERP applications can help propel smaller businesses in their early stages. The streamlining and automation of various processes ensures time is available to focus on business growth. In addition, the future growth of a business can scale in line with ERP systems by simply increasing the number of users/features. A more tailored experience can be offered to current customers due to built-in CRM functionality. These overriding factors help to show why small businesses need ERP software. Discover how our ERP for small businesses can help transform your operations by booking a free demo.
In conclusion, an ERP system offers a comprehensive solution for businesses looking to streamline their processes and improve their operations overall. Whether you are in the retail, manufacturing, eCommerce, education, giftware, wholesale or pharmaceutical industry – our business management software will provide powerful tools designed specifically for your business needs that enable lower operating costs while increasing productivity and efficiency across multiple departments within your organisation. If your business is looking for ways to increase efficiency while improving customer service – an ERP system may just be what you need! 
Ready to see what Khaos Control has to offer? Book your demo with one of our experts today!