We're over the moon. For the second year on the trot (and the third time ever), we've walked away from the Direct Commerce Awards with a prize. This time, their 'Innovator' award in the Multichannel Commerce category. In this post, we'll cover who Direct Commerce are, what we're doing that justifies the award and extend a massive thanks to you – our customers – for nominating and voting for us!
Direct Commerce is a magazine that's been around since 1995, praising great companies at awards ceremonies since 2000. That means they've been front and centre of the ecommerce revolution, know what they're talking about, and have built up an impressive and informed readership responsible for picking annual award winners. And that's key. Those winners haven't been decided in smoke-filled rooms by a secret Direct Commerce cabal. They've come from the bottom-up, guided only by first-hand experience of companies and their products. It's little wonder that, trawling through the Awards' archives, it's populated with a who's who list of big hitters like John Lewis and Laura Ashley, Direct Wines and Screwfix. (And it's worth keeping an eye out for Khaos Family members, like Workwear Express, who this year landed a B2B sales award – well done!)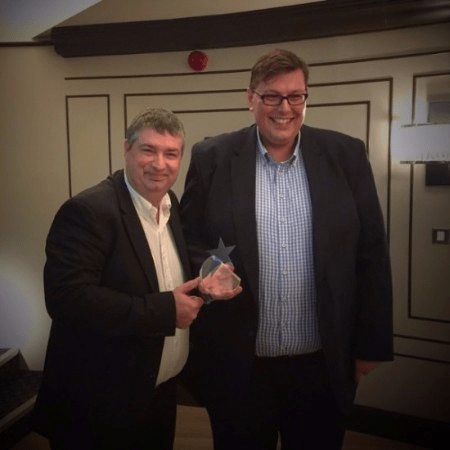 That's what makes it such a tremendous privilege to bag a Direct Commerce award – again! It's confirmation by the very people who benefit from it that our work is indeed storming out of our HQ at Priest Court, Grantham and making a positive dent in the world. That our solutions are cutting edge and we deserve to be up there with the best. To everyone that's registered what we're doing day in, day out to supercharge business growth and provide higher profits, better wages and more jobs, thank you. Thank you for supporting us with this award – we look forward to returning the favour by keeping up the pace of innovation, by keeping customer services standards high and by keeping our products great.
So, what's all the fuss about – how are we innovating? For us, it's encapsulated in one word: Hybrid. We live at an exciting time where the power of computers, and the speed of the connections that bind them, are good enough to allow an amazing intersection of traditional ERP software, installed on work PCs and servers, and browser-based solutions hosted up in the cloud. It means a single database, hosted with us at our chosen data centre, accessible anywhere and interlocked with your online store. With Hybrid, the hard limits to business growth posed by the installation and upkeep of servers, by the time lost and errors caused by data synchronisation and by the inability to access critical business data outside the office become memories. Obstacles cleared out of your path to prosperity.
To give a small taste of its power, attendees at Khaos Con '17 were bowled over by the live demonstration of stock adjustments made in Khaos Control filtering through to an ecommerce site in real time.
No one else is offering this, so if you want to be in on this ERP revolution, get in touch. We'll be delighted to help you build a stronger business.
This is why the Innovator award was so appropriate for us, Khaos Control Solutions. At the vanguard. Pushing the boat out. Not content to rest on our laurels. Thank you again for the award – we'll do our best to remain a worthy recipient!