Prior Amazon mandatory shipping requirements meant the carriers name and delivery service (i.e. Royal Mail 24) were required for deliveries to be processed by Amazon. If the given information was incorrect, orders and items would be automatically cancelled after seven days of the expected shipping date. This ultimately led to many increased late shipment rates (LSR), resulting in account suspensions.
Additional changes within 2022
Since previous changes in early 2021, Amazon now require both the courier's name, and the type of delivery method.
Having additional information on carrier name, delivery service and tracking ID means Amazon can pass scan events, made available by the carrier, back to the customer, making it easier to track shipments.
How is Khaos Control Cloud Adapting?
Khaos Control Cloud previously introduced an Amazon Service Desc column, which can be shown within the image below.
As demonstrated in the image below, the update included the introduction of a new "Amazon Service Desc" column in the [System Data | Couriers] area of Khaos Control Cloud. Initially, this information will be copied from the existing "Courier Desc" or "Courier Code" column of all your courier services so that it has a sensible starting value.
The most recent update to the "Amazon Service Desc" column now allows for two pieces of information to be included. This consists of the previously mentioned courier name, and delivery method. Khaos Control Cloud users need to ensure they separate the two pieces of information with a tilde character (~) as shown below.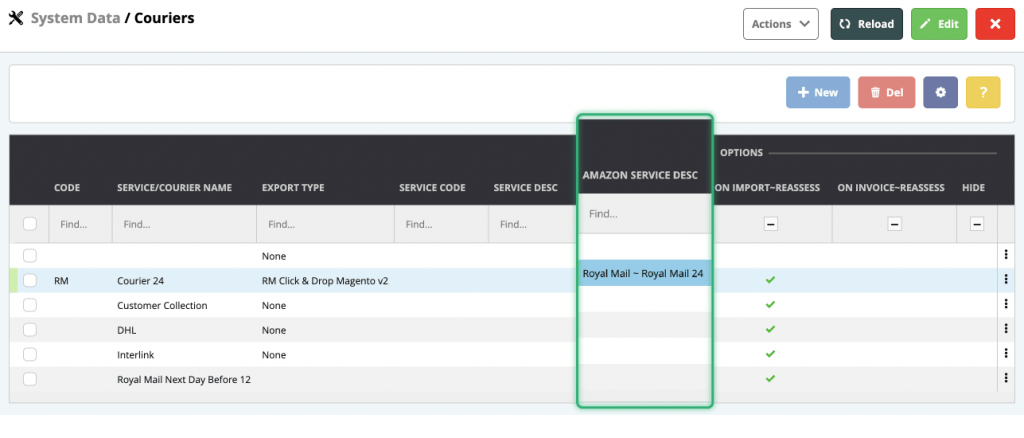 We strongly encourage all customers to review their couriers after applying the latest update to make sure you're 100% happy with the description specified. If not, this will negatively affect your ability to ship goods for Amazon and may require manual intervention on any affected orders.
Where courier integrations make use of an aggregator e.g. ShipTheory, Khaos Control Cloud will receive the service information from the aggregator directly when making the label request. This will then be passed onto Amazon by storing the received information against each order. This order level information will be sent instead of the default 'Amazon Service Desc' you have configured. While this is the case, we still highly recommend populating the "Amazon Service Desc" field as a precaution, and to ensure the shipping type/method is noted in Khaos Control Cloud.
Which courier names & delivery services can be used?
Amazon Seller Central holds a list of both acceptable couriers, and delivery methods. To view this data, please click here, and view section 8 of the article. Please use the given courier names and delivery method when filling out the "Amazon Service Desc" column.