Cloud ERP Opening Balances for Customers & Suppliers
Getting your business up and running on our Cloud ERP solution has just got a whole lot easier as you can now enter opening balances!
You can now bring outstanding invoice data from your existing customers and suppliers with you when you move to Khaos Control Cloud.
This new addition to our Accounts screen means that you can work in the way that's going to fit you best from Day One. If you need a forensically detailed list of every outstanding customer and supplier invoice amount, then gather the data together and get keying.
Just need an amount owed per customer / supplier? Collate the figures and crack on.
We've even included a handy GIF below which shows the process in action.
No need to run your existing system / process alongside your new one whilst you work through those debtors.
All of your key financial data in one system, helping you to control and grow your business. What are you waiting for? Try it out in your app today.
What do you mean you don't have an account? They're free for 30 days and there's no commitment, sign up today and try it for yourself.
User Permissions
As your team grows, you need to be able to control which of your colleagues can access each area of our ERP solution. You also need to be able to define what they can do within each function.
"With great power comes great responsibility."
Sometimes, that responsibility weighs heavily, as Peter Parker found to his cost.
Well, you need burden your team – or cause yourself sleepless nights – no more. You can now define detailed permissions for every function within your Cloud ERP.
The new User Permission feature in Setup \ User List, allows you to be as granular as you need to be.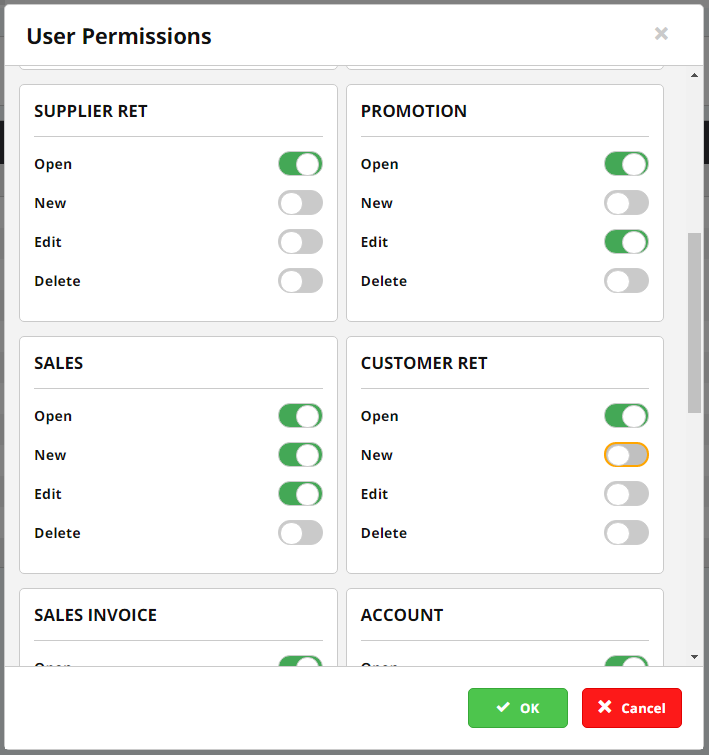 A key colleague needs access to everything, just set them up as an Admin.
Other members of the team need access to customer data, but not the ability to edit or delete, make it so.
Tactile toggles allow you to run through each function per user and define how you want them to be able to interact with the application.
Mischief Managed!
User Defaults
Alongside the User Permission changes mentioned above, this sprint has also seen us introduce default settings for Users. This means that you can now define defaults per user for Site, Sales Source and Invoice Priority.

Default settings can be invaluable for specific users, saving time and increasing accuracy.
They do need to be user with care though, as, for example, the Default Sales Source and Invoice Priority will be set on any sales order that the user creates.
And the Site will default on any document or transaction that the user performs.
The new Setup \ User List screen allows you to define these and more and is worth checking out.
Let us know how you get on!
Barcode Scanning on Mobile Devices
We introduced Barcode Scanning into the app back in November and we've now enabled this element on mobile devices. You'll see a new Barcode Scanning button next time you hit the
.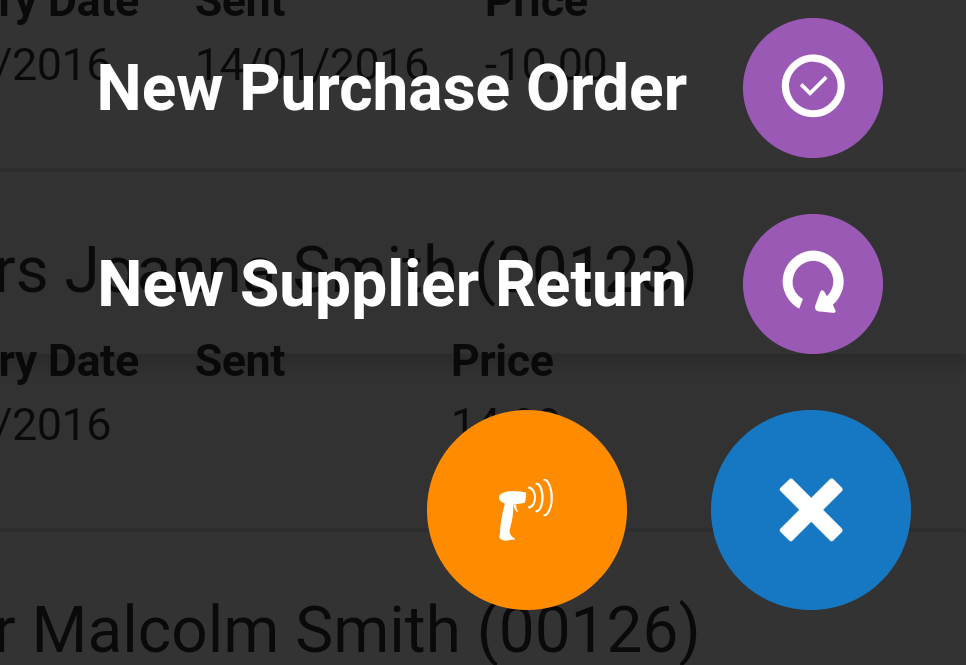 Scanning barcodes for products and other data in the app increases efficiency and cuts down on mistakes. Leaving more time for you and your team to focus on the good stuff!
Database Connection Issues Resolved
Every sprint we carry out always involves some bug fixing. This one was no different. The 'biggest' bug the technical team sorted involved the issues some people were having with their database connections becoming invalid. This has been resolved in the new version of the app. Thank you to those people that reported this issue into our Support Team
Mobile UI Continues to Improve
As you'll have noticed in mid-January – if you're taking advantage of your ERP on the Go – the mobile interface for the application was over-hauled. We've consolidated and further improved those changes in the most recent update to the app and Khaos Control Cloud is even more delightful to use on the move than it's ever been.
Just checkout these screenshots from my phone if you don't believe me:
If you're yet to start benefiting from ERP on the Go, sign up for a free demo today and experience the difference we can make to you and your business.
Please Note: This article was edited on 21/02/2018 to reflect Khaos Control Cloud's updated process re: trials.