Keeping up to speed with what's new in your ERP on the Go is important, as it means that you benefit from new features, changes and fixes that could be vital to your business. That's why we always post a summary of all changes in the Application itself, just log into your instance and click to Dashboard –> What's New?
In addition to that, we pick out the highlights for publication on our blog, to ensure that you get the complete picture about what we've changed and why.
The latest update to our Cloud ERP focuses on two distinct themes:
Enhancing your customer-facing documents, to enable you to further customise them and to improve performance.
Adding further efficiencies to your Pick / Pack / Despatch process.
Customer-facing document enhancements
In a world where there are more mobile phones than people with an internet connection and where waste is something we are all keen to prevent, it may seem odd to worry about invoices, delivery notes and pick tickets. However, the documents you send with the orders you despatch – or which you email out to your customers – are still vital. They're the final touchpoint for your customer and leave a lasting impression.
That's why our report-writer allows us to customise your documents, in order to use your own branding and layouts. And it's also why we've been listening to our customer-base with regards to the other features they'd like to see.
The latest version of Khaos Control Cloud includes a large number of enhancements to customer-facing documents, including:
More than 40x faster to generate and download PDFs.
Additional content and control now available, from email addresses through to pack child stock items and onto stock images.
Product Barcodes can now be printed on Picking Sheets.
Generate multiple Sales Order Acknowledgement Reports in one go.
Create and Download PDFs 40x faster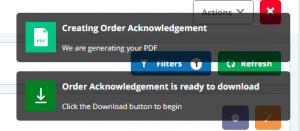 Documents weren't slow to create in our Cloud ERP previously, but now they're ready for your to view and email to your customers in milliseconds. This makes an enormous difference to you and your team, a second saved here and a second saved there and pretty soon you're looking at having hours to spend on the good stuff!
Additional Content and Control
It is now possible to pass customer email addresses and telephone numbers through to customer-facing reports. This is most important for customers who are drop-shipping, as it enables them to easily share key customer contact data with their partners. But may also be useful for other companies as well.
Additionally, pack child items are now hidden on customer-facing documents, ensuring that you don't confuse customers with additional information on Delivery Notes and Invoices that they don't require. Pack Child Items are still displayed on Picking Sheets, as before.
The final additional content element for this update means that you can now display stock images on customer-facing sales documents. Again, this won't be something for everyone, but, particularly where you're selling to other companies, having the ability to include product images on a Quotation, or other sales document, could be the difference between you winning and / or retaining business, to you losing it.
To enable the email / telephone data and / or display Stock Images in your customer-facing documents, please contact our Support Team and they will be happy to amend your reports for you.
Product Barcodes on Picking Sheets
Barcode scanning was introduced to Khaos Control Cloud last year and we've built on this key functionality by providing you with the ability to include product barcodes on your Picking Sheets. Reducing errors, confusion and making your pick / pack / despatch process more efficient, is all just part of the service!
As above, if you would like to have product barcodes displayed on your Picking Sheets, please contact our Support Team and they will be happy to add these for you.
Pick / Pack / Despatch Process Improvements
Everything we do at Khaos Control is aimed at making our customers more efficient. Efficiency allows our customers to grow their businesses rapidly and sustainably. It also enables you to see peak ordering periods as an opportunity, rather than as things to be survived.
The Despatch Manager in Khaos Control Cloud brings control and efficiency to any pick / pack / despatch process, but the techies are always looking for ways to improve the application and the latest version sees three key improvements:
Filter by Marketplace / Channel Reference
Undo Invoice Movements
Archive Stages
Filter by Marketplace / Channel Reference

Every order you import into your Cloud ERP, whether it's from your own ecommerce website, or it's from a third party marketplace or channel, will have an 'Associated Reference' (Ass. Ref). This is the ID unique to the channel.
We've added a new 'Ass. Ref' option to the Filter dialog in the Despatch Manager. This brings two immediate benefits:
If your Ops team need to find the latest invoice for a specific order on the back of an enquiry from an individual marketplace or channel, they can now just cut and paste the reference into the filter dialog and they'll be there immediately.
Do you like to process orders by channel? Then use the wildcard button on the new 'Ass. Ref' and search by the common characters of the reference.
Undo Invoice Movements

We've all been there. We've dragged and dropped an invoice into a new stage and then realised it was the wrong one. Now, rather than having to find the invoice in question and move it back, you can just 'Undo'.
Coupled with this enhancement, we've also added the ability to drag and drop invoices into the Future stages, making it quicker and easier to benefit from the Awaiting Date, Awaiting Stock and Manual Hold folders.
Archiving Invoices

As your business grows and develops on Khaos Control Cloud, you need to retain access to key data, but you don't want it clogging up your daily processes. That's why we've introduced Archive Stages in the Despatch Manager for your invoices. The Archive Stages give you quick access to any invoice that has been issued during the last 12 to 15 months, broken down by quarter.
Ship / Unship
The Confirm Shipment screen, which controls what you're physically despatching and who you're despatching it with, has had two new menu items added to it; Ship and Unship. This extends the confirmation behaviour of this screen and also means that should a user need to Unship an invoice for any reason, then they are now able to.
Export Shipping Details for Couriers
Whilst you have always been able to integrate with every major courier via our Metapack integration, we are conscious that their label printing and price-matching software isn't for everyone. We've got more courier integrations coming soon, but in the meantime, we have added the ability to export shipping details for selected invoices so that you can import that data straight into your couriers' software and print labels quickly and accurately.
As well as removing the wasted time that comes from double-keying order data, you will also avoid the additional errors that naturally occur, meaning a double-saving on the back of a quick and simple export process.
And if that wasn't enough
Here are some of the minor enhancements and changes we've made in order to make Khaos Control Cloud even better:
The Trial Balance in the Accounts screen now has the ability to filter by either Balance Sheet nominal accounts or Profit & Loss nominal accounts, enabling you to view a snapshot of your Trial Balance based on those two key financial reports. Or to view everything, as before.
We've also enhanced the Trial Balance, such that nominal account transactions can be exported to CSV en masse, making it as simple as possible to extract and send accounts data to your Accountant / Bookkeeper if they don't wish to use Khaos Control Cloud.
You can search read-only cells in a grid when you're in Edit mode.
The Company Name filter has been pinned by default on the Company List screen, making it quicker and easier for users to search for customers and / or suppliers by name.
Fixes
As followers of past development blog posts will know, we're never shy of talking about fixes as well as changes, and this latest update is no different. Amongst the bugs we've resolved are:
Data import screen – error where files were loaded into the browser, rather than into the importer has been fixed.
Address label styling issues on the label printing dialog have been resolved.
The Pie Chart legend font size now applies correctly on the dashboard.
You can now navigate through the fields in a lookup dialog using the arrow (cursor) keys.
Fixed occasional error that saw incorrect totals / quantities populating Invoice, Quotation and Sales Order Acknowledgement reports on download.
Rectified the customer statement refresh error.
Average grid column totals now only round to 2 decimal places.
Extended description errors with deleting and new lines not being displayed have been fixed.
Stock Relationships tab now displays correctly on tablets.
Adding a new payment, or amending the payment type of an existing payment on a sales order now works as expected.
What's Next
As you would expect, the Khaos Control Team are already hard at work on the changes that are going to be included in the next update of our Cloud ERP and we're really excited about some of the elements will be in your next version, including:
Third Party API (toolkit) for ecommerce Websites – this is already in Beta testing with a number of customers.
Sales Order Margin data to be displayed live in the Sales Order screen as orders are edited / created / reviewed.
Email Automation
Drop-shipping
Stock Updates for Channels
Direct Royal Mail Integration and additional Courier Integration options
You can keep up to date with our Development Roadmap, up-vote the functionality and features that are most important to you and contribute your ideas by clicking here.
Not yet using Khaos Control Cloud? What are you waiting for? Get started today!