What is order processing software?
An order processing software tool helps to control the processes or workflows associated with the taking of an order in a retail or wholesale business. That includes picking, packing, purchasing, and the customer service journey that runs alongside it. Processing an order from start to finish can be more prone to mistake than you think, and a small error in any of these areas can put an entire operation out of kilter.
Order processing software helps to keep these processes in order, as well as offering businesses the ability to integrate with the UK's leading shipping and 3PL systems.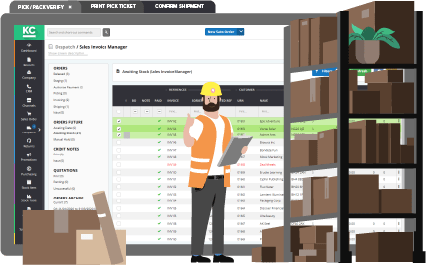 Increase order efficiency & productivity

Oversee your orders in real-time
Not being able to oversee all your different orders can mean multiple data sources or lots of searching through paperwork to find the path of an order. Order processing software provides one central location to view and manage sales orders, which not only saves time but provides an easy way to quickly investigate orders when needed.

Set price lists and bandings
Price bandings allow you to set quantity breaks on orders, and offer different prices per break. This works the same for your suppliers; if they have price bandings that apply when you purchase stock, you can record these within a system. Perhaps you have minimum purchase order quantities; these can be handled too.

Fast sales processing
Gain access to real-time stock levels via inventory management, live promotions, instant customer-specific pricing, as well as key customer information from your CRM data. With information at your fingertips, you allow for an effective ordering experience for both the operator and the customer.

Simplified back-ordering
Auto-release hundreds of sales orders once a large delivery note is booked into your warehouse. These back-orders can then be subjected to automated rules to make sure processing is seamless through your pick, pack, and despatch stations.
Manage your sales orders, purchasing, suppliers and more
When operating a business, most of your order processing will be the sales orders coming from your customers. Nevertheless, you will also need to consider purchase orders when buying goods from suppliers. A great order processing software system will provide the foundation to process these orders efficiently, giving you a complete overview of the orders coming in and out of your business, in one single, easy to use, interface.
Alongside this, having all your order information in one place means you can prioritise your fulfillment in whichever way suits you. This allows your business to cater to all your sales sources in an effective manner. Purchase order processing and sales order processing become linked, as part of a larger holistic picture, automatically feeding into one another, thereby resulting in slicker operations.
Powerful order processing & management for retailers and wholesalers across the UK
Our structures despatch stages, allow for a full overview of your orders, as well as which ones need to be prioritised or are running late. Automated emails can be sent to your customers at various processing stages, making sure they are kept in the loop and minimising that impact on your customer services team.
Khaos Control allows for orders to be filtered by customer, company, date, and more, and stores a complete order history against retail customers and wholesale companies. This allows you to track who is ordering what, as well as helping you identify your loyal and returning customers. All of this data is fed into sales reporting, making it easy to create promotional campaigns from our List Manager, which includes the ability to split-test promotional messaging.
Khaos Control is great for handling B2C customers, but even more powerful when it comes to B2B customers. Our system will give feedback directly from sales orders on the customers' outstanding debt, payment terms, and order margins.
Dashboards help you evaluate your order process and its effectiveness. In just a few clicks, you can easily see breakdowns of specific parts of your pick, pack, despatch process, as well as breakdowns of certain products, orders, or customers. All of this, and optionally available in the Cloud, as ERP on the go.
Find out more about our different products