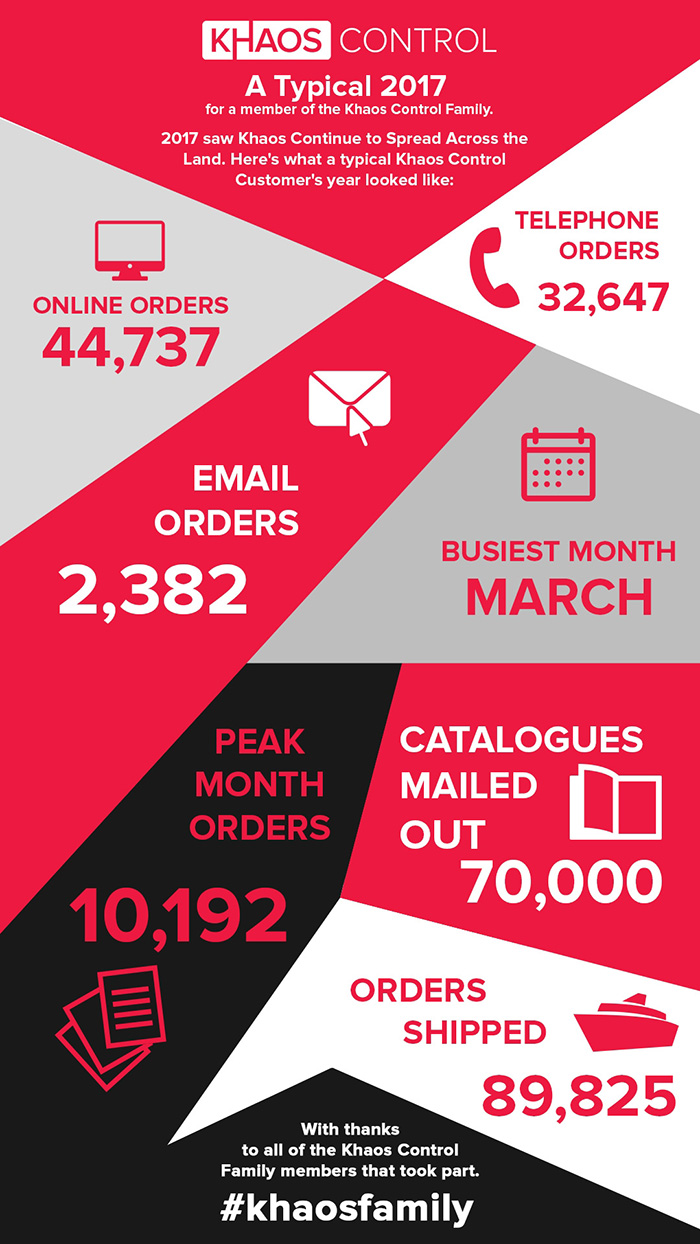 2017 saw the Khaos Control Team smashing all sorts of targets, from SLAs to feedback scores and sales figures through to the very first Khaos Control Conference. But we've seen plenty of content where companies talk about themselves. We thought, what about our customers? We know that there are brilliant years and stories popping left right and centre, with growth a key theme across the Khaos Control Family. Why don't we focus on that?
The Khaos Control Marketeers went out to our customer-base and gathered key stats for the year that we've then compiled into an awesome infographic that I'm delighted to share with you in this blog post:

We've taken all of the feedback from the Khaos Family – and thank you again to everyone that took part, we've been bowled over by the way you've responded – and amortised the figures to give you a taste of what 2017 was like for a 'typical' member of the Khaos Control Family.
Some of the most interesting takeaways for us included:
The key part the telephone still plays in Multichannel Retail. Online orders were still way ahead, but we were surprised at the number of phone orders the Khaos Family continue to handle. It reflects the wide range of customers we serve and the fact that however quickly ecommerce develops we're yet to replace people entirely, particularly when it comes to trade sales.
Peak is in March? Who knew? Certainly not us. Whilst we already knew that plenty of our customers are not locked into the November-December peak that dominates pure-play retailers and the High Street, seeing March as the busiest month still came as a surprise. Again, it reflects the diverse nature of the Khaos Family and the flexibility of our software and services that businesses are set up to handle their peak trading period, whenever it falls.
The Catalogue is dead, long live the Catalogue? This figure really bowled us over. We've been beating the Omnichannel drum for some time now and it's gratifying to see the Khaos Family pushing themselves in this regard. Catalogues aren't for every business and we haven't highlighted this stat with the intention of sending you all off to the printers without looking back. But in a world where standing out from your competition is more challenging than it's ever been, impactful direct media and content is one way of separating yourself from the herd.
With 2017 firmly in the past and the Khaos Family having shipped millions of orders successfully we're incredibly excited to see what 2018 and beyond brings!
If you're not yet using Khaos Control to deliver the control your business chaos is crying out for, get in touch today and we'll demonstrate how we can help.