For years, online retailers have been battling the monster under the bed – abandoned baskets.
But do you actually realise how much of an impact it is having on your business? HubSpot report that the average checkout abandonment rate is 67.4% – imagine how many missed sales that is! That's why it's so important to get to grips with how to tackle this issue.
While the topic of abandoned baskets is difficult to cover in less than a dozen chapters, we've identified our five top tips for turning your abandoned baskets into completed orders.
1. Entice Customers with FREE SHIPPING

Free and shipping, the two words that make every customer jump through the payment process.
Note how the words naturally hop out of the title and make the sentence much more enticing. It's the same way a customer will look at your page.
By making it clear that you offer free shipping before the payment process, you are giving your customers that extra incentive to complete the purchase.
This is something that clothing website Asos does well, as you can see their sign is rather substantial on the page and even offers worldwide shipping – if this isn't going to cement their customer base, I don't know what is.

According to HubSpot, the main reason customers feel compelled to say goodbye to their baskets is due to the hidden costs at the checkout process – so bust this and see the sales soar in.
2. Keep the Cart in Eye-shot

A constant and healthy reminder that a customer has items in their basket can help spur them on to complete their order. It also simplifies their shop, as nobody likes a complicated checkout process and you don't want to lose customers due the inability to navigate around your website.
If not this, enable the cart to be saved and it can serve as a gentle reminder next time they visit, allowing them to pick up where they left off.
You can even use this information to send out targeted, automated, emails letting the customers know and offering incentives to secure the sale.
This theory comes from the fact that another popular reason customers will look to abandon their basket is the fact that they are simply not ready to part with their pennies just yet, this doesn't mean they won't want to at some point in the future.
We'll look to Amazon for a good example of this, their cart icon is always clear and accompanied by the number of items – can't get better than that!

3. No Unnecessary Sign-Up Stage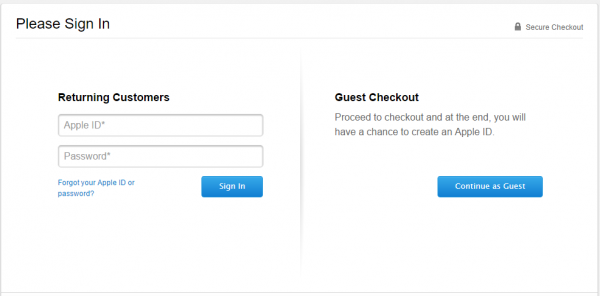 We all know that feeling when we finally make the decision to progress to payment and follow through with our purchases (which can sometimes take quite a while) and we come up against a barrier requesting we plug in some sign-up details – it's a bore! And one that can lead to many failed sales.
What can you do? Offer a guest checkout. It means you can secure your sale with much more ease as the customer is experiencing a hassle-free service.
If you wish, after the sale has gone through you can ask for sign-up details, at this point customers are more likely to feel compelled to do so in order to keep an efficient check on the status of their items.
Apple is a great example for doing this, they offer both options and a brilliant user experience by applying next-to-no pressure on its customers, after all nobody likes a pushy sales person, so don't do this online.

4. Easy Ways to Pay Help Avoid Abandoned Baskets

The payment process can be a minefield – but it doesn't have to be. Tackling this is a sure-fire way to keep customers happy.
Having to keep entering your details is a real annoyance for many customers and doesn't take long to put someone off. And although you're able to offer the option of saving card details, many people will not want to risk it, due to security concerns.
However, you can still make this an easy process by offering options such as Paypal. It's a quick, safe and easy way to pay, making it an ideal addition to any payment page.
Argos is one of the many retailers that benefit from having multiple ways to pay including Paypal, creating a secure and convenient environment for their customers.

5. Invest in Good Business Management Software

Adopting a good business management software is the key to a successful business in general. In terms of abandoned carts, an ERP solution like Khaos Control will help you to implement strategies to avoid abandoned baskets such as applying discounts and accepting a whole host of payment types.
Find out more by getting in touch and trying a FREE demo here.