Integrations & Partnerships that automate your business
As well as the advanced built-in solutions that Khaos Control has to offer , we know it's vital to ensure our products integrate with third-party platforms and services to ensure you are getting the most out of modern technology.
For multichannel success, we offer a range of marketplace, eCommerce and EPOS integrations such as Amazon FBA, eBay, Magento, BigCommerce, EKM, Shopify and many more.
We also offer direct integrations with DPD, Royal Mail Click & Drop and MetaPack, as well as other carrier support through our partnerships with other solution providers.
Helping thousands of customers grow their business everyday
From popular lifestyle brands to third-generation businesses, Khaos Control has helped fast growing multi-channel retailers through the core milestones of their business journey.
Thousands of users across the UK are using our business management solutions everyday but it's not just our software that makes us stand out from all the rest.
Our customers praise more than just the functional aspects of our system. External benefits such as our experienced UK based customer service team, the onboarding process, free software updates and our Customer Success Management Service . These benefits ensure you are making the most out of Khaos Control, so that your business is always moving in an upward trajectory.
But don't just take our word for it; see what our customers have to say about Khaos Control and how it's helped take their businesses attain new heights.


A single system that helps grow your business
The need for multiple systems is largely made redundant with Khaos Control. Our products are designed to help manage all aspects of your business, bringing together data and processes into one centralised system that's secure, easy to use and reliable. This brings unmatched flexibility, speed, and precision to your decision-making processes.
The functionality, convenience, and cost saving of having our solutions can reinvent your business processes and streamline the entire organisation.
Find out how the power of Khaos Control can breathe new life into your business and set you on the track for growth today!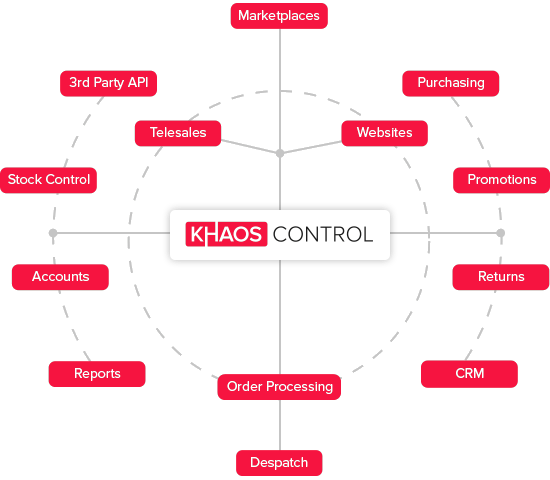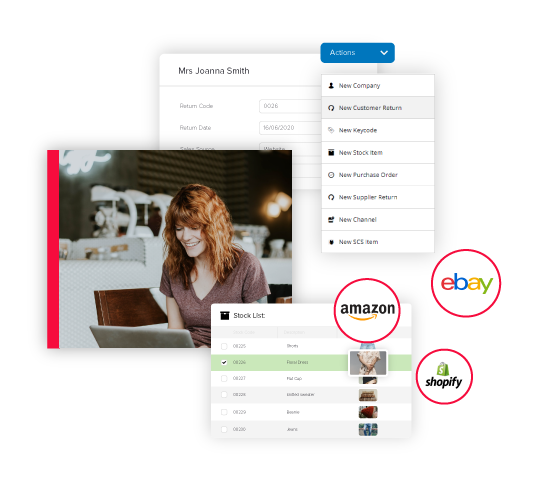 Powerful features that keep you in control
Multichannel selling software online and in-store
For any business selling across multiple channels, the ability to easily synchronise stock levels across different selling platforms is a crucial part of a successful multichannel strategy. With Khaos Control, businesses can confidently bring together orders from their website, telesales, eCommerce platforms – such as Amazon and Shopify – as well as any orders from a physical store.
Our inventory management software means invoices are easily accessible from each stage of an order. Manage the sales orders being saved or imported, through the pick, pack and despatch process, to the invoice being issued to the customer – all within a single screen. Having a reliable system that can organise your orders, so that picking, packing, assignment to couriers and shipping, all occur seamlessly is the difference between getting tens and getting hundreds of orders processed each day.
Advanced stock control and warehouse management
Khaos Control is designed to be the central stock repository for any size business. Whether you're making using of drop-shipping or operating across multiple locations, our system manages it all from one central source. As well as managing the activity of your warehouse operatives, Khaos Control will track the movements of every pallet, batch and order moving through your warehouse. That means the ability to see at a granular level, everything that is happening with your orders; From how much stock is in your inventory, what's on back-order, and what potential problems are arising in the warehouse.
Our warehouse management software also supports HHT's, barcoding scanning, as well as the ability to set up product variations for your core items – this is particularly helpful for manufacturers requiring an added level of flexibility with product variations.
Integrated accounts and custom reporting
With our fully integrated, ICAEW accredited accounting software, Khaos Control provides up-to-the-minute financial reporting across all areas of your business – perfect for B2B and B2C businesses trading in both environments simultaneously. The system will maintain your stock valuation, control overheads, manage budgets, report on debtors and credits, as well as handling tax and overseas sales. The system also provides multi-currency and multi-country support, ensuring your business can expand operations with a system that can easily handle currency conversion rates, country-specific VAT, as well as EC Sales reporting.
With Khaos Control hooked up to the data running through your business, you're able to know the profitability around every item in your inventory, your most successful promotions, as well as the performance of staff and suppliers. These answers are provided by reports automatically generated using your sales and product data.
See what Khaos Control can do for your industry
Regardless of industry, Khaos Control has been successfully providing solutions for the needs of hundreds of unique businesses across the UK. With over 20 years' experience in supplying ERP software, we know how important it is to facilitate the requirements of different industries. Whether that's logging extensive details for medications in the pharmaceutical industry, or advanced packs and bills for the manufacturing industry – we've got it covered.
Transform your business with Khaos Control
Join thousands of other users who use Khaos Control and book a completely free, no-obligation, personalised demonstration to see how our solutions can help your business!