Magento is the store-builder of choice for a lot of businesses. It allows for maximum customisation, enabling you to create the online store of your dreams. This being said, Magento can be difficult to navigate for a beginner. If you're looking to get started with Magento, we've created a simple, step by step guide, to get you from store creation to going live, quickly and easily.
Here's how to set up a store with Magento:
2. Download and install Magento
7. Set product prices and add images
8. Optimise your sites SEO and load speed
What is Magento?
Magento uses cutting edge technology and an agile ecosystem of developers to provide an intuitive workspace for businesses to create their online store. It's initial release was in 2007, and after 7 months of development, the first beta version was released. Owned by Varien, Magento secured investments from eBay in 2010, which helped to transform the platform into its current agile state.
There are three versions of Magento:
Magento Open Source (previously known as Community): This is the free version of Magento, and is a favourite amongst Magento users.
Magento Commerce (previously known as Enterprise): Suited for small retailers, this is the hosted solution of Magento. It's the next step from Open Source, and comes with 24/7 support and more advanced features.
Magento Enterprise: As the name suggests, this is the premium version of Magento, suited for large retailers. It offers more functionality than Commerce and Open Source, but carries a bigger price tag.
Steps to set up your Magento store
Before you get started, you must meet the minimum requirements:
1) Choose your hosting
The first step is choosing your hosting. When choosing a host, consider aspects like security and speed, as these will affect your stores' success. At this point, it's a good idea to secure a domain as well. This will be your website's URL and will reflect your brand, so choose wisely. Hosting providers usually offer domain services as part of their package, so you can secure your domain alongside purchasing your hosting.
2) Download and install Magento
If you're using the free version of Magento, you can navigate to "Products", "Open Source", "Get Started".
You'll see a chart, comparing Open Source and Magento Commerce. Scroll to the bottom, and select "Download Open Source". Follow the instructions to specify where your Magento installation will be stored on your server. Once installed, you'll receive a confirmation message, and this will contain an "Administrative URL". Clicking this will open your new Magento dashboard, which you can use to start building your store.
If you're using Magento Commerce, you'll need to book a demo, and discuss the options with the Magento team. The process of installation is similar, and once you have access to your dashboard, you can follow the steps below to continue setting up.
3) Optimise your theme
Install a pre-built theme from a site like Creative Market or Template Monster. Both offer a variety of pre-made themes, which are perfect if you're starting out. If you're more experienced, you might find it more suitable to approach a developer to create a theme tailored to your business.
Finding the right theme is an important step. If your site isn't intuitive or doesn't fit your customers' needs, you'll suffer high bounce rates and empty baskets. Take some time to find the theme that's right for you, and don't be afraid to approach a developer if you can't find the right theme for you.
4) Add any extensions
If you're using Magento on it's own, it's likely you will need extensions. These are accessible within their app store, and there are 3000+ to choose from. They range from free to £5000, and offer additional features like promotions and reporting.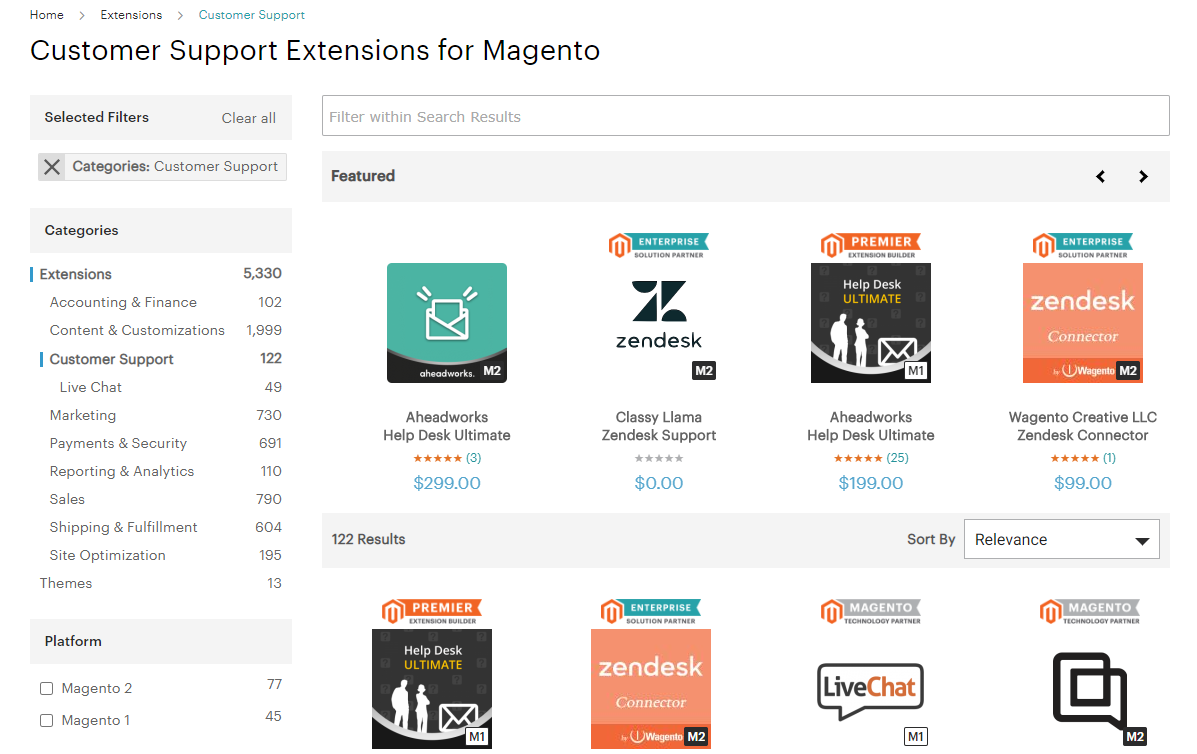 Alternatively, investing in a business management system that connects to Magento will provide most, if not all the features, that extensions do, for a quarter of the cost. A system covers: inventory and order management, supply chain, finance and accounting, customer relationship management (CRM), sales, and marketing. This gives you the ability to manage each of these aspects, and connect directly with your Magento store.
If you're a clothes seller and have a Magento store, you can invest in a business management system, and manage each aspect of your business more effectively. A system provides a direct login to control your store, as well as customers, stock levels and your finances. This is the most convenient option because instead of relying on several extensions, you have one core system to manage everything for you.
5) Set up the admin panel
Next up is your database. This is housed within your admin panel, and is the core of your online store. Here, you can set up: shipping and payment methods, your store name, products and product categories.
6) Enter your product information
Under the "Products" menu, click "Create New Product". You'll then see an option to add an "attribute set", and whether you want to use complex product types. Complex Product Types allow you to add bundles, virtual products like gift vouchers, and groups of products. Leave the attribute as default; you can change this later.
Once you've created our products, you'll need to add descriptions. Your product descriptions can include details like: product numbers, origin of the products or materials, delivery details, weight and size.
7) Set prices and add images
Add product images using the "Images" button in the left hand menu. Upload images from your computer, and add them straight to your new products. Set your prices, with the "Prices" button; fill in the required form to add your price.
8) Optimize site speed and set up SEO
Now you've added products, images and your theme, you're very close to going live. One task left on the agenda is optimising your store for search engines. In the left hand menu, "Meta Information." This is where you can choose an eye-catching title and description, which will show up in search engines. For each page you create within your Magento store, you will need to follow this same process.
You also need to be aware of site speed. If your site loads very slowly, search engines may penalise it, which will affect your rankings. This may result in your store appearing on the second or third page of a search engine, even when the search term is your exact store name.
To optimise your site for fast loading:
Minimise large images and video files on your store. Use a tool like PicResize to make your images smaller. Aim for 100KB or less for most of the images on your site, though keep an eye on quality, and if you find that making them that small will make them blurry or pixelated, you can increase the limit a tiny bit.
Reduce any unnecessary extensions. Go through your extensions every few months to ensure that you have only the ones you need, and remove the unnecessary ones.
Use a page speed tool to identify any site issues. Once your site is live, you can use a tool like Google PageSpeed Insights, which will tell you how fast your store loads, and will give you tips to fix any speed issues.
9) Go live with your store!
You've now completed all of the necessary steps to creating your Magento store. If you're using a business management solution like Khaos Control Cloud alongside your store, now is the time to use an API to connect the two. To set you store live, navigate to the "Get Going" menu and select "Launch Your Store".
Our integration with Magento
We love Magento because it fits in with our core ethic; it's for the customer. Magento reflects the ever changing landscape of ecommerce. It provides a platform suited to work with you as a consumer, and create the space you need to efficiently run your business, attract, delight and retain customers. Magento doesn't do everything though, and while it manages your online store front, there is no way it can control your entire business. Khaos Control can fill in the gaps by helping you smooth out your back office processes, while Magento works to make what your customer sees as intuitive and as relevant as possible.