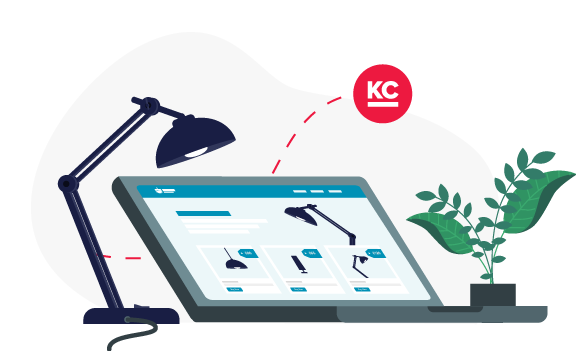 Ecommerce management system with direct links to your back office
Choosing our own ecommerce management system represents a choice between using one of the many great ecommerce platforms available in the marketplace or using Khaos Control as, essentially, a "one-stop-shop". One of the main advantages of directly using your back office as your ecommerce foundation is that data is fed to and from our stock control software, to provide real-time stock level updates.
That means you don't need to setup copies of your categories and products within the CMS, and then have to deal with syncing updates back and forth, as the website can directly access your product data and category structure setup within Khaos Control.
We work with many third party web development companies that specialise in working on various ecommerce platforms, such as Magento, Shopify, BigCommerce, EKM, BluePark, etc. However, if you favour an ecommerce solution that is designed specifically for Khaos Control, linking directly to your database, then we have an alternative solution to offer.












What sets us apart from other WordPress ecommerce plugins?
While our system uses the WordPress Content Management System (CMS) to manage certain ecommerce settings, what makes KCW different, in respect to content management, is that Khaos Control itself is your main CMS.
Customers often ask how they set-up promotions or delivery rules on their web site, as they are unable see the setting in WordPress. The reason they can't see it, of course, is because it's all done from Khaos Control directly. The two solutions are so tightly integrated that data is instantly available from Khaos Control to the website.
All our ecommerce websites benefit from the same powerful engine at their core, however, each solution we deliver is tailored to the customer's individual needs. This means that you get an adaptable website, built specifically to your requirements.
We build and manage the whole ecommerce package, giving you a bespoke website created by a team experienced with enterprise retail solutions.
Modern websites must be fully responsive, ensuring that your site retains its design identity and usability whether your customer is interacting with you via a phone, tablet or computer.
Most searches are now done on mobile devices rather than the traditional desktop, so it's essential your ecommerce website is mobile friendly. Our solution is conscious of an audience that is multiple device proficient and search-centric. The speed, look and feel, and ease of navigation of any ecommerce solution we design is one of our main priorities.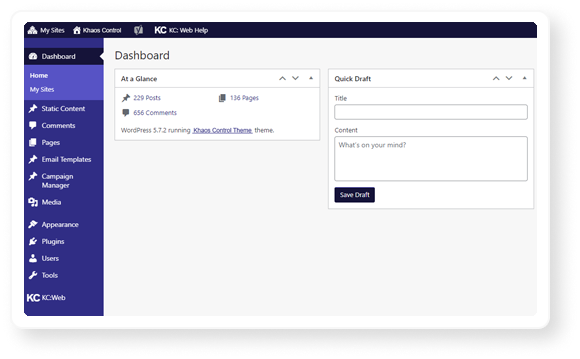 Just a handful of the websites our team have been working on



Frequently Asked Questions
Our developers have repurposed the blog posts section of WordPress to instead control all of the static content on the website. It can still be used to create and manage blog posts in the same way you would a normal WordPress website, but Khaos Control Web also uses it to store content used on various different pages within your website. This means easy to edit content within the site that would otherwise be hard-coded into the theme.
Yes. Khaos Control Web also allows you to customise your email templates within the CMS, for those email handled by the website, such as order confirmation and forgotten password emails. review on your products, and many other things. These widgets are all controlled from the CMS, and you can select any products or categories to display within them directly from this screen.