Khaos Control Cloud has been updated and the latest version comes with a whole host of improvements and features that are going to knock your socks off!
WooCommerce and BigCommerce Integration
You can now integrate your Cloud ERP with these two, incredibly popular, ecommerce platforms.
WordPress have translated their dominance in powering websites across the world into an ecommerce platform, WooCommerce, that is used by more than 2.5 million ecommerce websites across the globe.
BigCommerce's wide range of ecommerce templates and rock solid platform have enabled tens of thousands of companies to successfully create and develop ecommerce businesses.
Plugging these platforms into Khaos Control Cloud's existing Channel functionality brings the following benefits:
Automated sales order processing
Integrated stock control
Efficient fulfilment
Allowing you to incorporate these channels into your existing business quickly and seamlessly.
Help! I need somebody!
Cloud applications have to be user-friendly and intuitive. We've designed and developed Khaos Control Cloud with these tenets in mind. But we also know that ERP and Business Management Software in general has to be powerful, so providing context-specific Help that's easy to access and useful is vital.
Our initial Help tool was context-sensitive and was easy to access. However, we knew that we could do better and our Technical, Design and Training Teams have been working together to deliver improvements across the board.
Firstly, we've changed the way the Help displays, it now opens up a panel on the right-hand side of your screen. But in addition to that, you can now pop the help panel out into a separate window, meaning that you can use your whole browser window for KCC and have your Help floating on a second monitor or off to one side.
Secondly, and most excitingly from my perspective, we've given you access to the library of How To videos that our Training Team have produced. Scroll down to the bottom of the Help panel and you have a list of all the related How To videos for the function you're currently using. The Help tool is linked dynamically to the Videos on our Support portal so that as these are updated and extended you'll get access to them immediately in KCC.
There will be further improvements going forward, but we'd love to know what you think about the changes we've made already, drop us a line if you'd like to share your thoughts.
Grid Improvements
Grids are a key element of our Mobile ERP, providing you with quick and easy access to all of your data. Our technical team have invested significant time and effort in refining Grids during the latest development sprint. This has resulted in a wide range of improvements, including:
Selecting an item (or items) on a grid has been improved.
Date pickers and lookup values are now fully integrated into grids, for example when adding a line to a Purchase Order:

We have improved the way in which results in grids are 'paged', so that it's easier for you to move back and forth through a large selection of data.
We've made it possible for you to search in grids, even when you're in Edit mode! Really useful when trying to find a line on a price list you're editing – for example: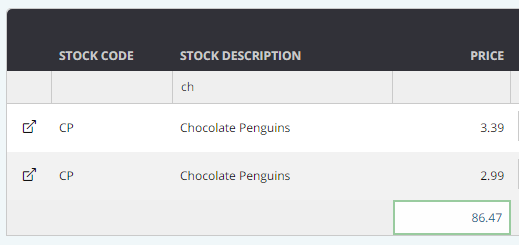 On top of that, you can now also search for values in drop-downs and F4 Lookups in the application, making it even quicker to find and select the value you want.
And finally, we've improved drag and drop supporting in grids, specifically in the Despatch screen. A key element of this has been in improving cross-browser support in the application for this function.
Extended Stock Descriptions on Sales & Purchase Orders
You asked for it and we delivered. You can now add, store and edit extended stock descriptions on both sales and purchase orders. Ideal for recording personalisation and other custom elements that you need on a specific order, extended descriptions are a powerful and useful tool.
As well as recording this data in the app, extended descriptions can also be included on customer facing documentation.
Pinned Filters
Getting to the segment of data as quickly as possible is vital. For many users and businesses you're often working with very similar data sets. Therefore, whilst it's useful to be able to filter data in dozens of different ways, there are often only a handful of key filters that you use regularly.
The Pinned Filter feature in KCC enables you to do just that, pinning common filters above Grids. This ability has been so popular that we've added it into the Stock and Company lookup dialogs and screens, making it even quicker to find the record(s) you need.
Reordering and Back Orders
These are two elements which are vital for multichannel retailers. They can create admin headaches and are often an opportunity for you to disappoint your customers.
Khaos Control Cloud already helps you to turn these occasions into an opportunity to shine and two new features have further enhanced your options in this regard:
If a customer now decides to cancel a previously ordered sales order line you can mark it as 'Lost Demand'. This will remove the order line from your back order reports and ensure that you don't end up with stock you no longer require.
Editing the 'Qty to Order' on the Reorder Report no longer requires you to be in 'Edit' mode, making it even quicker for you and your colleagues to build up a reorder profile for a supplier and generate the purchase order(s) you require.
Enhanced Usability
As I mentioned above, we are laser-focused on providing an intuitive and powerful interface for our Cloud ERP. In addition to the Help and Grid changes that have already been covered, we have also made a number of other improvements:
Keyboard navigation around KCC has been improved.
The Company List screen will no longer try to bring back data when it first opens. Whilst this was fine with our Demo data set, as soon as companies start using KCC in anger, it wasn't helpful. So, the Company screen now waits for you to enter / select a filter value before returning any information.
The speed and usability of grids, date pickers, dropdowns and filters – along with a whole range of other functions and components – have been markedly enhanced.
The Tablet UI has benefited from the enhancements that were rolled out to our Mobile UI earlier in the year.
Keep On Keeping On
As ever, the team have also resolved a number of bugs and errors. The journey to perfection continues and all of the team work hard to ensure that new functionality is tested thoroughly, but we do know that bugs happen. If you have an issue or problem, please drop the Support Team a line and they'll be happy to help.
Where Next?
We have ambitious plans for our ERP on the Go and they include rolling out new functionality, features and integrations in the weeks, months and years to come. We want to involve you in the journey, so you can now view, and contribute to, our Development Roadmap.
The Roadmap provides you with insight into what's coming next, gives you the opportunity to contribute your thoughts in terms of priority and direction and allows you to tell us what you think we should be focusing on next.
Not yet using our ERP on the Go to power your online retail business? Why on earth not?!? Sign up to our FREE 30 day trial today and experience the difference for yourself.