As you probably know, selling your products online with reasonable profit is no piece of cake. While setting up your online shop with Shopify is easy enough, actually getting people to buy your products is not.
One way to increase your sales is offering promotions and discounts, as this often encourages people to make a purchase or buy more than otherwise.
In Shopify, you can generate and manage discount codes from your admin panel. And if you are using an ERP software that integrates with Shopify and your other channels, promotions are even easier to manage. Don't have one yet? Then try one now for free!
In this blog post, we will help you find out when to use Shopify discount codes and when you should rather refrain from it, as well as how they work in Shopify.
When to Use Shopify Discount Codes
As mentioned, Shopify discount codes can be a great marketing tool to encourage both prospects and existing customers to make (another) purchase and increase customer loyalty. But they can also be dangerous for your business' profitability and financial security if you use them carelessly.
Before you start offering discounts, take a look at your overall brand strategy. What kind of discounts fit with it?
If you are a high-end brand, you will want to avoid aggressive discounts that might damage your exclusive image. Whereas if you are positioned as a discounter or praise your value for money, deep discounting and daily or weekly sales can be the way to go. But keep in mind that you will need healthy margins to survive such a tactic long enough to get a sustainable profit out of it.
Of course, as with most marketing tactics, there is no 'one-size-fits-all' solution available. It really depends on the company, the brand, the customers, the products, the channels etc. Therefore, you probably won't get around some testing and trying new things with discounts. And don't forget to do your research. You will need to know your market, meaning the competition and potential buyers, as well as your products and their margins in order to come up with a successful strategy.
To help you get some ideas, here are a few suggestions of different types of discounts and how you can use them:
Types of Discounts
With Shopify, there are 3 basic types of discounts you can set up:
Percentage Discounts (e.g. 10% off the entire order or 20% off a particular product etc.)
Fixed Cash Discounts (e.g. $10 off when you spent $100 or more)
Free Shipping Discounts (e.g. offer free shipping on a certain collection of products)
So, how can you use these discounts to achieve your goal? Here are some examples:
What could be a better way to launch a business or a new product than already having an engaged customer base? You can achieve that for example by offering a free product or a percentage discount to people who sign up to your newsletter or invite a friend etc.
Holiday or Seasonal Offers: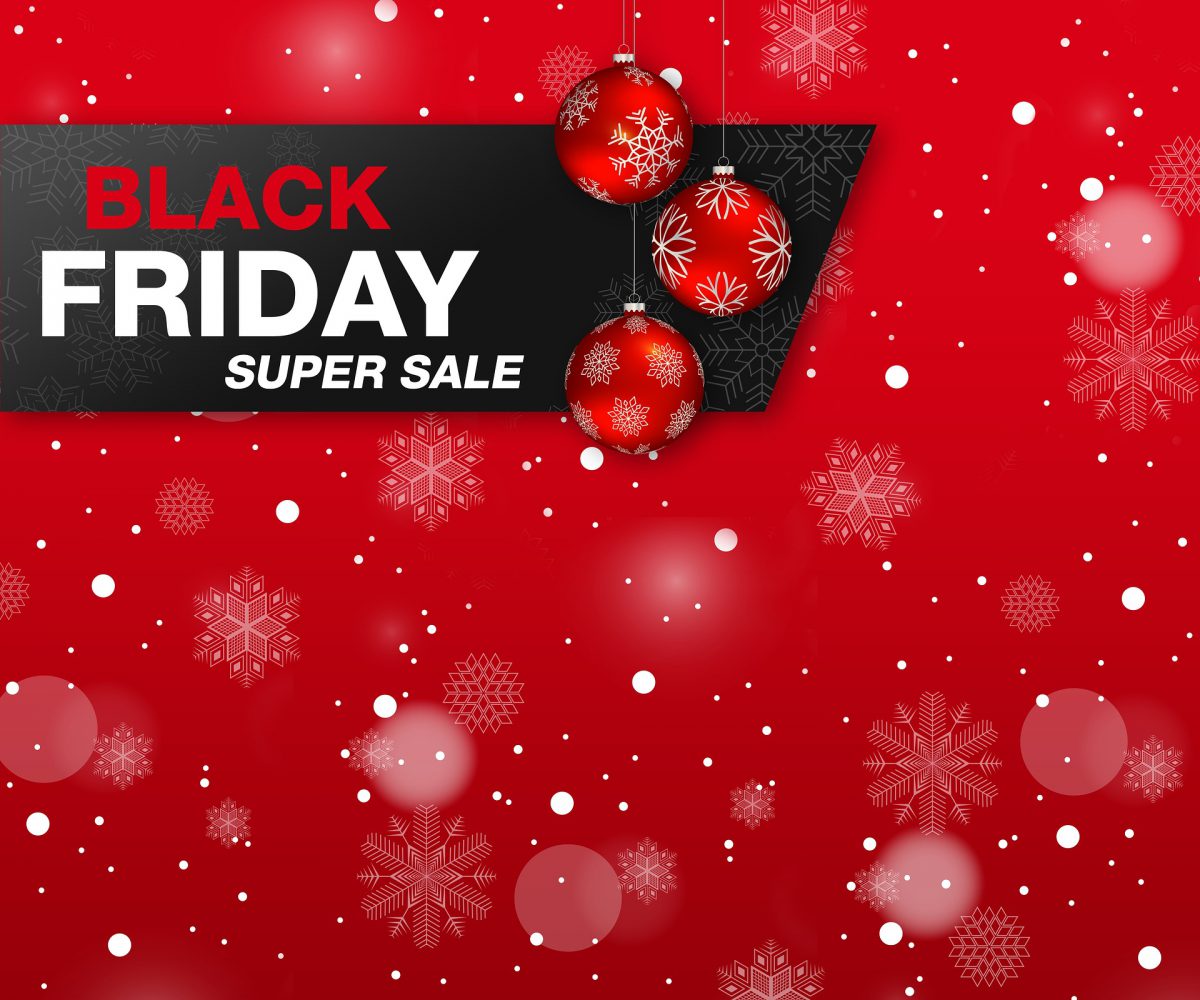 To get your share of the massive potential for holiday sales, you will need to offer some incentives in order to stand out from the competition. You can also try to boost sales during off-peak seasons by offering discounts.
If it fits with your strategy, you can use weekly or monthly offers to drive sales and increase your revenue.
Discounts for Newsletter Subscription or Social Shares:
Reward your customers for signing up to your newsletter or joining a conversation with you on social media. This will encourage more people to join in and can help you increase brand awareness and conversions. If you are using influencer marketing on social media, it can also make sense to provide a discount code that the influencers can then share with their followers.
Abandoned Cart or Exit Intent Offers:
Shopify has a powerful abandoned cart recovery functionality built in that you can use in conjunction with discount codes to recover lost sales. You could also set up a pop up offer for when shoppers intent to leave your site.
Referrals from a friend or family member are incredibly valuable. Encourage them by offering discounts for referrals.
First Time Shopper, Minimum Purchase or Customer Loyalty Offers:
Other ways to drive sales can be discounts for first time shoppers or a discount that can be used above a minimum purchase value. And rewarding customers for their loyalty with exclusive discounts will encourage them to stay loyal in the future.
We hope that some of the above offers will be useful for your business. Once you have decided on a strategy, it is now time to learn how to implement it in Shopify.
How To Create Discounts in Shopify
To get started with your Shopify discounts, you will need to go into your Shopify admin and then go to the Discounts tab. From there you can create a new discount.
The first step is then to specify what the name of the code is, which should be something that relates to the promotion you are running. Also, avoid using special characters.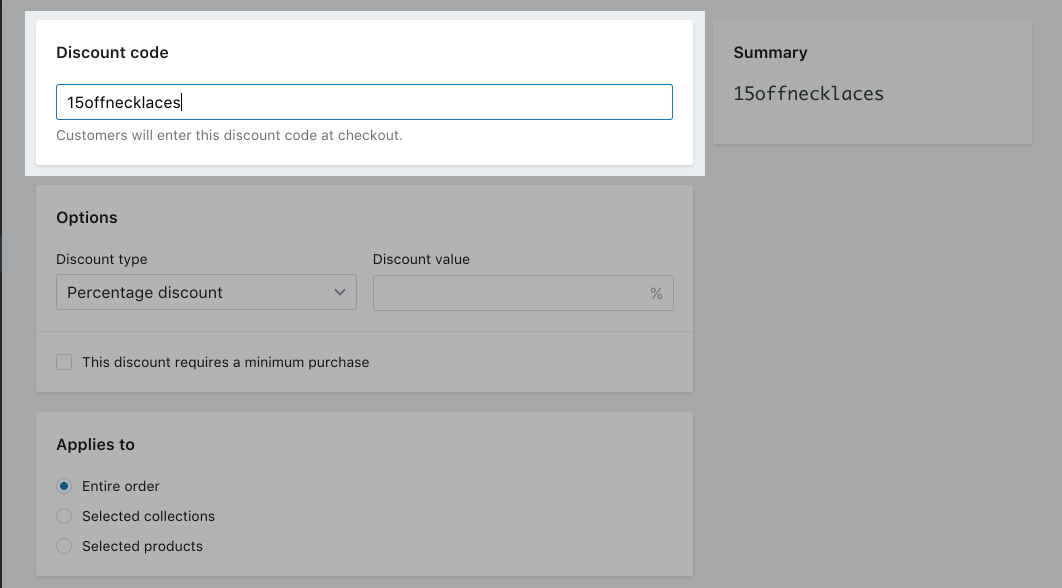 Then you can decide which discount type you are using. As described earlier, the options are Percentage Discount, Fixed Amount, or Free Shipping. You can then specify the monetary value or percentage next to it. It is important to note that the free shipping discount from here will never automatically apply to an order but the customer will need to enter the discount code. In order to set up free shipping that applies automatically when certain criteria are met, you'll need to set a free shipping rate.

You can also set up a minimum purchase amount that allows customers to use the discount code by ticking the checkbox below. Be aware that regularly priced items do NOT contribute to the minimum purchase amount.
The next step is to decide whether the discount code will apply to the entire order, selected collections or selected products only and select the relevant collections or products.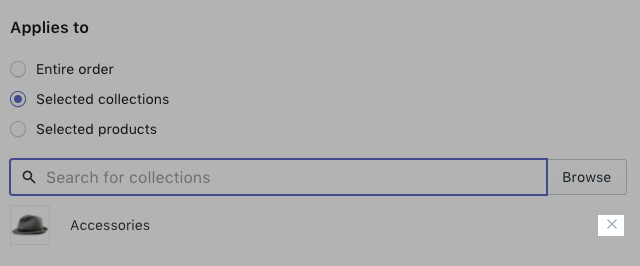 Further options include customer eligibility, meaning if all customers or only a selected group of customers are eligible to use the discount code, as well as usage limits. The latter option allows you to limit the number of times a discount can be used in total or per customer. Before you save your discount, you can also set a start and end date for it if you want to.
You can find a full summary of the above steps in the following video:
By the way, if you'd like to generate or import many discount codes at once, you can use the Bulk Discounts app available in the Shopify App Store.
How To Manage Discounts in Shopify
After setting up your discounts, there are various tools available to manage existing discount codes. There is for example the discount timeline, that shows when a discount code was created, edited, disabled or enabled.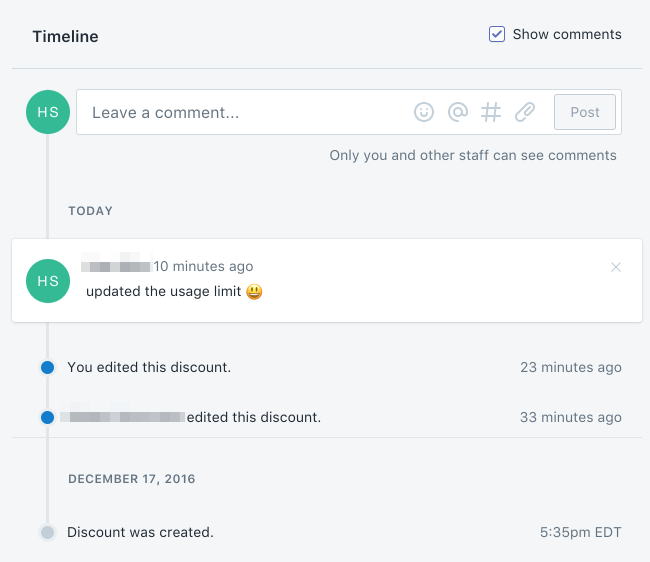 From your Shopify admin, you can also promote a discount on Facebook, edit a discount, enable or disable one or more discounts, or delete discounts.
If you'd like to export a list of all your Shopify discount codes to view or use them outside of Shopify, you can do so by exporting them to a CSV file. You can find a detailed guide on how to this in the Shopify manual.
Take Control of Your Business
With the above tips you can now create and manage your Shopify discount codes and grow the sales of your online shop successfully. But what about your other sales channels?
You'll want to be in control of promotions across all of them, while also handling incoming orders automatically and keeping stock levels up to date at all times. And what about your customer and supplier management? You'll want to be able to access all the data relevant for running your business from wherever you are at any time.
There is only one solution that can help you do all that and even more: Khaos Control Cloud, your cloud-based ERP system that will help you grow your business sustainably.
Just see for yourself and start your free month now!
Please Note: This article was edited on 21/02/2018 to reflect Khaos Control Cloud's updated process re: trials.