Our portable warehouse management solution significantly enhances the efficiency and accuracy of warehouse operations with the addition of barcode scanning to save manual input. Just a few of the key benefits include faster order fulfilment, inventory levels that update in real-time, enhanced track & traceability, reduced data errors caused by manual entry, and minimising mis-picks.
What are Handheld Terminals and how can they improve my warehouse?
Handheld Terminals can offer an effective solution to warehouse management, providing a portable way for warehouse staff to keep stock controlled in a quick and accurate manner– mitigating mis-picks, missing stock, and ultimately eliminating human error. These devices have been used by some of the world's biggest companies such as Amazon, making warehouse management easier.
Using HHTs with Khaos Control
Khaos Control's native warehouse management system incorporates HHT functionality, facilitating efficient operations and upscaling multiple businesses nationwide, processing thousands of orders everyday – this is just one of the many values that Khaos Control software has to offer.
Hand Held Terminals integrate with Khaos Control seamlessly via a web-based interface which can be used on multiple devices at the same time, substituting the need for manually intensive warehouse processes, all from one portable device. Some features include:
Book Goods In
Accurate Picking
Check Stock Locations
Key Performance Insights
Updating Stock Levels in Real Time
Increased Efficiency
Warehouse Optimisation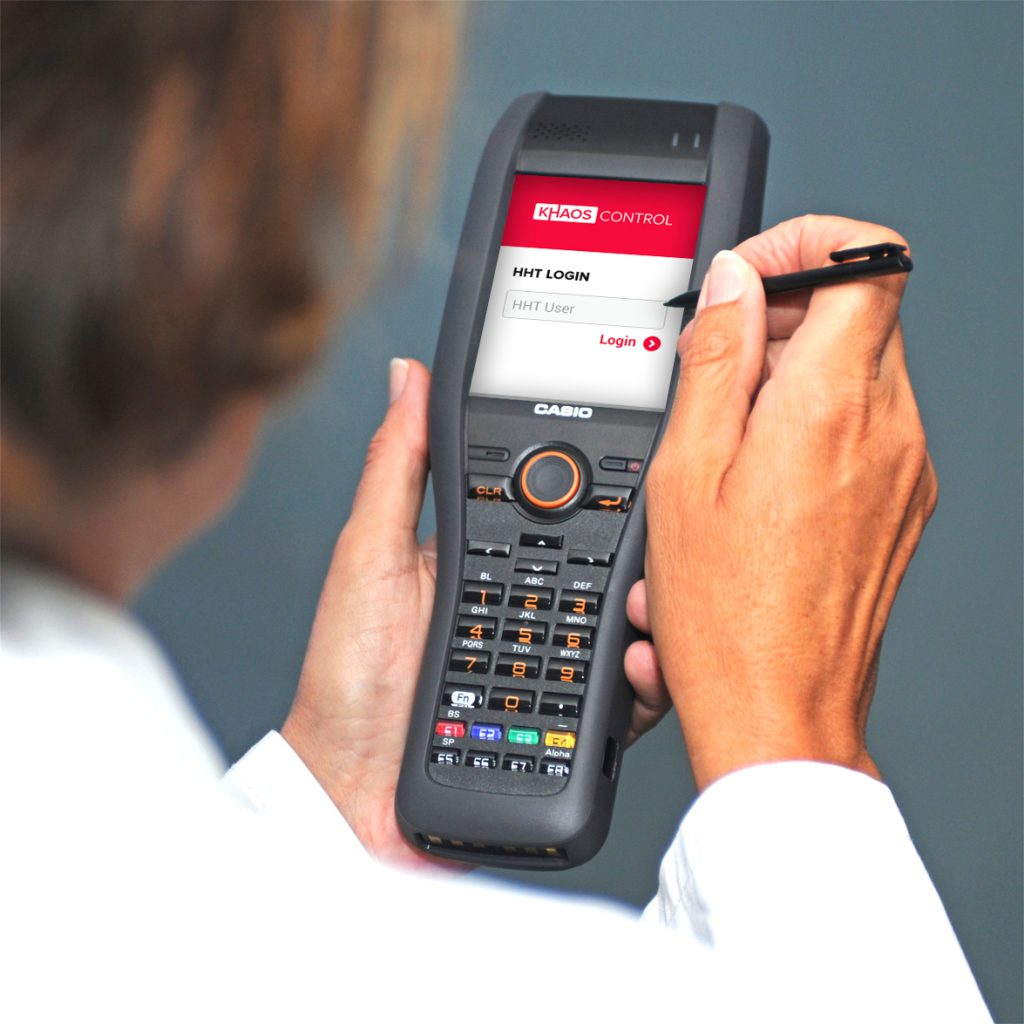 Examples of HHT Functionality
Book Goods In
HHT scanners use barcodes to identify stock facilitating speedy and accurate booking in of inventory from supplier deliveries, ensuring the correct quantity has been received by delivery and has been stored in the correct warehouse location for future picking. This is crucial for accelerating subsequent pick, pack, and despatch processes.
Accurate Picking
The device helps navigate your pickers to the correct warehouse location and verify that the quantity of items has been picked – mitigating human error and streamlining operations. HHT devices also offer additional options to either pick a single order or multiple orders at the same time – reducing the picking resource required. This process can also be used when packing orders ready for shipment.
Check Stock Locations
HHT devices can also help with the management of stock in a single location allowing warehouse staff to produce a stock take or relocate stock for busy seasonal times.
Key Performance Insights
Accumulate crucial Key Performance Insights(KPI) information to ensure your warehouse is optimised in it's operations, such as live picking rates, total and average numbers of items picked per day, user statistics and most popular stock locations.
Update Stock Levels in Real Time
Barcode scanning software provide real-time visibility into inventory levels and locations. As items are scanned during various warehouse processes, the inventory system is updated immediately for all users at the same time. This enables accurate inventory tracking, reduces the risk of stockouts or overstocking, and helps with the decision-making for purchasing and restocking.
Increased Efficiency
By eliminating manual processes and reducing errors, barcode scanning software increases overall warehouse efficiency and productivity. This allows staff to complete their tasks more quickly and accurately, resulting in faster order processing, reducing labour costs, and improved customer satisfaction.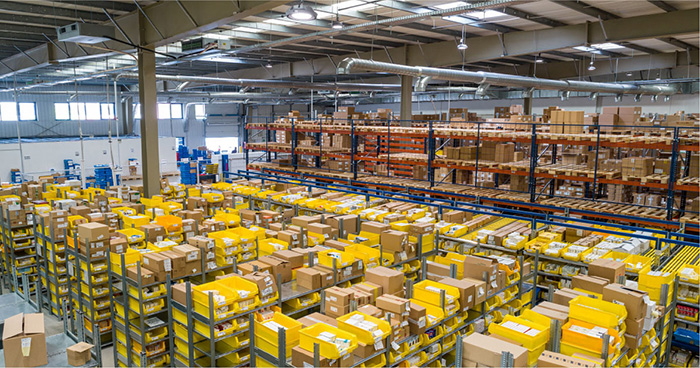 Introducing HHT 2.0 by Khaos Control
Our team have worked continuously to improve our HHT offering. With the extensive research, help from customer feedback and intensive user testing, we are proud to announce the arrival of HHT 2.0, which is the best HHT offering we've had to date that focuses on efficiency.
HHT 2.0 offers all of our previous HHT functionality with an improved visual interface that's simple to use and easy to navigate. There's also an advancement in operations, including stock take, goods in and supporting batch-controlled products and a perpetual inventory system – all from the click of a button.
HHT 2.0 will save warehouse staff hours of manually intensive labour, accelerating your overall business performance and customer satisfaction.
Features of HHT 2.0
Improved, user-friendly visual interface
Advanced selection options
Pick and book-in batch-controlled items
Perpetual inventory system
For more information on HHT 2.0, watch our free demonstration video.
Alternatively, contact development@khaoscontrol.com for further details.